Loaned to the Summer
Published: 14 December 2022
By Craig deSteiguer
Special to the Doughboy Foundation web site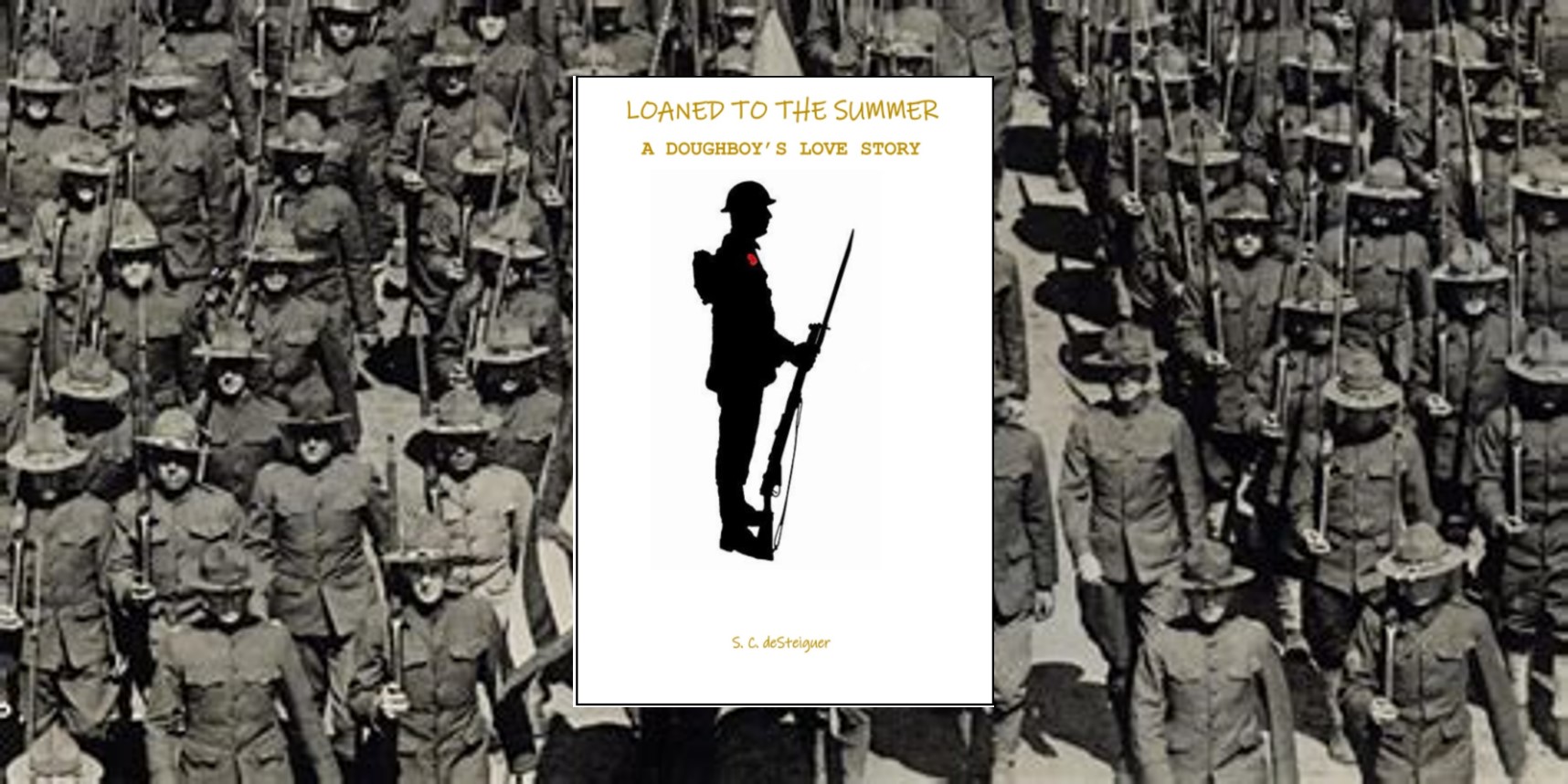 A Doughboy's Love Story During World War I
"Death in the Trench" 
Let me sing no whispers of war.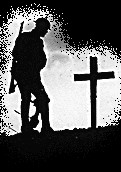 Let me tear my eyes, of all death…that lay.
Let me hold the hand of their last breath.
Let me pray their soul is gone….to home.
Let me sing no whispers of war.
For when I too shall come home,
To whispered songs no more…. of that war.
                                                –Craig deSteiguer
For This We Toll the Bells of Peace
In a staggering motion, I leaned against the walls of the trench, stunned by an immense shell blast, and started to weep in an overwhelming fright as I lay my eyes upon my brethren lying dead in the blood-soaked mud and rolling clouds of gases curled into the afternoon sky causing carnage on our defensive line. Thought to myself, "Dear God, what has happened here?" There was no time to try and analyze this horrid act of war. Suddenly three greater bursts above me exploded in the sky filling a yellow mist that started floating down to the ground. It had a varied smell; all I could do was remember what we had been told in training about the gas warfare the Germans were inflicting upon the allied troops and killing hundreds each day. I immediately scrambled for my gas mask that was not on my side where it was supposed to be, and I was crawling around on the ground in the mud searching for a gas mask bag only to find one on a dead soldier. I started coughing and gasping for air while trying to put the mask over my head and fit in place for I was coughing rapidly harder. Finally, got it on when I rolled back in a sigh of relief only finding myself passing out again unconscious as my eyes fluttered shut.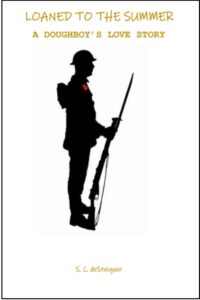 Such was this war, yet to be understood by all, but believed in the persistence of western civilization for humanity.  World War I was the beginning of the modern age of war for mankind as many countries gathered as allies, Triple Entente, to confront and battle aristocracy imperialism against the Triple Alliance to save our civilization of occupation in Western Europe. Unknown to the becoming of modern warfare were the newest atrocities of weaponry by land and dancing with death in the heavens to gain air supremacy.
War in the new century was fought not on open battlefields as that in Napoleonic battles but entrenched in holes secured by walls of wood and sandbags. Soldiers carried the newest defense to fight this war,  the Springfield rifle and gas masks defending against horrid poison gases fixating human life to its last breath.
Trench warfare was not a life of proud glory for any soldier, but more dehumanizing while being bombed and fired upon in extremely harsh conditions. As the newest monstrous mechanicalized weaponry rolled over the trenches leaving treaded tracks while firing its cannons in attacks.  Medical care for the wounded had changed from past wars of blood-soaked stretchers of amputees and badly wounded to better serving the troops further in the rear of the front lines. Meals of sorts were being delivered in wagons by volunteer services to better support the frontline troops, when possible if even to reach the lines under fire.
As a writer, a veteran, and a descendant of a World War I Doughboy, I remember as a little boy the stories told sitting around my grandmother's kitchen table, while she baked cornbread in an old iron skillet for supper,  of my grandfather, whom I had never met, and how they had met and married before he deployed overseas in the Great War with American Expeditionary Forces. She spoke in her soft heavenly voice of the love letters with wonderful verses he would send from the frontlines of their love for each other. Here, some sixty years later, with an in-depth curiosity and determination, I unquestionably wanted to pay tribute to these modern soldiers of the time, "The Doughboy" and both grandparents in their love story and how they lived their lives during and after the great war in the dawn of a new century, a culture ever so different from how I grew up. For there is life after all wars to end all wars, for many who were spared and returned home with lifetime wounds of remembrance to carry on as best possible in their journey. My grandfather emphatically always spoke of hearing the angel speak to him on the battlefield the day he was wounded,  as my grandmother always swore upon his silent thoughts so well written.
"Your journey in this life is not here, you shall return. You shall inscribe the quietness of your words from God, as all shall hear the silence of your smiles."
When so many did not return home to loved ones left to wonder why their lives were not spared from the horrid atrocities to continue living a mortal life. Life in the early nineteenth century was changing rapidly and was moving into a super-industrialization world so superior to that of the late eighteen hundreds, far beyond the imagination of American culture could conceive at the time. But, in peaceful East Texas, with a growing lumber industry, life in the twenties seems to coast along allowing those who return home from war to live in peace to share their world of past times with others. Whether it be in words of wisdom or written script verses of heartening thoughts of mankind. We, as the younger generation and veterans of later wars in a time so different than one hundred years ago, realize the horror of wars and the atrocities so inflicted upon humanity and oneself. Our grateful nation has recognized our soldiers are there to serve and protect against insurgencies of terror and tyranny throughout the world. For each war, unlike the other, newer generations have brought the teachings of how war can be fought.
Now, in this modern time, a war we think so inhumanely unnecessary, but as others think differently with their domination and hideous indoctrination of mankind remains a struggle. Those who demand and seek unwarranted control are the weak-minded tyrants to be overthrown from civilizations. All wars have taught greater views than the others from the past only to witness similar blunders against humanity again and again through time. Let the world live in peace amongst itself without wars, without unrest, in peace forever. Let not my brethren tear no more, for I am tired of these wars.
This story is dedicated to all World War I "Doughboys" who fought in the Great War in Europe between 1917 and 1918. The ones who left to go "Over There" and left behind loved ones, families, and those who never returned home. This is a heartwarming fictional war and love story with true events of characters, friends, and actual family members of the Brim and Merriman families.
This story is a wonderful love story of how private Horace Merriman met the love of his life, Callie Mae Brim,  while on leave in 1917 in a small town in East Texas. The Brim family, one of the forefathers and pioneer families, came to East Texas in the 1870s to live and be part of establishing a settlement that became the City of Silsbee. Horace and Callie Mae married before he left for Europe with the American Expeditionary Forces to fight Germany in the great war.
Wounded in battle and losing his ability to ever speak again he learned to only express his life's feelings through poetry and writing. For the rest of his life, he worked teaching poetry to citizens from all walks of life and enjoyed a wonderful loving spiritual life with Calle Mae and his daughter until he died in 1936. William Horace Merriman, a private in the US Army, died at the age of thirty-six in the year 1936 and is buried in the World War I cemetery at Fort Sam Houston, in San Antonio, Texas alongside many of his fellow soldiers who so proudly served their country and are honored each year by all.
Most grateful to Ms. Amanda Armstrong of Publify Publishing.
---
As an American, Craig spent his life growing up in foreign countries and traveling throughout the world with his family, living in seven countries throughout his life and enjoying a fifty-year career in the energy industry. He witnessed humankind in every aspect of life and always extend his hand to those in need who were subjected to live's handicaps while on their journeys in this lifetime. In his worldly journey, he always enjoyed learning the historical cultures of other people and understanding their faiths toward God, the higher spirit, and humanity within themselves.  Craig is the author of many poems about life, love, humanity, nature, and spirituality and three wonderful books dedicated to humanitarian stories of life, faith, and blessings. "Four Veils of the Seven Sand a Vagabond's Journey," a historical and poetic book of spirituality and belief in God's teachings through six centuries, of the first millennium,  coming in 2023. "Caelestia Judicium," a sequel, the heavenly judgment, a vagabond's journey, will be published in the fall of 2023. "Joys of Life," a private publication of lifetime short stories and poetry. Co-author with Ann Carr, "Angel on the Porch," a trilogy of three books, an autistic boy born of a Jewish refugee family who learns to read and write poetry and becomes a successful writer and literary professor teaching other handicapped persons the art of poetry from the heart, currently available on Amazon. And now the ever-inspiring story "Loaned to the Summer," a Doughboy's story during World War I and his deep poetic love for an East Texas beauty as life were in the early 1900s, available on Amazon.
Related posts