Livingstone band director joins Paris tribute to WWI regiment
By Chandler Inions
via the Salisbury Post newspaper (NC) web site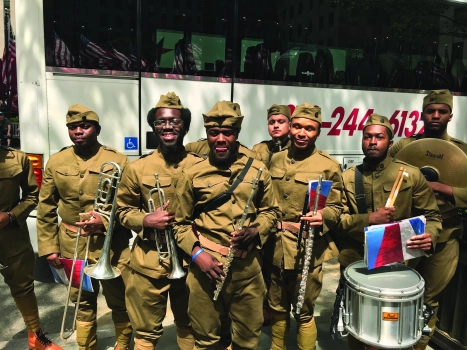 In World War I, an all-Black regiment from Harlem earned a reputation for battlefield ferocity but left behind another legacy in Europe — jazz.
Livingstone Band Director Anthony Jones is joining a group in Paris next week to pay homage to the regiment that became known as the Harlem Hellfighters.
"It's something else," Jones said.
The regiment, formally known as the 369th, and its band, the 369th Regimental Army Band, led by James Reese Europe, created a feverish European love for jazz.
Today, the group that Jones is traveling with is called the 369th Experience Band. It pulls Black and Puerto Rican musicians from historically Black colleges and universities into the fold to recreate the sounds of its namesake.
"The band consists of African-Americans and Latinos because that's the way the band was," Jones said. "We kept that same formula. We went to all the HBCUs and got someone from pretty much everybody … from Bethune-Cookman to Delaware State to Livingstone, we have had them all in there."
In keeping with the period-appropriate attire, the band dresses in doughboy uniforms when playing the 369th tunes. "We went off the music that James Reese Europe used when he was alive," Jones said. "The songs that he wrote are what we use."
When they arrive in Paris, Jones indicated they will have just a few days to rehearse with the band before their performance.
"On the third of July, we actually do the thing," Jones said of the concert. Jones has been with the program since its inception.
"People were receptive to the idea and loved it," Jones said. The band director indicated that he is excited about being able to share a story that has not received all the attention he feels it deserves. "It's been put under wraps for so long," Jones said. "It's one of those, I-didn't-know-that [stories]. In Paris and Europe, jazz is loved. People don't know why all the jazz musicians stay over there. It's because James Reese Europe took that music over there, and they had never heard anything like it before.
Read the entire article on the Salisbury Post newspaper web site here:
External Web Site Notice: This page contains information directly presented from an external source. The terms and conditions of this page may not be the same as those of this website. Click here to read the full disclaimer notice for external web sites. Thank you.
Related posts