Kimball World War I Memorial shows Black veterans' fight for democracy
Published: 8 February 2023
By Jessica Farrish
via the WVNS 59 News (WV) web site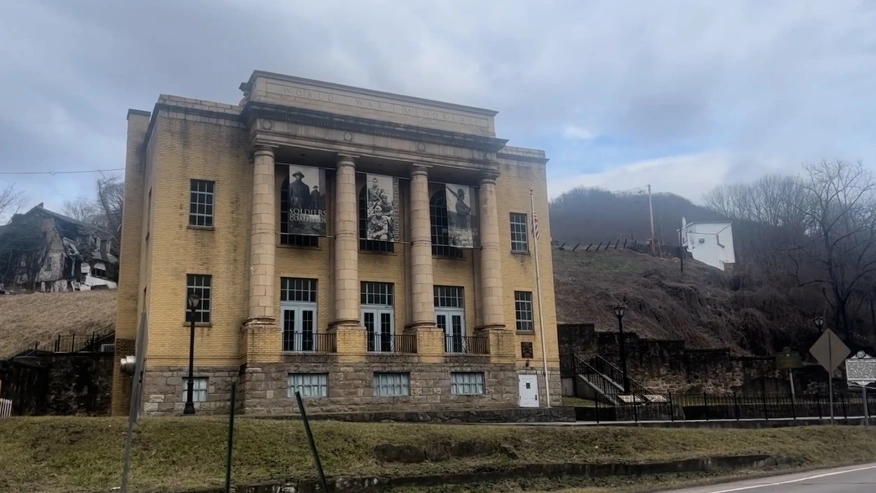 In 2023, the Kimball World War I Memorial in McDowell County is the only American memorial in the country kept in honor of black WWI veterans, the National Coal Heritage Area group reported.
The three-story building, set on a hillside in McDowell County, was built in 1928, as local veterans returned from foreign battlefields.
The Equal Justice Initiative reported in 2019 that black veterans returning from World War I faced riots, even lynchings when they returned home.
But it was also an era when many black veterans, in both small towns and larger cities, began demanding their Constitutional rights.
Black veterans and their families approached McDowell County officials to ask for a memorial honoring Black veterans, after a similar memorial was established for white veterans at the county level, Kimball World War I Memorial Administrative Coordinator Clara Thompson told 59News.
Thompson said county officials instructed the veterans, who fought for democracy on foreign soil, to find a property for their memorial. Initially, she said, they sought property in nearby Welch. None was available, so the building, which features a community center, a kitchen facility and exhibits, was built in Kimball.
"We have a lot of people that really don't that this building exists because they look at it and they think, oh, what's that courthouse doing up there?" Thompson said. "Then, when they come inside, they are amazed."
Read the entire article on the WVNS 59 News web site here:
External Web Site Notice: This page contains information directly presented from an external source. The terms and conditions of this page may not be the same as those of this website. Click here to read the full disclaimer notice for external web sites. Thank you.
Related posts