It's a golden jubilee for the National Cemetery Administration (NCA) U.S. Department of Veterans Affairs
Published: 25 August 2023
via the U.S. Department of Veterans Affairs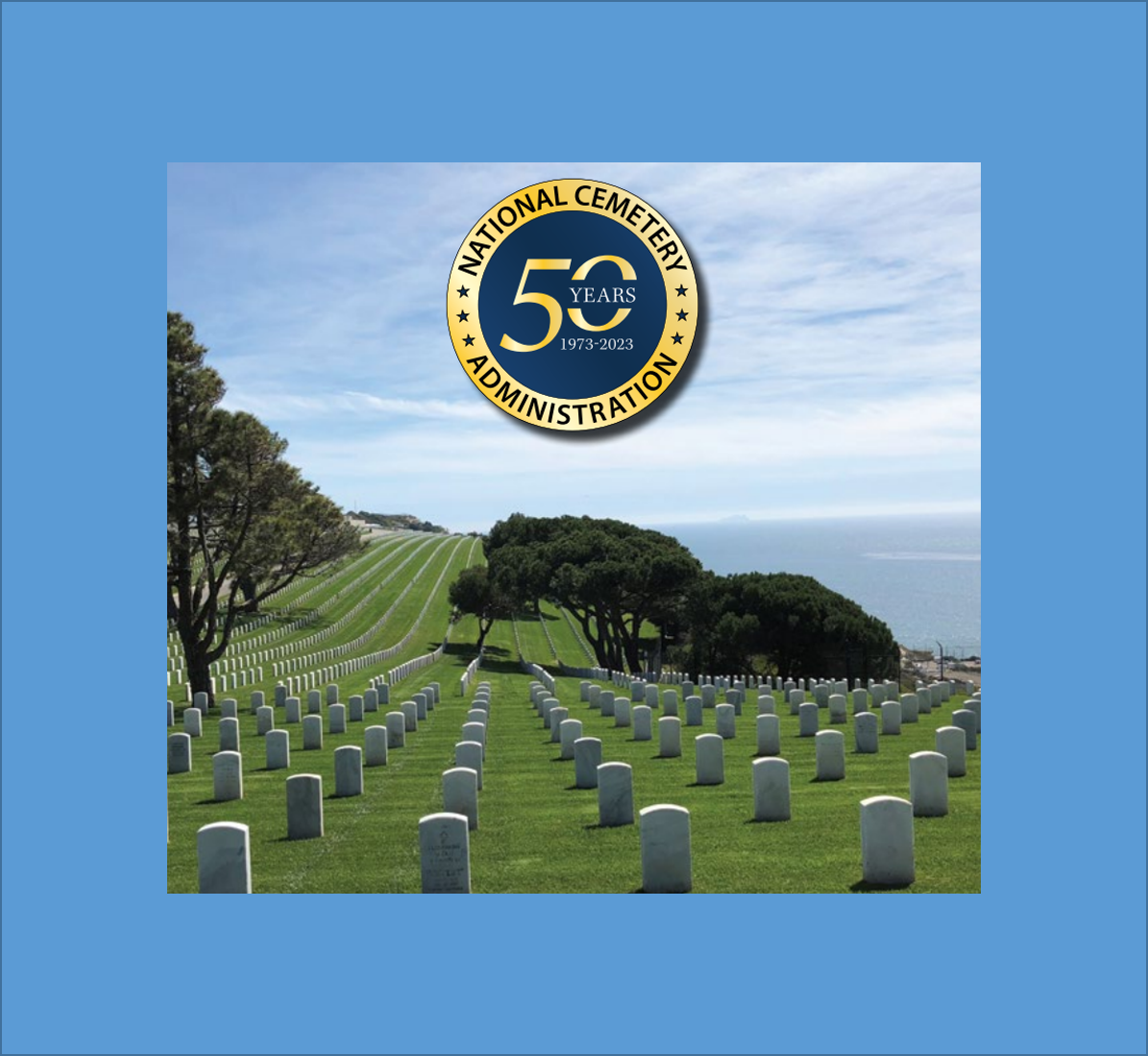 September 1 marks the 50th anniversary of the Veterans Administration's stewardship of national cemeteries, the shrines honoring the final resting places of almost five million men and women who protected and served our country.
The forerunner to today's Administration was the National Cemetery System. U.S. participation in World War I led to the first major expansion of national cemeteries since the Civil War.  This was due to two factors: the number of war dead who were brought home for interment, and the huge increase in the number of Veterans who became eligible for interment in a national cemetery as a result of their service during the war.
The Army responded to this increase in demand by conducting its first-ever survey of where Veterans lived across the U.S. in order to determine where new cemeteries should be built or existing cemeteries expanded. It resulted in the construction or expansion of seven national cemeteries near major population centers: Ft Rosecrans (San Diego); Baltimore; Fort Bliss (El Paso); Fort Snelling (Minneapolis); Long Island (NYC); Ft. Sam Houston (San Antonio); and Golden Gate (San Francisco).
50 years ago the National Cemetery System it took on the sacred obligation of incorporating 82 Department of Defense cemeteries and 21 burial grounds to form 103 national cemeteries.  Since then, NCA opened more than 50 national cemeteries. They've also expanded access by with the Veterans Cemetery Grant Program, supporting state, territory and tribal cemeteries. Today, 94% of Veterans are within 75 miles of a national, state or tribal Veterans Cemetery.
The NCA honoring five decades of service with a commemorative edition of our VA employee magazine, VAnguard. In it you'll find photographs depicting the last 50 years and articles highlighting NCA employees' innovation and service to Veterans.
Read more about the golden jubilee on the National Cemetery Administration web site.
External Web Site Notice: This page contains information directly presented from an external source. The terms and conditions of this page may not be the same as those of this website. Click here to read the full disclaimer notice for external web sites. Thank you.
Related posts