Honoring Forest Hills' early veterans
Published: 18 November 2022
By Michael Perlman
via the Queens Ledger newspaper (NY) web site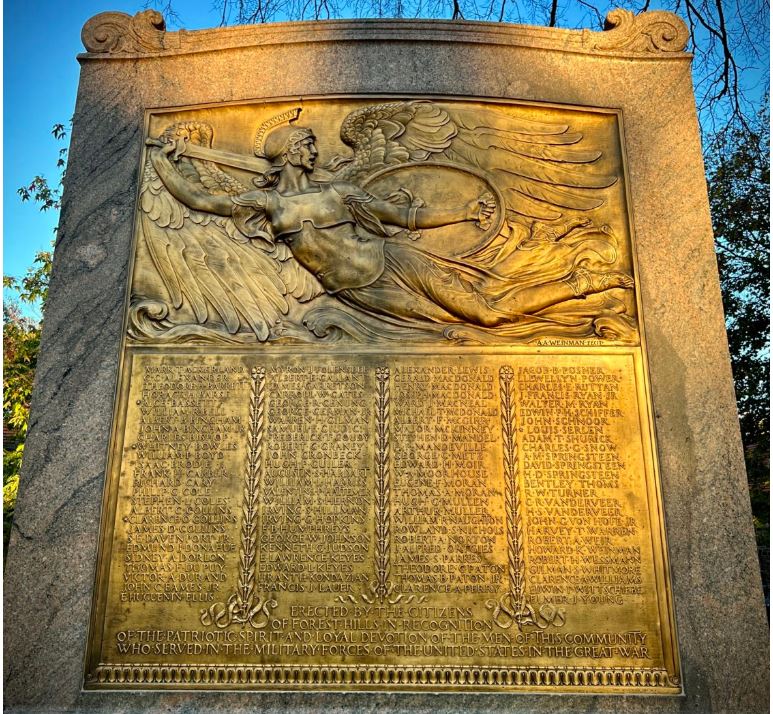 WWI Soldiers & Sailors Memorial stands tall
It is always timely to honor military veterans of the U.S. Armed Forces, and one day to maximize that honor for America's bravest is Veterans Day on Nov. 11.
Forest Hills was named in 1906 and Forest Hills Gardens was founded in 1909. Architecturally and culturally significant buildings, landscapes and monuments add a mark of distinction, and some sites are associated with veterans, including the Captain Gerald MacDonald Statue in MacDonald Park and the landmarked Remsen Cemetery with doughboy sculptures.
Public art is a gift to the masses that bonds the generations, and a most historic and diverse monument is the WWI Soldiers & Sailors Memorial in Forest Hills Gardens.
It is situated on Flagpole Green, formerly known as Village Green. Dedicated in 1920, this ornate Neo-Classical pink granite and bronze monument commemorates 102 Forest Hills residents.
The monument reads: "Erected by the citizens of Forest Hills in recognition of the patriotic spirit and loyal devotion of the men of this community who served in the military forces of The United States in The Great War."
The monument was designed by the renowned American sculptor, Adolph Alexander Weinman (1870 – 1952), who resided nearby at 236 Greenway South and operated a studio at 234 Greenway South.
The design symbolizes "The Call to Service" above the 102 names on the tablet.
Since last summer, residents observed meticulous restoration work, resulting in the polishing of the bronze tablet, which was green as far as most residents can recall.
Read the entire article on the Queens Ledger web site here:
External Web Site Notice: This page contains information directly presented from an external source. The terms and conditions of this page may not be the same as those of this website. Click here to read the full disclaimer notice for external web sites. Thank you.
Related posts