"History Rocks" World War I project hits important milestone
Published: 18 October 2023
By Christine Stephan
Special to the Doughboy Foundation web site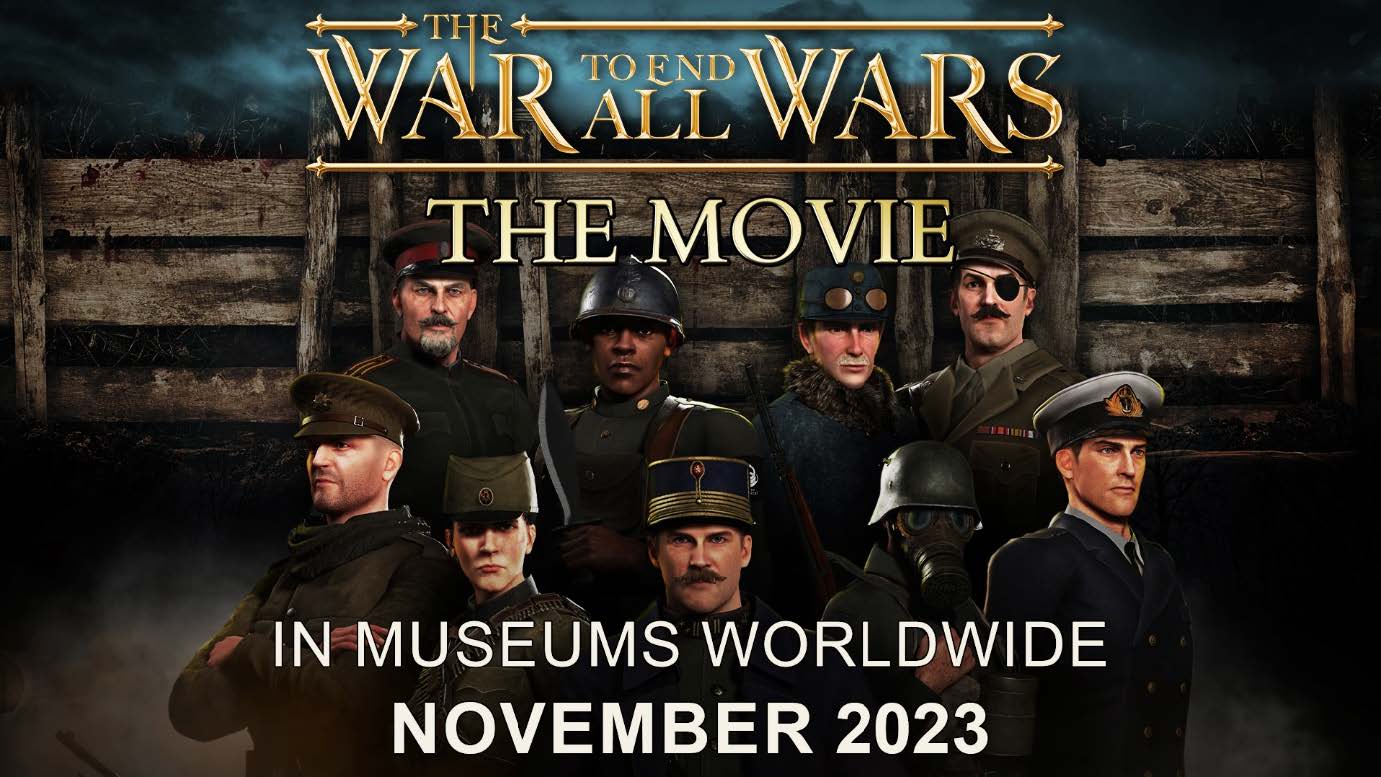 Over 100 (and counting!) museums to participate in the worldwide premiere of "The War To End All Wars – The Movie"
The countdown begins. With just over one month left until Sabaton's "History Rocks" museum initiative kicks off, the band's project has reached a significant milestone. Over 100 museums from 27 territories have now confirmed their participation in the worldwide premiere of "The War To End All Wars – The Movie" this November, and the list keeps growing. See the full list of participating museums below.
Unveiled on June 12 of this year, "History Rocks" is a result of the band's urge to help museums around the world. The mission of this charitable initiative is to amplify the visibility of museums worldwide and to encourage a fresh, untapped audience of metalheads and history enthusiasts to contribute to their local museums.
Another fundamental objective of this project worth noting is that it aims to place World War I and its significance to mankind in the spotlight.
Band manager and bassist, Pär Sundström comments: "Reaching over 100 museums is an important milestone. We wanted to create something that makes our fans visit and help their local museums, and I'm beyond happy to see that it's working. We're grateful to anyone who suggested a museum to us by using our "Suggest a museum" form on our movie's website. The form is now closed following thousands of suggestions, but museums are still urged to contact us if they wish to participate. It means a lot to us to see how many involved have been enthusiastic, both fans and museums."

The global premiere of "The War To End All Wars – The Movie" will take place between November 4-19, 2023, in the two weeks surrounding the 105th anniversary of Armistice Day. Museums worldwide are gearing up to showcase this film in their own way – some have opted for single screenings, some will be hosting multiple, and others will be combining their screenings with World War 1-related exhibits and events. The beauty of this project is that those participating have the creative freedom to shape their event any way they deem fit and all revenue generated from ticket sales goes straight back to the museum hosting the screening.
As the "History Rocks" project surges forward with over 100 museums on board, it stands as a testament to the profound impact of the unification of music and history to inspire and educate audiences worldwide.
List of Participating Museums in The United States and Canada
UNITED STATES OF AMERICA
82d Airborne Division War Memorial Museum
General Robert W. Cone NTC & 11th ACR Heritage Center
Heartland Museum of Military Vehicles
Howard County Historical Society
Las Vegas-Clark County Library District: Sahara West Library
Lyon County Historical Society Museum
Maryland Veterans Museum at Patriot Park
Mesa Public Library – Red Mountain Branch
Michigan's Military Heritage Museum
Military History Center of the Carolinas
National Guard Militia Museum of New Jersey
Pacific Northwest Naval Air Museum
The National WWI Museum and Memorial
The William C. Lambert Military Museum and Archive
Tipton-Haynes State Historic Site
U.S. Army Transportation Museum
USS SLATER – Destroyer Escort Historical Museum
Wright Stuff Squadron Living History Museum
CANADA
A note to museums…
It's not too late! If your museum is interested in becoming part of this unprecedented global initiative, you can apply by visiting movie.sabaton.net. Simply complete the dedicated museum form and the "History Rocks" team will be in contact. The only prerequisite is that your institution possesses the necessary facilities for hosting a screening, including audio/visual equipment and a suitable event space with seating.
ABOUT "THE WAR TO END ALL WARS – THE MOVIE"
Following years of hard work and research, Sabaton has created "The War To End All Wars – The Movie" in partnership with Yarnhub, an animation studio focused on historical content. This is a 67-minute long animated musical motion picture which is being released in English but will be made available with subtitles in a number of languages to cater to global audiences. The film vividly tells the World War 1 tales from Sabaton's most recent studio album, "The War To End All Wars".
Referring to the movie, Lora Vogt, National, Vice President of Education and Interpretation, from the WWI Museum and Memorial (Kansas, US) declares: "Certainly, there is artistic license taken in the movie, but what I found so extraordinary was the team's choice of stories. What a wonderful vehicle Sabaton has made to show the diversity of individuals and engagements of the war. Really fantastic! We look forward to sharing it with our audiences."
ABOUT SABATON
In the more than two decades since their launch, Swedish metallers, Sabaton, have achieved quadruple-platinum sales, headlined major festivals and sold-out arena concerts across the globe, and earned a legion of loyal fans by carving out a reputation as one of the hardest working bands in rock.  Sabaton combines standout stage design and production with epic concept albums, linking real-life historical war events with classic kick-ass metal. To date, the band has released ten studio albums, amassed six GOLD, two PLATINUM, and one four-times-PLATINUM awards, seen eight of its albums score Top 10 international chart status, and six claim the Top 5. The band has earned eight Metal Hammer/Golden Gods Awards nominations, taking home the award for "Breakthrough Artist" in 2011 and "Best Live Band" in three different years, and a Grammis nomination (Swedish equivalent to the U.S. GRAMMY) as Best Heavy Metal band. Sabaton has also accumulated more than two billion streams across all streaming platforms.
External Web Site Notice: This page contains information directly presented from an external source. The terms and conditions of this page may not be the same as those of this website. Click here to read the full disclaimer notice for external web sites. Thank you.
Related posts