Historic Liverpool: 17 stirring photos of American and Canadian troops arriving in Liverpool during World War I
Published: 9 October 2023
By Emma Dukes
via the Liverpool World (UK) web site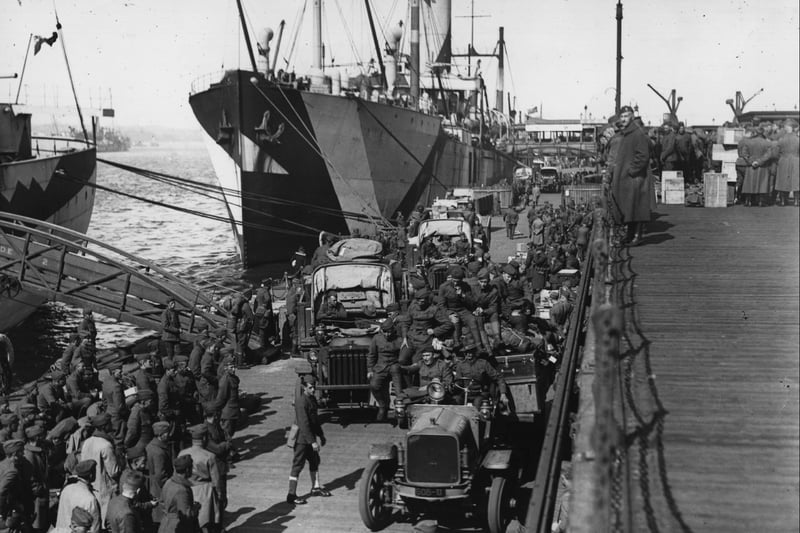 Take a look at these century-old photos showing allies arriving in Liverpool during the First World War.
Liverpool played an important role in the First World War, with hundreds of convoys sailing to and from the port in order to keep Britain supplied with food.
Thousands of Liverpool men signed up to support Britain in WWI, both in the army and in the Royal Navy, and sadly, over 13,000 local lives were lost.
It wasn't just British troops supporting our city though, with hundreds of thousands of American men passing through Liverpool during the Great War, which began on 28 July 1914 and ended on 11 November 1918.
It was the busiest port in the UK to receive U.S. troops and supporters. Canadian soldiers were also deployed in the city, with huge ships carrying troops to and from the docks.
Take a look at these century-old photos, showing Canadian and U.S. troops in Liverpool during WWI.
View all 17 photos on the Liverpool World web site here: External Web Site Notice: This page contains information directly presented from an external source. The terms and conditions of this page may not be the same as those of this website. Click here to read the full disclaimer notice for external web sites. Thank you.
Related posts