Historic Jenny plane crashes in Muhlenberg, KY
By Justin Story
via the Bowling Green Daily News newspaper (KY) web site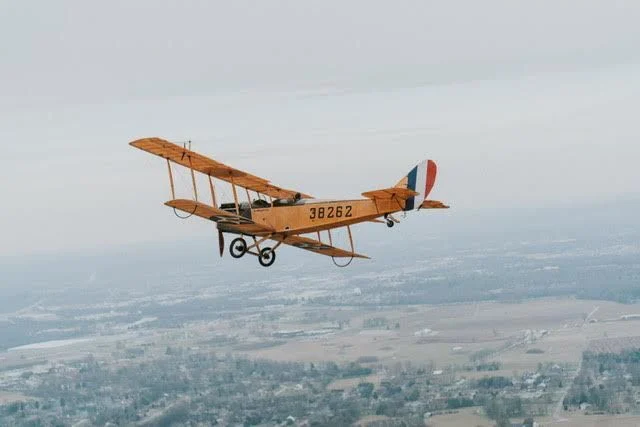 A restored World War I-era airplane suffered heavy damage Monday after being forced to make an emergency landing while traveling to Bowling Green.
The Curtiss JN-4 single-engine biplane, known locally as the Jenny, had refueled at Anton Airport in Hopkins County when its engine suddenly lost power at 1,500 feet, according to the Kentucky National Guard.
The plane made an emergency landing at Wendell H. Ford Regional Training Center in Greenville at 5:29 p.m. Monday, performing what the state national guard termed a controlled crash in an open field at the training site.
Firefighters from the training center were the first to respond to the scene.
The two pilots on board the plane, Dorian Walker and Craig O'Mara, were able to walk away from the wreckage.
O'Mara said Tuesday that he felt "a little banged up" from the incident.
The plane, owned by Walker, had recently been on display at an airshow in Indiana.
O'Mara said that he and Walker had flown four legs last week from Bowling Green to Scott Air Force Base in Illinois without difficulty and were traveling back to Bowling Green this week.
"On Monday, we waited for the weather to clear, and for the first three legs, it ran like a top, didn't miss a beat," O'Mara said.
That afternoon, the pair were flying the last leg from Madisonville.
"About 12, 13, 14 minutes after takeoff from Madisonville, the engine just suddenly stopped," O'Mara said. "It was almost like someone just shut the ignition off."
O'Mara credited Walker's piloting skills for the effective emergency landing.
"Dorian did a fantastic job of finding the only field available," O'Mara said. "Without his skill as a pilot, this could have turned out differently."
The aircraft suffered significant damage to its wings and fuselage.
Walker was at the crash site Tuesday with Federal Aviation Administration officials, his wife, Elaine Walker, said.
"Dorian is hopeful that if someone wants to restore it, it would be quite feasible to be easily restored to static display," Elaine Walker said. "To restore it to fly again would be a little more complex."
The Curtiss JN-4 was the first mass-produced World War I flight trainer and carried the first regularly scheduled air mail for the United States Postal Service.
Read the entire article on the Bowling Green Daily News web site here:
External Web Site Notice: This page contains information directly presented from an external source. The terms and conditions of this page may not be the same as those of this website. Click here to read the full disclaimer notice for external web sites. Thank you.
Related posts