Historic Hangars of the Pacific Northwest
Published: 28 December 2022
By Meg Godlewski
via the FLYING Magazine web site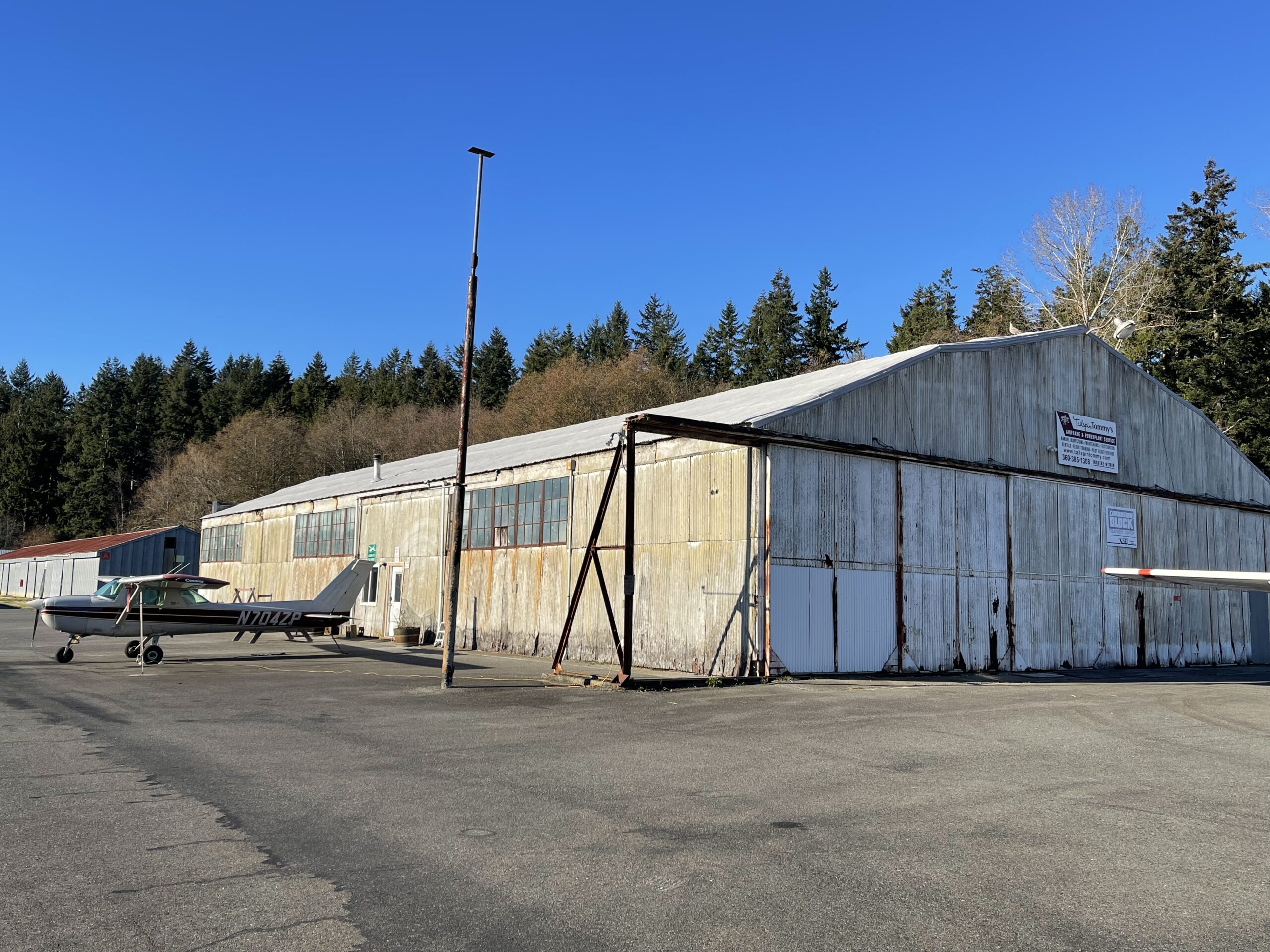 A weathered hangar at Jefferson County International Airport has housed plenty of aircraft maintenance and aviation history, all the way back to WWI.
"How old is that hangar? It looks like something out of the 1920s."
One of my learners made this remark after landing at Jefferson County International Airport (0S9) in Washington. The hangar is a weather-beaten metal structure with lines of square windows at the roofline. You half expect to see the doors being pushed open by men wearing coveralls and newsboy caps so that an open cockpit biplane occupied by a pilot wearing a leather helmet can be pushed onto the ramp.
That's probably happened, says Lee Corbin, a Seattle-area retired military and commercial pilot and local historian. According to Corbin, the metal hangar at Jefferson County dates back to World War I. It was a pre-fabricated steel and sheet metal hangar known as a United States All-Steel Hangar, built by the Carnegie Illinois Steel Company.
"This particular hangar was originally built at Rockwell Field down at San Diego. With the opening of Seattle's first airfield at Sand Point on Lake Washington, the Army decided they would send a small detachment of aircraft to have a presence in the Pacific Northwest," says Corbin. "The hangar was disassembled then shipped north to Sand Point in 1922."
Sand Point evolved into Sand Point Naval Air Station. The base was used for training and support through World War II, the Korean conflict, the Cuban Missile crisis, and Vietnam. The proximity of the base to the populated bedroom communities for Seattle resulted in the base closure in 1970. Much of the property was repurposed. Today the property known as the Sand Point Naval Air Station landmark district occupies 89 acres. Several of the original buildings are still intact but the open areas that once were runways have become trails and athletic fields. Most of today's visitors don't realize that a great deal of Seattle's aviation history happened at the location.
The metal hangar spent about 10 years at Sand Point and had a few famous tenants, notes Corbin. "We know the Spirit of St. Louis was hangared overnight in September 1927, during Lindbergh's tour of the U.S. There's also a good possibility it was used during the three weeks of preparation of the Douglas [World] Cruisers for the Army's round the world flight in 1924. It remained at Sand Point until 1931 when they disassembled it again and moved it to a newly created Army emergency airfield at Fort Townsend, over by Port Townsend, Washington."
Read the entire article on the FLYING Magazine web site here:
External Web Site Notice: This page contains information directly presented from an external source. The terms and conditions of this page may not be the same as those of this website. Click here to read the full disclaimer notice for external web sites. Thank you.
Related posts