Hidden History Presentation about Doctor Frank Boston on March 4 in Des Moines
Published: 6 February 2023
Special to the Doughboy Foundation web site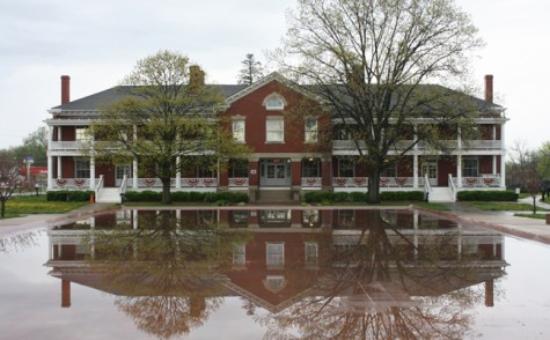 The Athene Speaker Series at the Fort Des Moines Museum will feature a Hidden History Presentation about Doctor Frank Boston on March 4.
The event takes place at 2:00 pm CST at 75 E Army Post Rd, Des Moines, IA 50315. Call 515-200-3678 for more information or visit the Museum's Facebook page.
Join George Whitehair, Executive Director of the Boston Legacy Foundation and lead historian and researcher along with Drake Law student Ouli Sow, and a board member of the Boston Legacy Foundation in this live presentation.
Dr. Frank Erdman Boston (1890-1960), WWI Veteran, Doctor, Surgeon, First Responder, graduate of Fort Des Moines, who served in France with the 92nd Division (Buffalo soldiers) and returned to accomplish incredible feats.
First African American to start an Ambulance Corps (1933 VMSC-EMS)
One of the First African Americans to Start both a Hospital (1934 now part of Jefferson
Health) and the VMSC Ambulance Corps, both continue to serve the community!
One of the First African American Doctors to receive Two U.S. Presidential Citations
One of the First African American Family of Doctors (his brother was also a doctor)
One of the First Sets of African American Brothers and Doctors to serve in the Military
One of the first Monuments to an individual African American was for Dr. Boston
One of the First African American Doctors to become a member of the Association of
Military Surgeons of the United States
The presentation will also share some facts of some the black officers who graduated from Fort Des Moines with Dr. Boston.
Louis Tompkins Wright, was an American surgeon and civil rights activist. In his position at Harlem Hospital, he was the first African American on the surgical staff of a non-segregated hospital in New York City. He also served as the chairman of the NAACP from 1934 – 1952.
 Charles Houston, earned a law degree from Harvard University and became known as "the man who killed Jim Crow." His World War I diary and other memorabilia are included in the Library of Congress Manuscript Division. He also served as the mentor to Thurgood Marshall, a future Justice of the United States Supreme Court.
 Charles Howard, a Drake University Law School graduate and co-founder of the National Bar Association. Howard also served as the National Negro Press correspondent at the United Nations until his death in 1969.
 James B. Morris, Des Moines lawyer and publisher of the Iowa Bystander newspaper, 1922–1972, and co-founder of the National Bar Association.
Related posts