Harlem Hellfighters, WWI Heroes, Win Long-Delayed Honor
Published: 1 September 2022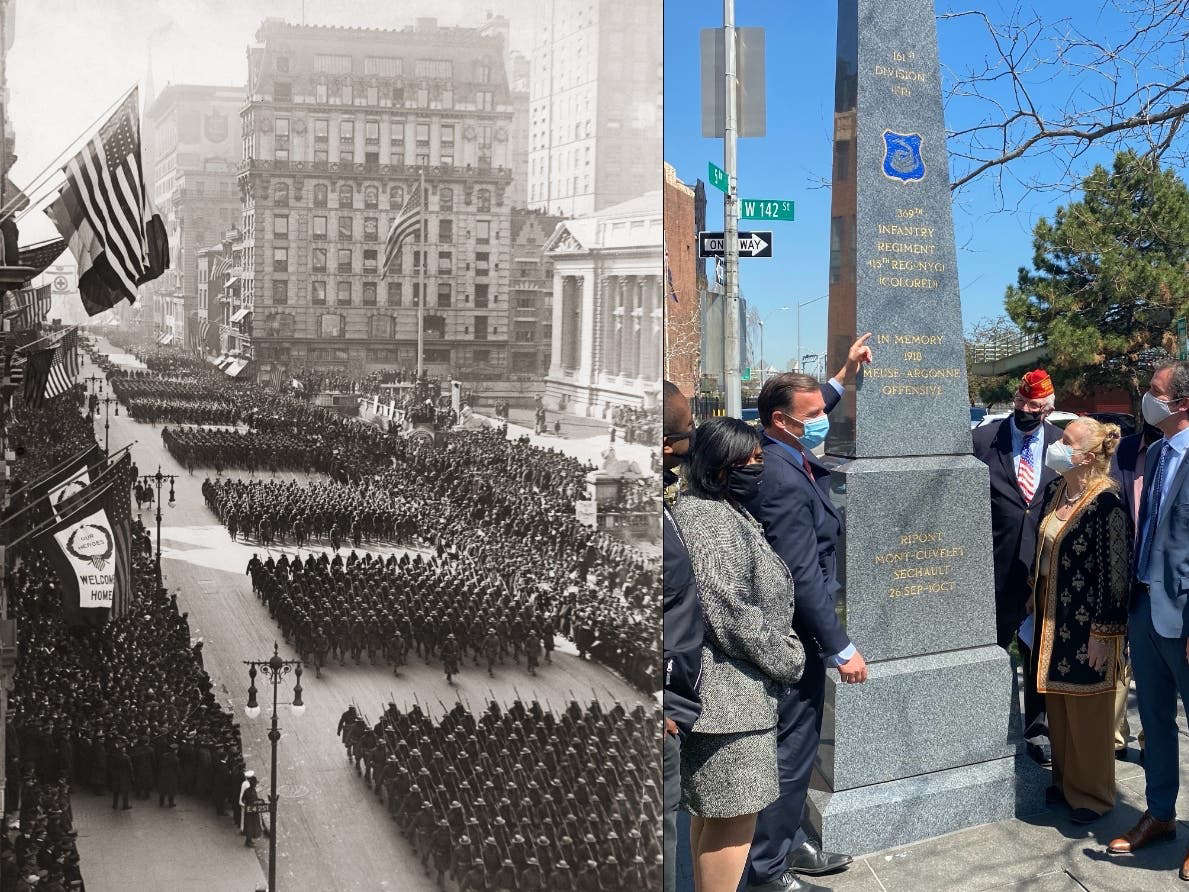 Harlem Hellfighters, WWI Heroes, Win Long-Delayed Honor
By Nick Garber
via the msn.com news web site 
HARLEM, NY — The Harlem Hellfighters, a majority-Black World War I regiment whose soldiers won plaudits for their bravery, have come a step closer to getting long-delayed recognition from the federal government.
The U.S. Senate on Monday passed the Harlem Hellfighters Congressional Gold Medal Act, a bill introduced by New York lawmakers that would award the medal to the Hellfighters. Having already passed the House in June, it now only needs President Joe Biden's signature to become official.
Descendants of the soldiers had gathered this spring at Harlems 369th Regiment Armory — constructed in the Hellfighters' honor — as U.S. Rep. Tom Suozzi announced he was introducing a bill to honor the group.
"It is never too late to do the right thing," said Suozzi, a Long Island congressman who became interested in the Hellfighters after he was approached by neighbors whose ancestor, Sgt. Leander Willett, had been injured in France while serving with the regiment.
The Hellfighters, a segregated regiment composed mostly of Black and Puerto Rican troops, were deployed to France in 1917. They earned their nickname from their German foes, who were impressed by their enemies' bravery on the battlefield.
In 1918, the Hellfighters were assigned to serve with the French Army, rather than with their white countrymen who refused to serve with Black soldiers — a "decades-old injustice" that the Gold Medal would help correct, Suozzi said in April.
Read the entire article on the msn.com web site.
External Web Site Notice: This page contains information directly presented from an external source. The terms and conditions of this page may not be the same as those of this website. Click here to read the full disclaimer notice for external web sites. Thank you.
Related posts