Harlem Hellfighters: Who Were They?
Published: 1 February 2023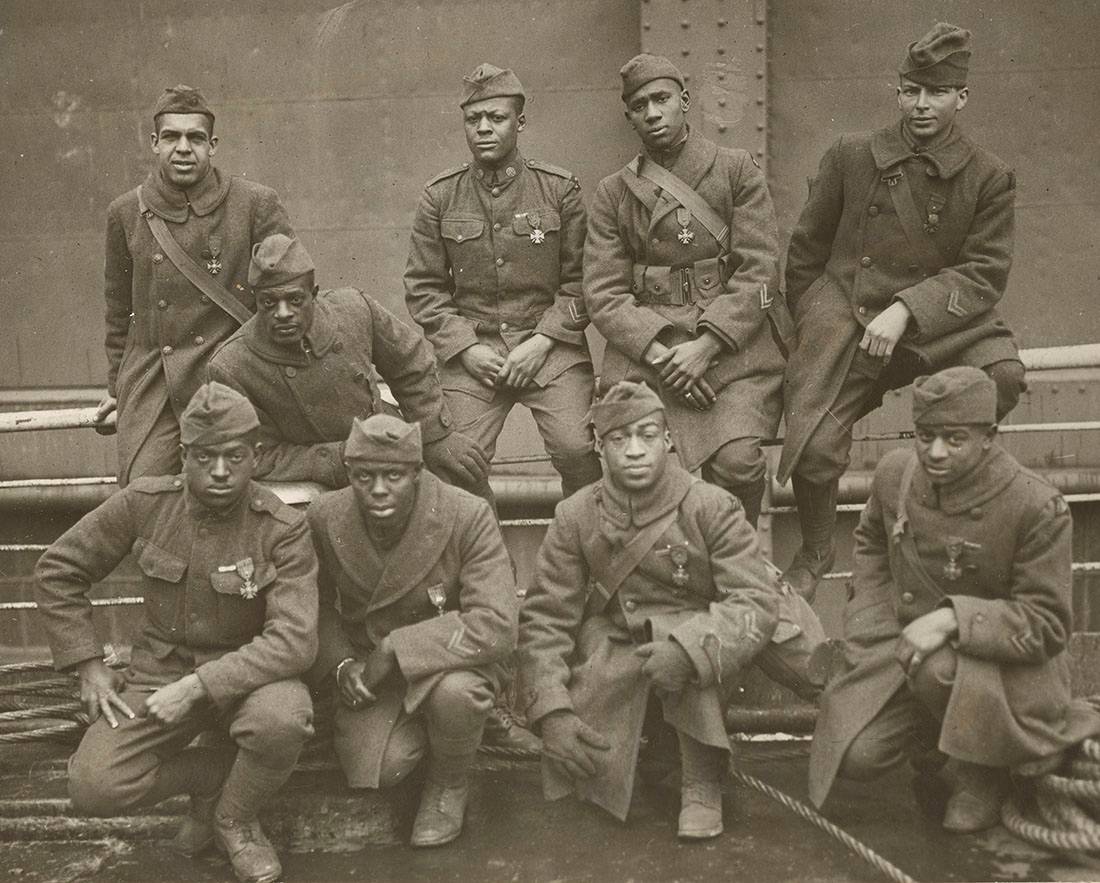 The 369th Infantry, whose members called themselves Harlem's Rattlers, became the most famous all-black regiment to fight during World War I. By the end of the war, 171 of the regiment's men received individual Croix de Guerre medals for their valor.
National Guard Beginnings
The 369th Infantry Regiment was formed in 1913 as the 15th Infantry Regiment. It was a New York Army National Guard infantry unit and one of the first few U.S. Army regiments to have African American officers in addition to an all-African American enlisted corps. Known as the Harlem Hellfighters, the 369th was one of a few black American combat units during World War I.
Once the United States entered World War I, the 15th New York Infantry Regiment was called into federal service and redesignated the 369th Infantry Regiment. The 369th Infantry was assigned to the 93rd Division, which was one of two divisions comprising African Americans.
The unit reflected the racial discrimination and segregation both in American society and within the Army. U.S. Army Gen. John J. Pershing, commander of the American Expeditionary Forces, assigned the Harlem Hellfighters to the allied French Army in order to avoid placing African-American units alongside of white Army units.
In March 1918, Pershing assigned the Harlem Hellfighters to the French who desperately needed combat troops and had deployed their own Black colonial troops. American leaders warned the French not to use the Harlem Hellfighters in the same manner as white troops, but the French ignored the advice and welcomed the Harlem Hellfighters into their fighting force. After training the Harlem Hellfighters on French tactics and weapons, the Harlem Hellfighters were sent to the Argonne Forest in the Champagne region.
During its service in World War I, the Harlem Hellfighters are credited with participation in the Champagne-Marne, Meuse Argonne, Champagne 1918, and Alsace 1918 campaigns. The 369th spent 191 days fighting in frontline trenches and earned a regimental French Croix de Guerre with Silver Star and Streamer embroidered Meuse-Argonne.
Read the entire article on the USAMM web site here:
External Web Site Notice: This page contains information directly presented from an external source. The terms and conditions of this page may not be the same as those of this website. Click here to read the full disclaimer notice for external web sites. Thank you.
Related posts