Gov. Justice, WVDOH celebrate opening of westbound lanes on new Nitro World War I Memorial Bridge
Published: 28 October 2022
By Jordan Damron
via the Office of the Governor of West Virginia web site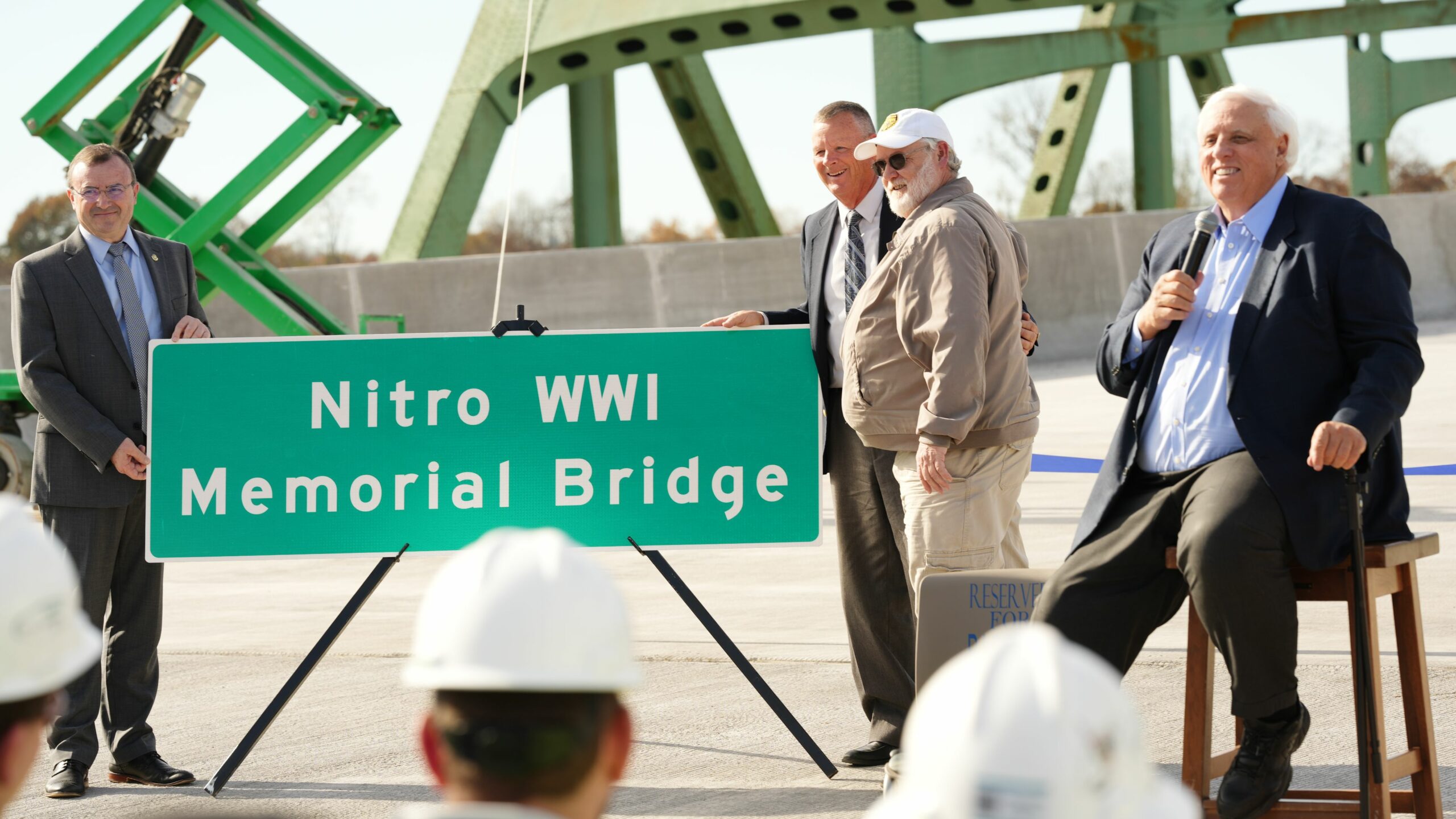 CHARLESTON, WV – Gov. Jim Justice today announced the opening of the new Nitro World War I Memorial Bridge on Interstate 64.
The bridge, being built alongside the Donald M. Legg Memorial Bridge, carries I-64 over the Kanawha River between the Nitro and St. Albans exits.
"Today is a monumental day," Gov. Justice said. "This project has not been in the works forever, ever, ever, and a day. There have been a lot of comments about how we've moved quickly, how our great workers have done their jobs, and how all the great work our workers for Department of Highways do everyday."
The new bridge, 1,425 feet in length, was built to alleviate a bad bottleneck on one of the busiest sections of I-64. The heavily traveled Donald M. Legg Memorial Bridge carries approximately 60,000 vehicles a day.
The new span is part of a $224 million project to widen I-64 to six lanes between Nitro and the Scott Depot exit. The renovation is paid for through Gov. Justice's $2.8 billion Roads to Prosperity program. The construction of the new bridge was a joint venture between Brayman and Trumbull.
Gov. Justice was the first to drive across the completed bridge under water cannons shot off by the Nitro and Teays Valley​ fire departments. Everyone in attendance was able to drive the length of the bridge, as well.
"This project has a big impact on the Kanawha Valley," Wriston said. "Thanks to Governor Justice's leadership and the Roads to Prosperity program, we, along with our contracting partners, are able to see this truly amazing project come to fruition. This project is much needed and will have an impact on the entire region. It will improve safety for drivers and help our growing economy."
Randy Damron from the Department of Transportation, Steve Muck the CEO of Brayman Construction, representatives for Senator Joe Manchin and Senator Shelly Moore Capito, and West Virginia State Senator Glenn Jeffries were all also part of today's ceremony.
"The reason we're here today is because of Gov. Justice's vision," Jeffries said. "I knew in 2017 that Roads to Prosperity was going to be a game-changer and it has been. Thank you, Governor Justice."
Read the entire article on the Office of the Governor of West Virginia web site.
External Web Site Notice: This page contains information directly presented from an external source. The terms and conditions of this page may not be the same as those of this website. Click here to read the full disclaimer notice for external web sites. Thank you.
Related posts