From trenches to trades: Michael Santoro's World War I militaria collection
Published: 4 October 2023
By Dominick Matarese
via The Spectrum Independent Student Publication of The University at Buffalo web site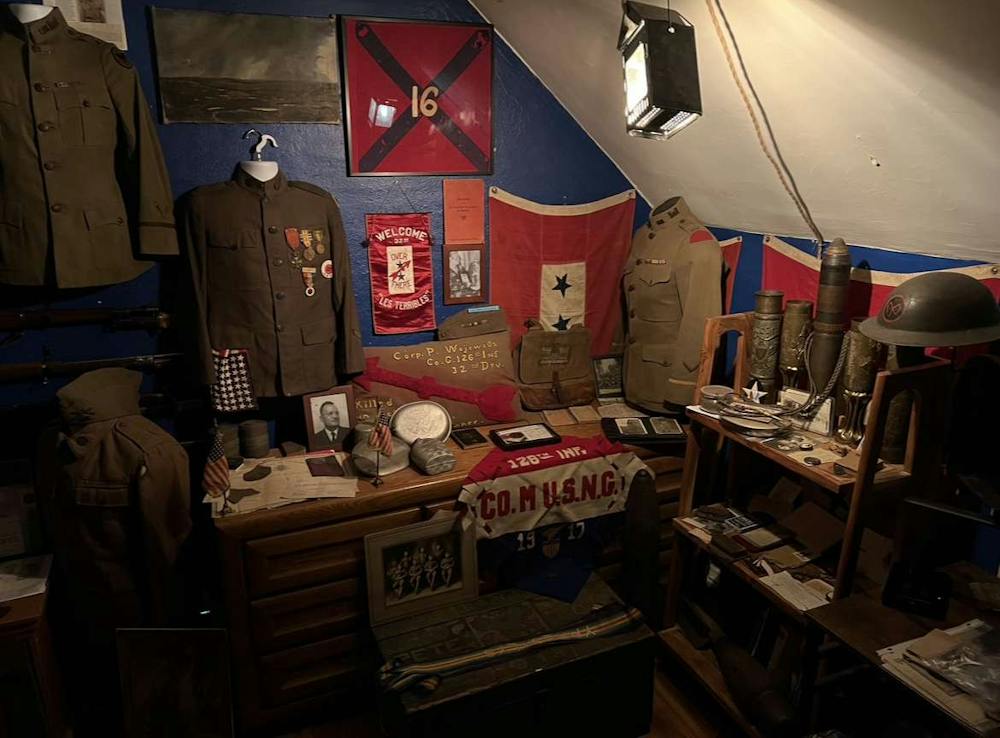 UB alum uses war memorabilia to honor "souls long forgotten"
Nearly every inch of UB alum Michael Santoro's bedroom is covered in World War I memorabilia: rare uniform pieces, medals, photos, letters, diaries and more.
But if his house were burning down and he could only save one thing, it might be his panoramic photo of "the lost battalion" — or perhaps the British uniform that was field issued to an American sergeant.
"I think I'd end up dying just sitting here trying to figure it out," Santoro said.
Santoro — who graduated from UB with a bachelor's degree in environmental design and architecture in 2021 and a master's in architecture and historic preservation in 2023 — eats, sleeps and breathes World War I militaria.
Santoro's love of collecting began as a kid with a coin collection. Coins eventually turned into vinyls, and vinyls became World War I militaria on Christmas Day 2016 when he received a genuine propaganda poster.
The artifacts aren't just objects to Santoro; they're their own piece of history, with a deep story to tell.
One peculiar item that's made its way into Santoro's collection is a postcard from a World War I marine who'd hoped to be stationed in France and was instead dispatched to Haiti. He repeatedly tried escaping the American-occupied island. His attempts earned him 10 years in naval prison at Guantanamo Bay, where the postcard was mailed from.
That postcard is just one of many treasures that adorn the walls and shelves of Santoro's bedroom. Santoro also loves the rich history contained in diaries because of the light they shed on their authors' lives.
"Sometimes you really do get into the really deep s—t. I had this one diary from a guy in an ambulance company that dealt with guys that were wounded by gas," Santoro said. "That really opened my eyes to the true horrors of chemical warfare during World War I because he goes into this horrific detail about what it would do to these soldiers."
Discovering that rich history can also be a source of profit. After buying an item, Santoro frequently researches the soldier who once possessed it. A name and backstory can add value that triples the item's original price, which he keeps track of in a massive spreadsheet.
"It was previously unnamed, and I've now put together this piece of history," Santoro said. "I've given second life to someone whose family has probably forgotten about him."
Santoro has turned his passion into professional opportunities too. This summer, he worked 14- to 18-hour days and slept on a couch in the American War Museum outside of Gettysburg. The museum, which started in December 2021 and opens this year, is dedicated to the Civil War and World War I.
Read the entire article on The Spectrum web site.
External Web Site Notice: This page contains information directly presented from an external source. The terms and conditions of this page may not be the same as those of this website. Click here to read the full disclaimer notice for external web sites. Thank you.
Related posts