From Monty Python to World War I: Michael Palin's new book resurrects his long-lost great uncle
Published: 9 October 2023
By James Lileks
via the the Star Tribune  newspaper (MN) web site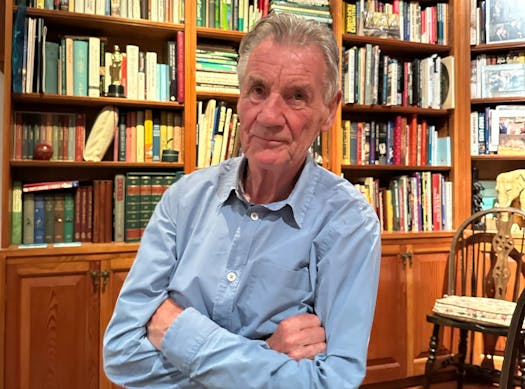 The prolific actor, comedian, writer and producer has created the silly and the sublime.
Say you were going to meet Monty Python's Michael Palin for dinner. What would you bring him?
I did. And I brought a can of Spam.
Some English friends of mine know Palin, my favorite member of the brilliant British comedy troupe. When I learned he had a book coming out, I asked if they could arrange a dinner party where I could meet him. It wasn't a potluck, but I couldn't arrive empty-handed. What could I offer?
Spam, of course, is Minnesota's innovation in the inscrutable-dense-meat category. Spam, thanks to a sketch by Monty Python, is also the word for undesired emails. Palin, as a member of Python, was part of the original skit.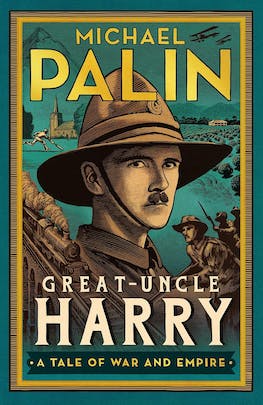 It would bring the world full circle to present Sir Michael Palin (who was knighted in 2019) with Spam, from Minnesota, carried across the ocean by a Minnesotan. The dinner was arranged, and off I went.
Of course, I had 468 questions about Monty Python, but I knew I'd be the 468th person to ask them. So, should I ask him about his travelogues, ranging from "Around the World in 80 Days" to his most recent journey to Iraq? Or his post-Python work, like "Ripping Yarns," the blockbuster movie, "A Fish Called Wanda," or 2017's "The Death of Stalin"?
Maybe we could talk about the movies closest to his heart: "East of Ipswich," a coming-of-age piece about a summer stay in a Suffolk resort, based on his own tale of meeting his future wife. Or "American Friends," a 1991 movie inspired by his great-grandfather's life as an Oxford don. Then there are the art documentaries. Or what about his three-volume set of diaries?
Instead, we talked about a book he's written about another man's diaries. Great-Uncle Harry was the man, and the name of Palin's latest work.
It's a remarkable work of forensic genealogy, reassembling the absent bones of a man who left scant clues, told with quiet, affectionate persistence. There was an obstinate opacity to the man, and yet Palin manages to revive him.
"I was drawn to it because it was a difficult thing to pull off," he said. "There's no trail. But there's something about it: Why did no one in the family talk about him? He'd given his life for his country at the age of 32. So that was the hook. There was something about Harry I wanted to find out.
Read the entire article on the Star Tribune web site here:
External Web Site Notice: This page contains information directly presented from an external source. The terms and conditions of this page may not be the same as those of this website. Click here to read the full disclaimer notice for external web sites. Thank you.
Related posts