First Native American to enlist in World War I honored in bridge dedication in Cannonball, ND
Published: 20 October 2023
By Emmeline Ivy
via the KFYR television station (ND) web site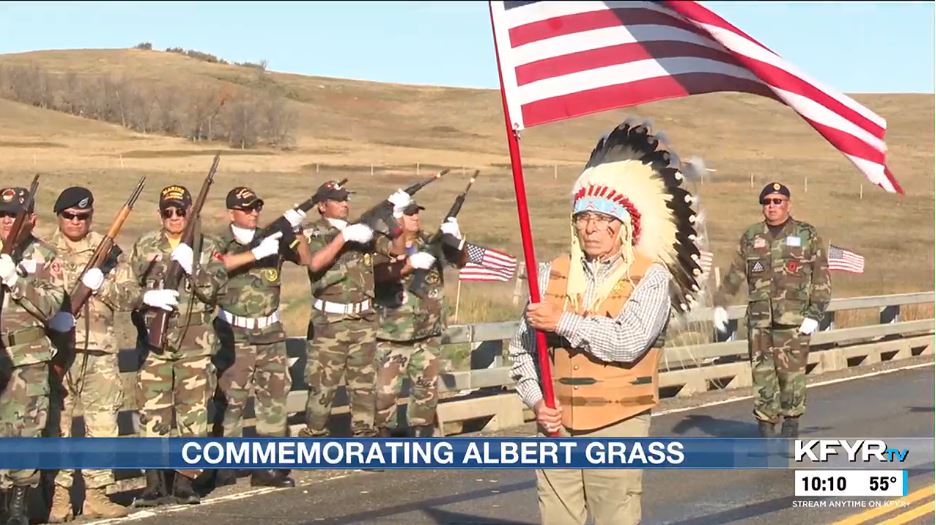 CANNONBALL, N.D. (KFYR) – In April, Governor Doug Burgum signed five bills naming several bridges on North Dakota state highways in honor of military veterans.
Friday, one of those bridges was dedicated to Albert Grass, a member of the Teton Sioux tribe and fallen World War I soldier.
Albert Grass died in action in World War I.
While his body was laid to rest here in the town of Cannonball, his memory is very much alive in the hearts of his family and now, through a piece of infrastructure in this very same town.
It was a time when our country didn't recognize native rights nor their existence as citizens.
"Albert really touched my heart," said Albert Grass's granddaughter Ann Finley.
One Standing Rock Sioux tribe member answered duty's call.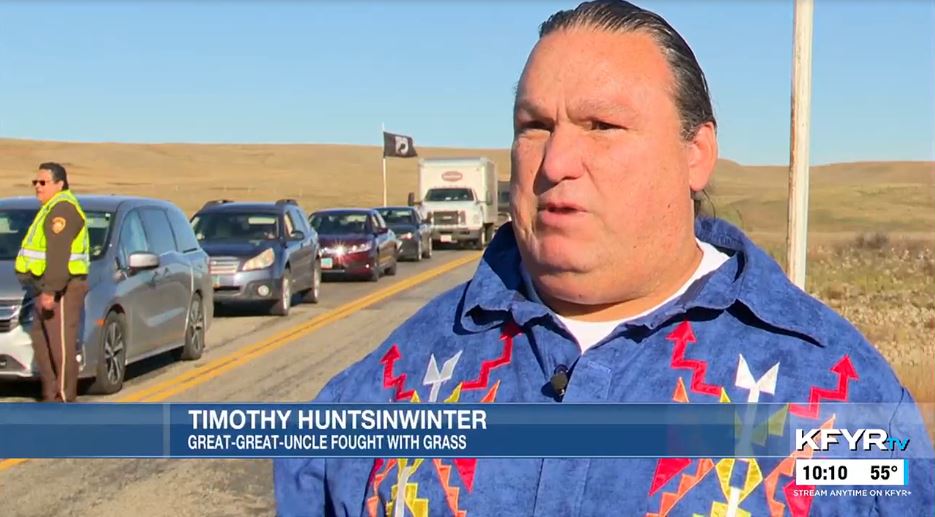 "He wanted to serve his country and serve his people," said Standing Rock Sioux Tribe member Timothy Huntsinwinter from Arizona whose great-great-uncle fought with Albert Grass.
North Dakota has come a long way from then. And now, that man is being recognized.
"He did not die in vain," said Finley.
Albert Grass was the first volunteer enlistee from Standing Rock and the first Native American to enlist in the country.
"Major Welch kind of recruited a lot of the young boys here from Standing Rock at that time.
He took a particular liking to Albert Grass and particularly John Grass, his grandfather," said Albert Grass's great-nephew Travis Condon.
He was also the first of his tribe to die in action.
"When he died, and he came home, thousands and thousands of people were here to honor him," said Condon.
Now, a bridge stands in Cannonball serving to recognize his bravery.
And while his memory lives on through the "Private Albert Grass World War I Bridge," his family has been honoring him through a name.
Read the entire article on the KFYR web site here:
External Web Site Notice: This page contains information directly presented from an external source. The terms and conditions of this page may not be the same as those of this website. Click here to read the full disclaimer notice for external web sites. Thank you.
Related posts