Finding the Lost Battalion
Published: 5 September 2022

"We are along the road parallel 276.4…"
On the evening of October 2nd, 1918 Major Charles W. Whittlesey, commanding officer of the 1st Battalion, 308th Infantry Regiment, 77th Division, led nearly 700 men under his command into the narrow Charlevaux Ravine deep in the Argonne Forest of northeastern France. Units operating on his right and left flanks failed to keep up, leaving his unit out ahead of the main American line.
That night, German troops slipped in behind his unit, breaking his liaison link to the rear and surrounding the Americans ensconced there in the ravine.
Five days later, the Major led 194 survivors out of the ravine… and into history.
Welcome to the US WW1 Centennial Commission's tribute to the famous 'Lost Battalion'!
My name is Robert J. Laplander, and I am the worlds leading historian on the Lost Battalion. For over 20 years, along with my wife Trinie, I have researched and explored the story of the Lost Battalion, the men that formed it, and their commander, Charles W. Whittlesey, building the largest collection of Lost Battalion information in the world. That research resulted in my book Finding the Lost Battalion: Beyond the Rumors, Myths and Legends of America's Famous WW1 Epic. An updated, 100th anniversary edition of the book was released this year to commemorate the centenary of America's entry into The Great War. (To order the book and see a special deal for YOU to help build the National WW1 Monument in Washington D.C. click the link under the contents box on this page.) Here on these web pages you will find more information from my research collection dealing with 'my boys'. I hope you enjoy the time you spend here and encourage you to stop back often as this will be an ever evolving site, with more information added on a regular basis. If you have questions, comments or something to contribute, please do not hesitate to contact me. There are few things I love more than talking Lost Battalion with someone! Send me your email and I will also make sure you are on the Lost Battalion information ring, where you will receive news on updates to the site and other information concerning the 77th Liberty Warriors of that bygone era.
Now, go start exploring the world of the Lost Battalion!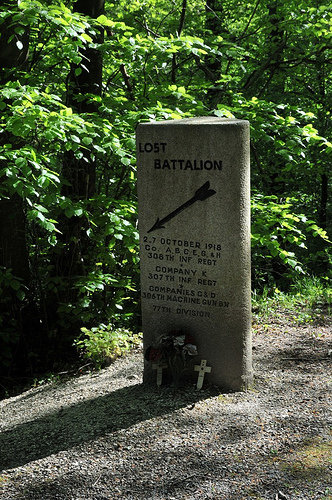 Related posts