Family of WWI soldier gets his Purple Heart – a century later
Published: 5 November 2022
By John Ramsey
via the Post and Courier newspaper (SC) web site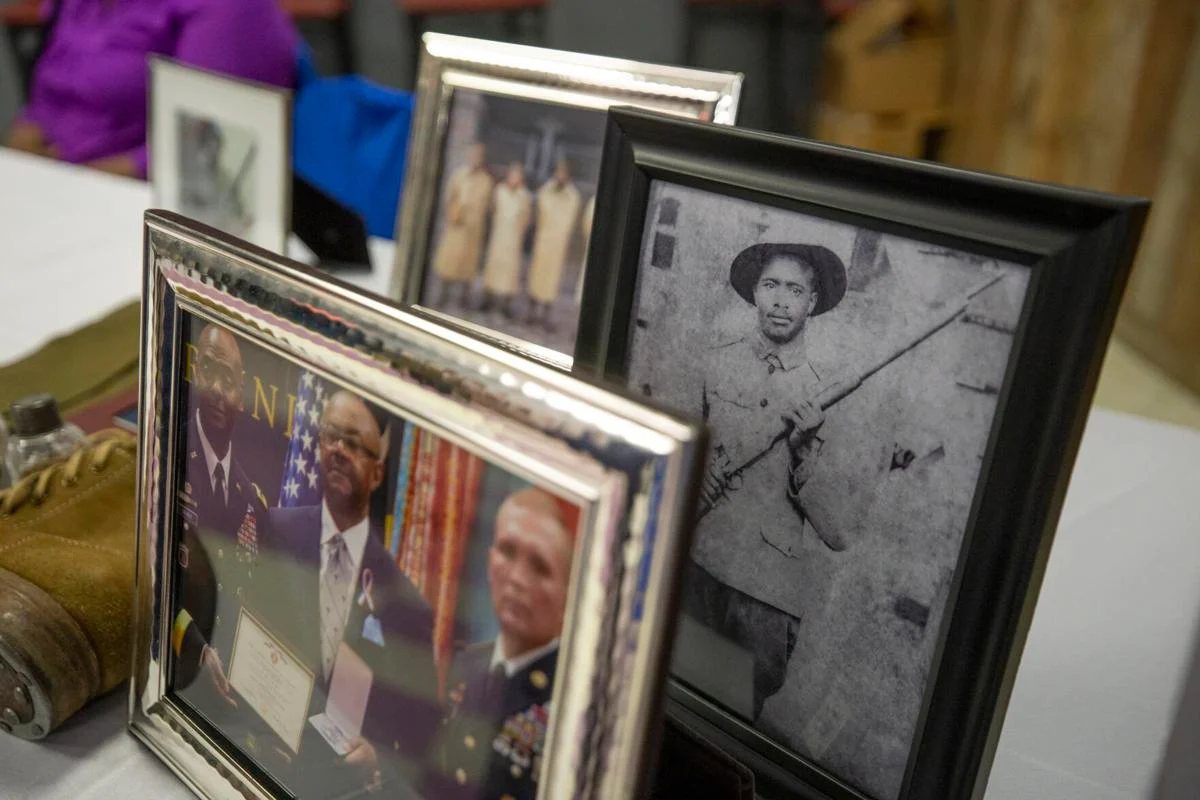 Sharecroppers, pastors and sawmill workers from South Carolina who'd been drafted into the Army and shaped into soldiers were at the bottom of Hill 188.  German machine guns and troops were entrenched at the top. On Sept. 28, 1918, on that hill in France and all along the Western Front, every step forward invited death
The 371st Infantry Regiment, made up of Southern Black men mostly from South Carolina drafted into the U.S. Army, would receive a parade in Columbia when they returned home the following year. But South Carolina was still part of the Jim Crow South, and their contributions to World War I were largely ignored for decades.
When the whistle blew, they charged forward. Among those climbing that day moving through bullets and barbed wire, was Cpl. Freddie Stowers. Stowers would lead the charge after his commanders had been killed and keep rallying his men even as he was dying from his wounds. He would be recognized with the Medal of Honor decades later, in 1991.
Sgt. Henry Dokes was shot in the face the same day Stowers was killed, but he made it home to South Carolina and moved his family north. He never talked about his false eye or the war, said his grandson, Mark Edingburg, who remembers his grandfather's booming voice, big hands and his skill with a saxophone.
Despite his visible wounds and a disability designation from the VA, he was never considered for a Purple Heart. In a ceremony Nov. 5 at the American Legion Post 241 in North Charleston, Edingburg and his grandson were given the military medal Henry Dokes earned more than a century ago. It was approved earlier this year.
"These men are the unsung heroes of World War I," said Perry James IV, who wrote a book about his grandfather's service in the 371st and in 2018 received his Purple Heart earned from that same battle. "These men came back and they wanted to live the American Dream. Instead, if they wore the uniform they'd be lynched."
Taking Hill 188 was part of the Meuse–Argonne offensive, the final allied push to end World War I. The 371st lost more than 40 percent of its men.
The regiment was among the first four all-Black U.S. Army units trained as combat troops. While all the enlisted men in the unit were Black, officers were all White. Previously, Black soldiers were used for hard labor like digging ditches, shoeing horses or loading trains. They trained at Camp Jackson in Columbia over the objections of the governor, who later convinced the military to delay deployment to avoid interfering with the state's cotton harvesting season.
Read the entire article on the Post and Courier web site.
External Web Site Notice: This page contains information directly presented from an external source. The terms and conditions of this page may not be the same as those of this website. Click here to read the full disclaimer notice for external web sites. Thank you.
Related posts