Drought in Texas Reveals World War I Shipwreck
Published: 29 August 2023
By Sarah Kuta
via the Smithsonian Magazine web site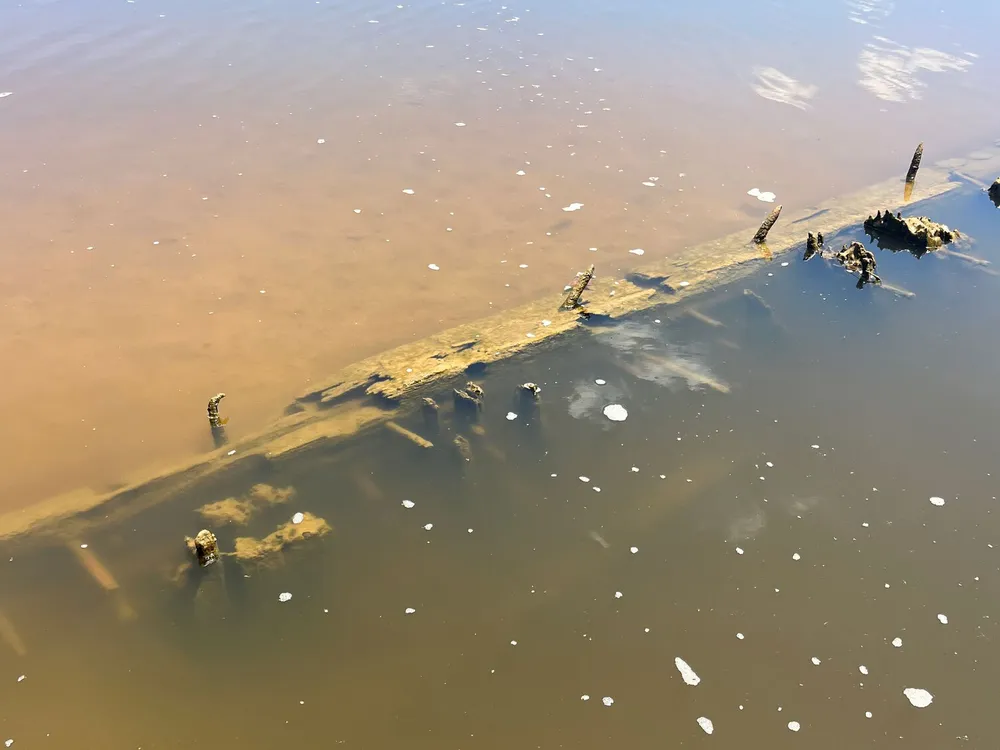 A local man happened upon the wreckage while jet skiing earlier this month
Plagued by scorching temperatures and drought, the Neches River in southeast Texas has revealed the remains of a World War I shipwreck.
The man who stumbled upon it, Bill Milner, was jet skiing on the river when he ran into something. He looked down and saw the remains of what appeared to be a large wooden boat. Milner took 250 photos and videos, then got in touch with the experts at the Ice House Museum in Silsbee, Texas.
"I wanted to document to make sure I could share it with someone who may have more expertise than me," says Milner, who grew up on the river, to Lupita Villarreal and Gloria Walker of KBMT, a local TV station. "I could tell it was a really large vessel."
Experts have known about the wreck—which actually includes the ruins of several vessels—for years. But now that parts of it are visible, they're worried about its safety.
"As long as [the wreck is] out of water, anybody could see it," Susan Kilcrease, curator of the Ice House Museum, tells the Houston Chronicle's Ryan Nickerson. "We were scared to death they were going to be destroyed or looted. People were making comments about how parts of it would make a great fireplace mantel."
The museum posted some of Milner's photos on Facebook and contacted the Texas Historical Commission. Amy Borgens, a maritime archaeologist with the commission, was able to shed some light on the mysterious wreck.
The vessels were built in nearby Beaumont, Texas, during World War I, as she tells Michael Marks of the Texas Standard. "There were actually nine shipyards in Texas that were building these ships under government contracts, and five of these were in Beaumont."
According to the Library of Congress, these ships were operated by the U.S. Shipping Board Emergency Fleet Corporation (EFC), which was responsible for acquiring, maintaining and operating merchant ships to ferry American soldiers and supplies to France. Congress established the corporation shortly after the U.S. declared war on Germany in April 1917.
Read the entire article on the Smithsonian Magazine web site.
External Web Site Notice: This page contains information directly presented from an external source. The terms and conditions of this page may not be the same as those of this website. Click here to read the full disclaimer notice for external web sites. Thank you.
Related posts