Doughboy MIA For October 2023: First Lieutenant Manderson Lehr
Published: 10 October 2023
By Daniel C. Williamson, Lieutenant Colonel, U.S.A. (Retired)
Aviation Lead – Doughboy M.I.A.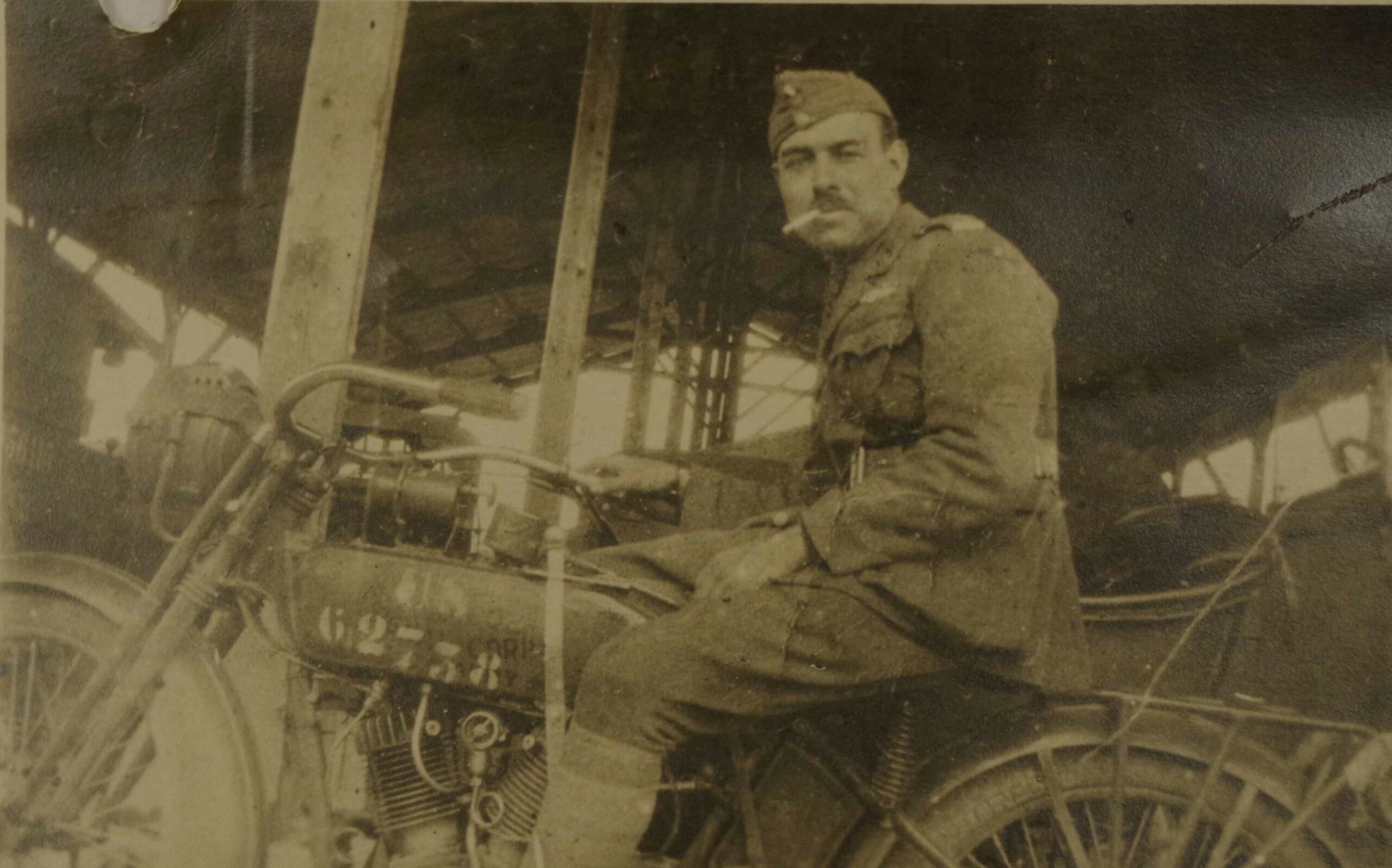 A man is only missing if he is forgotten…
Three French Breguet 14b2 bombers, flying in a driving rainstorm on 15 July 1918, attacked a bridge filled with retreating German Soldiers crossing the Marne River. After dropping their bombs, the three bombers began their return flight to their aerodrome. On their way they were attacked by ten German Albatros D.Va scout fighters from a nearby aerodrome. One of the bombers carried an American pilot and French Observer and was the first to get in serious trouble. The pilot was struck in the head by a German bullet mortally wounding him. The Observer, also wounded, was able to steer the single engine bomber using his feet until it crashed into trees after on the Allied side of the lines. The Observer was thrown out of the aircraft and knocked unconscious and found by an American patrol. He survived the war. The pilot died in the burning wreckage of the bomber. Our Doughboy MIA of the Month is the pilot, First Lieutenant Manderson Lehr, a veteran member of the Lafayette Flying Corps, and to this day officially listed as Missing in Action.
First Lieutenant Manderson "Bud" Lehr was born on 5 July 1895 to Henry F. Lehr, a partner in a lumber yard company, and Annie Hurford Lehr, in Petersburg, Nebraska. He attended public schools in Albion, Nebraska till 1914. After graduation he entered Beloit College in Wisconsin as a member of the class of 1918 and where he played Short Stop for the college Baseball team. Like other young men of the time, he felt the weight of the devastating and destructive struggle in Europe. The junior classman decided to get involved and joined the American Ambulance Field Service.
On 5 May 1917 Lehr departed New York harbor for Le Havre, France aboard the French passenger liner SS Espagne. Eager to get into the fight and not just drive ambulances, Manderson Lehr enlisted in the First Regiment of the French Foreign Legion, as an aviation trooper on 11 June 1917. He was quickly accepted into France's Air Force, the Service Aeronautique, as a Student Pilot on 12 June 1917. The Nebraska native began the five-month aviator training program at Avord, France culminating in his receiving his pilot's brevet (license) number 8441 on 8 September 1917. On that day he was promoted to the rank of Caporal (Corporal) and began training for combat flying.
On 18 November 1917 Manderson Lehr graduated all required advanced aviator courses for combat pilots. He was subsequently promoted to Sergeant and assigned to Escadrille Br.117, a frontline squadron, flying the Breguet 14b2 bomber. The next five months he would successfully fly missions for Escadrille Br.117 until 8 March 1918 when he was accepted into the American Air Service and commissioned as a First Lieutenant, Reserve Aviator. Since the fledging American Air Service did not have enough combat Squadrons in France, Lieutenant Lehr was attached back to Escadrille Br.117 and continued to fly combat missions for the French until 15 July 1918, his final mission.
On 15 July 1918, First Lieutenant Lehr and his Observer, a French Second Lieutenant named Jean Carles, flew a day-bombing mission along the Marne River between Chateau-Thierry and Dormans. The target was most likely a temporary military bridge at Gland or the Pont de Mezy-Moulins bridge near Mont-Saint-Pere on the Marne River. Upon their return trip to their aerodrome, the three bombers were attacked by ten fighters. Lieutnant U. Konnemann of Jasta 45, while flying an Albatros D.Va claimed he shot down a Breguet near Conde, France for his first victory. Conde-en-Brie is 1.8 kilometers Southeast of Connigis where the wreckage of Lieutenant Lehr's aircraft was found in some woods, near a farm in 1923.
In the winter of 1923, local Boy Scouts reported to their Scout Leader, Julian S. Wadsworth, they found the wreckage of an airplane in the nearby woods. Mr. Wadsworth checked the site and confirmed the location of the wreckage and continued investigating its origin. Speaking to the farmer that lived near the woods, he learned that farmer had returned to his farm eight days after a battle that had raged near his house in mid-July 1918. When the farmer arrived at his house, he discovered his yard now included seventeen graves of American infantrymen and another grave near a wrecked aircraft in the woods next to his farm. The farmer told Mr. Wadsworth, the American Graves Registration Service recovered the infantry Soldiers and the badly burned body of the Aviator. Wadsworth discovered later that remains of all 18 recovered bodies were all buried in the Oise-Aisne American Military Cemetery.
Unfortunately for First Lieutenant Manderson Lehr, Graves Registration Service was not aware of his existence in the service of the United States Air Service, as he was still attached to his French Escadrille. Thus, attempts to locate his remains went unaddressed until his father petitioned repeatedly to the War Department for the location of his son's remains after Mr. Wadsworth contacted him by mail and included a fragment of faded cloth from his son's aircraft. The War Department and Graves Registration Service could not confirm the grave location of Mr. Lehr's son.
No positive identification was ever made of Lieutenant Lehr's remains. Even using Lehr's pre-war dental records, provided by his father, did not resolve the mystery of his remains. As a result, First Lieutenant Manderson is still officially listed as missing in action. His name is inscribed on the "Tablets of the Missing" at the Oise-Aisne American Cemetery, Seringes-et-Nesles, France and may even be buried in the cemetery in a grave that reads "Here Rests In Honored Glory An American Soldier Known But to God."
Although he was not a member of the historic Lafayette Escadrille, Lieutenant Lehr is acknowledged on the "Wall of the Missing" at the Lafayette Escadrille Memorial Cemetery, in Marnes-la-Coquette, France. Because he volunteered to fly for France and sacrificed his life fighting for the salvation of the French people, First Lieutenant Manderson Lehr awarded the France's highest military and civilian medal, the Legion d'Honneur. He was also awarded France's highest military medal for gallantry, the Croix de Guerre with Palm and Star.
---
Would you like to be involved with solving the case of First Lieutenant Manderson Lehr, and all the other Americans still in MIA status from World War I? You can! Click here to make a tax-deductible donation to our non-profit organization today, and help us bring them home! Help us do the best job possible and give today, with our thanks.  Remember: A man is only missing if he is forgotten.
Related posts