Doughboy MIA For June 2023: Captain Kenyon Roper, Observer, 91st Aero Squadron
By Daniel C. Williamson, Lieutenant Colonel, U.S.A. (Retired)
Aviation Lead – Doughboy M.I.A.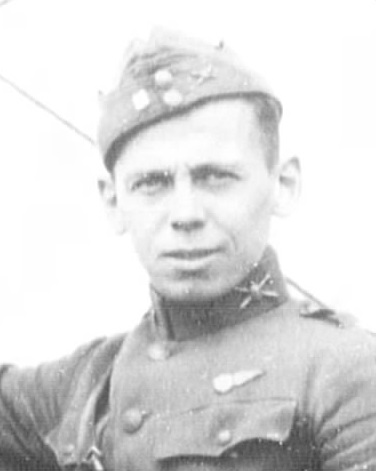 Early in the morning of Saturday, 14 September 1918, First Lieutenant Paul H. "Huggy" Hughey entered the office of his Squadron Commander, Captain Everett R Cook, with a request. The pilot, Lieutenant Hughey, was due to take off soon on a reconnaissance mission behind enemy lines with Captain Kenyon Roper as his Observer and Gunner. Lieutenant Hughey asked to be replaced on this mission because he feared Captain Roper, who was just over five feet tall, was too small to handle the twin ring mounted Vickers 303 machineguns properly on their Salmson 2-A-2 aircraft. Captain Cook, understanding his concern, offered to fly the mission with Captain Roper in Lieutenant Hughey's place. Hughey refused as he felt that Captain Cook was flying more than his share of missions. Hughey and Roper departed the aerodrome at Gondreville, Meurthe et Moselle sometime between 7:20 and 7:30 in the morning. Flying in their trusted Salmson, number 7, they were never seen again.
Our Doughboy MIA of the month is Captain Kenyon Roper, Observer, 91st Aero Squadron, from Steubenville, Ohio. Born on 31 March 1895, Kenyon Roper was the second son of George A. Roper Sr., an undergarment manufacture and Jean Kinsey Roper. On national draft day, 5 June 1917, Kenyon Roper was a registered student attending the Massachusetts Institute of Technology (MIT). In fact, both sons were MIT students in June 1917 and registered for the draft at the same time. Both would leave MIT to fly in the war. George A. Roper Jr., or "Hemp" as he was called, couldn't get in the American Air Service so he joined the Royal Air Force to be a pilot. Kenyon would join the Costal Artillery Corps, training at Fortress Monroe in Virginia. He would receive his commission as a second lieutenant on 9 August 1917 and departed New York harbor for Europe on 12 December 1917 aboard the S.S. Manchuria.
Upon arrival in France Lieutenant Kenyon Roper would learn he had been promoted to First Lieutenant with the same date of rank as his Second Lieutenant's commission, 9 August 1918. While training with France's 7th Army, Kenyon Roper would receive a temporary commission to Captain on 7 March 1918 attesting to his intelligence and ability. He would subsequently volunteer to train as an Observer in the Air Service and after graduating from Observer school he would fly Army Corps missions with France's Escadrille 221 in Breguet XIVs to gain combat experience. Then on 1 June 1918 he and two other Observers were assigned to the 91st Aero Squadron on 1 June 1918. Unfortunately, one week prior to his assignment to a combat squadron, on 25 May 1918, his brother Second Lieutenant George A. Roper Jr., would die in a flying accident. Piloting a British Airco DH9, "Hemp" Roper was extremely low to the ground when he banked and simultaneously hit by a strong wind. The aircraft flipped over and spun into the ground, bursting into flames. George "Hemp" Roper Jr. died before he had a chance to fight in the war. Kenyon Roper would visit his grave before he began flying combat missions.
From 11 August to 14 September Captain Roper would fly a total of thirty missions. Twenty-nine if those missions would be with First Lieutenant Paul H. Hughey as his pilot. Captain Roper would fly ten Reconnaissance, seven Photographic and thirteen Protection missions during his six week combat career. On 4 September Roper and Hughey would shoot down an enemy fighter while saving another Salmson from attack. The team of Roper and Hughey would not receive official credit for the victory as they were behind enemy lines at the time and no one else saw it go down. In his letters home Roper would claim he shot down four enemy aircraft to avenge the loss of his brother. He would not receive credit for any of those claims.
On 14 September 1918 the 91st Aero Squadron list three planned reconnaissance missions of three aircraft. One mission had a departure time of 4:30 in the morning and the other two were at 7:30. The teams for the 7:30 mission was listed as Lieutenant Powell (pilot) with Captain Roper (observer) and Lieutenant Hughey (pilot) with Lieutenant Schricker (observer). It must have been a clerical error as Roper had only flown with one other pilot in all his previous 29 missions.
The route of Hughey and Roper's mission is unclear. But it seems as if they flew the visual reconnaissance path of Conflans – Jarney – Mars la Tour – Chambley. Working alone they were attacked by and shot down it is believed by Leutnant Max Kliefoth of Jasta 19 for his third victory. It would be Kliefoth's final victory as he was shot up and forced to land behind Allied lines on 27 October 1918. He would be Captain Eddie Rickenbacker's 23rd victory and first of three for the day. Klienfoth would end the war as a prisoner, and would later emigrate to the United States dying in Pennsylvania in 1953.
The German Soldiers on the scene of the crashed extracted the two dead aviators and buried them in the same grave, near their aircraft, 800 meters south of Tronville, Meurthe-et-Mosselle. They respectfully placed a single marker on the grave with "Hier liegen 2 Americkanische Flieger t 14-9-18." Translated this means "Here lay 2 American Airmen" the "t" represents the word "tot" the German word for "dead" and the date is given as 14 September 1918 in the European style.
Captain Roper and Lieutenant Hughey's grave would go unnoticed until someone put two crosses on the grave engraved with Roper and Hughey's names. The 91st Aero Squadron and the families of the aircrew never knew the fate of Hughey and Roper. In the Spring of 1919 Captain Frederick Zinn, the Personnel Officer of the Aviation Service, had learned of two possible graves of the American Aviators were near in the town of Tronville. Traveling there in May 1919 he located the grave and had the remains removed. One of the two aviators was badly burned and unrecognizable. The second set of remains was less burned and had the initials K.R. on his undergarments in two different places. Not satisfied with this Captain Zinn sought out additional proof which he found in the possession of a young boy. It was a handkerchief discarded by the German souvenir hunters with the name "Kenyon Roper" clearly written in ink on the material. Zinn accepted this proof that these two sets of remains were Hughey and Roper.
When this was reported two the two families only George A Roper, Kenyon's father, disagreed with Zinn's findings. First, since George Roper was a manufacture of high quality undergarments, he stated that all of Kenyon's articles of clothing had a stitched name tape with "Kenyon Roper" sewn inside his clothes. Second, the dental records did not appear to match. Third, the family was told their son had been a prisoner of war and was sent to a German field hospital because of his injuries. Finally, George Roper personally inspected the crash site and claimed he found aircraft parts that did not belong to a Salmson 2A2. The U.S. Army disagreed with the father's findings but accepted his claims until further proof the remains were in fact those of Captain Kenyon Roper.
Lieutenant Hughey's remains would be buried as identified by Captain Zinn. However, the remains Zinn believed to be Captain Roper and the family did not agree would be labeled as an Unknown Aviator and placed in Grave 30 Section 7 Plot 1 of the St. Mihiel American Cemetery. Captain Roper would be listed as grave not located.
---
Would you like to be involved with solving the case of Captain Kenyon Roper, and all the other Americans still in MIA status from WWI? You can! Click here to make a tax-deductible donation to our non-profit organization today, and help us bring them home! Help us do the best job possible and give today, with our thanks.  Remember: A man is only missing if he is forgotten.
Related posts