Connecticut's 1st State Troubadour Connects To WWI
Published: 28 December 2021
By Tom Callinan, Connecticut's 1st Official State Troubadour
Special to the Doughboy Foundation web site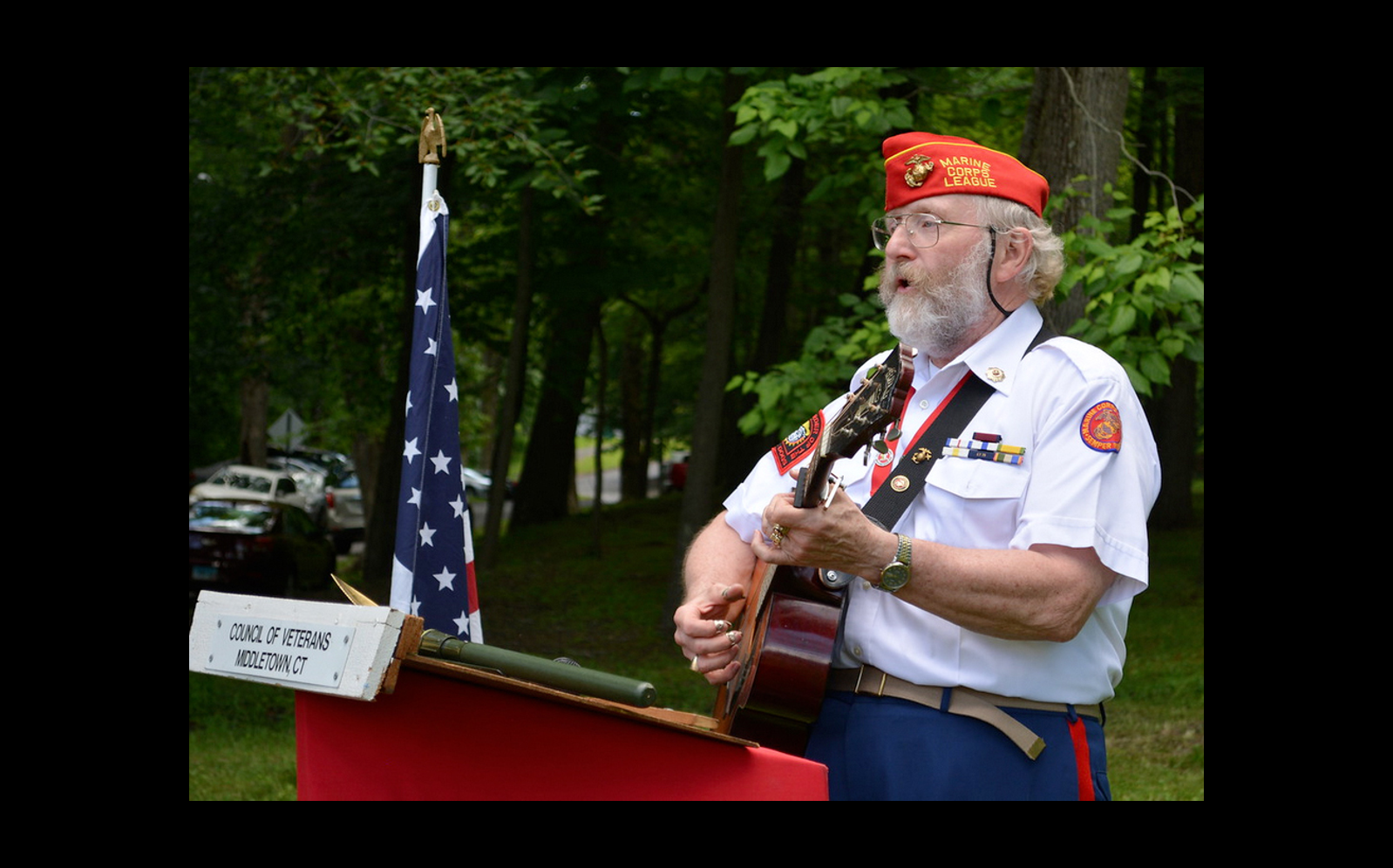 As background to my formative years, my parents met at a barn-dance in Middletown, CT, my mother's hometown, in the early 1940s. My father, Joe, was the sixth of seven children, born in New Haven to Irish immigrant parents, who eked out a living until my grandfather succumbed to the Spanish Flu, when my dad was only five. His widowed mother was left with six at home, and another one who had gone to Ireland to live with his maternal grandparents, and helped tend to their meager farm. With flaming, red hair and a muscular build, Dad was a scrappy kid, as were many of the poor, fatherless, Depression-Era boys. To help his mother, Dad dropped out of high school to join the Civilian Conservation Corps to earn $30 a month, $25 of which was sent home. In addition to being a boxer, Dad was a born entertainer, who had performed in minstrel shows and on street corners during the 1930s as an amateur barbershop-quartet singer.
When WWII erupted, Dad served with the Army's 83rd Infantry Division in the European Theater of Operations, while my mother, Ann Coleman, an only child, had grown up in a middle-class family, and graduated high school in 1940 with a commercial diploma. During the war she served as the secretary of the Draft Board in Middletown.
Before Mom was born, her late-uncle, Jeremiah J. Coleman served with the 107th Regiment of the 77th Division (National Army) in The Great War. He was killed in action at Chateau Thierry, France in late-August, 1918, and other than seeing his photo when we paid frequent visits to my Aunt Mary (Uncle Jerry's sister), I knew little about him, except that he is interred in St. John's Cemetery in Middletown; he's listed on the WWI memorial obelisk on the Washington Terrace Green; and one of the trees planted in memory of Middletown's fallen was planted in his honor.
In the late 1960s, I was an English major/Music minor at Central Connecticut State College (now University), with eyes toward becoming a teacher. However, a number of factors caused my life to spiral out of control, and as a result, I dropped out of school. Pretty much rudderless, I bounced-around from job-to-job, trying to deal with my free-fall with too much alcohol, and too little self-control. In the first draft lottery of 1970, I received number 29, so I decided to turn my life around by enlisting in the Marine Corps. As luck would have it, while being processed for deployment to Vietnam, the Marine directly ahead of me in line was the last 0311 (rifleman) in the quota for DaNang, so I was diverted to Camp Pendleton, CA, and never got out of the country.
After my Honorable Discharge, I returned to CCSC to resume my academic studies, and graduated with a B.S. in Secondary Education in 1973. That led to a junior high school teaching job, and a serendipitous meeting with two musicians who had a weekly gig at a pub in Hartford, performing Irish music and sea chanteys. Since my musical proclivities ran parallel to those genres, they asked me to sit-in, and in late-1973 I became the third member of The Morgans, which became known as "Connecticut's Premier Irish and Sea Songs Ensemble."
In 1977, after four years of teaching, I took a one-year leave of absence to use my G.I. Bill to finish my Master's Degree (M.A.L.S., Music Concentration) at Wesleyan University in 1978. During my hiatus from teaching, I worked an average of 5 nights a week as a solo performer; a member of a duo; and on weekends, with The Morgans, whom I had begun to manage in 1977, when one of the founding members left the group. In 1979 I met my wife Ann, who persuaded me to shift my focus from being a pub-singer, to the Arts-In-Education arena, and I gradually transformed myself into a full-time, self-managed creative and performing artist. I began developing new programs, to the point that I currently offer over thirty on my website, http://www.crackerbarrel-ents.com/Callinan/programs.htm and an additional bunch of monthly thematic programs http://www.crackerbarrel-ents.com/Callinan/tom_thematic_progs.htm which were designed for senior centers, healthcare facilities, etc.
My interest in history, especially as it relates to Connecticut, was tied to a number of the programs I had developed, and people began describing me as having written more songs about Connecticut's people, places, and events than anyone in history. In 1991, legislation passed by the CT General Assembly, and signed into law by then-Governor Lowell P. Weicker, Jr. led to my designation as Connecticut's 1st Official State Troubadour.
Ann and I had moved to our 1793 home in Norwich, CT in 2007, and the panoply of "The Rose City" in legend and lore caused my historically-based material to expand exponentially. In less than a year I composed fifteen songs, and released a CD in time for Norwich's 350th Anniversary in 2009.
In 2015, cognizant that the centennial of WWI was fast approaching, I started putting a new program together about "The War To End All Wars" http://www.crackerbarrel-ents.com/Callinan/Over_Here_Over_There.htm, and in 2016 that coincided with a request to perform an original song for the dedication of a Trees Of Honor Memorial at Veterans Park in my old hometown of Middletown. In a tranquil setting, sixty-five Connecticut servicemen and women who had been killed in The Global War On Terror are memorialized there: https://cttreesofhonor.com/memorial/.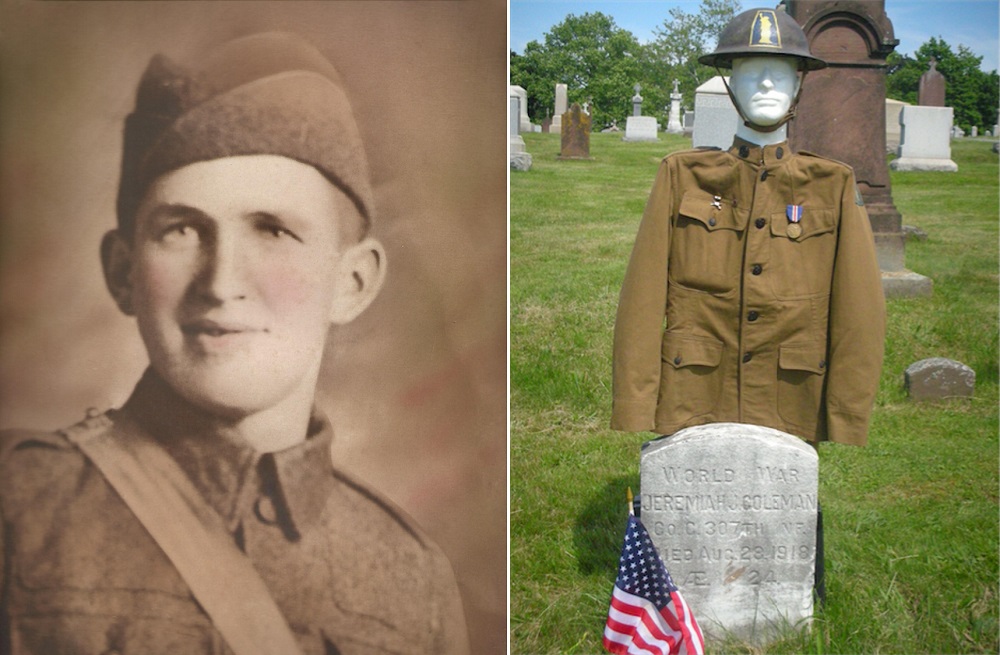 Tom Callinan's "Uncle Jerry" Jeremiah Coleman in his world War I uniform (left), and the facsimile of Uncle Jerry that accompanies Callinan for his WWI programs.That took me back to my childhood recollections of my Great-Uncle Jerry Coleman's memorial tree, so while composing a new song, entitled "Gone, But Not Forgotten" for the Trees Of Honor dedication ceremony, I began to write a more personal song, which became "Searching For Great-Uncle Jerry". I found a scan of his draft-card online through Ancestry.com (see attachment), and I purchased the History Of The 77th Division, which revealed that there was a Memorial Grove in Central Park in New York City that listed Uncle Jerry on a plaque for "G" Company of the 107th Regiment), along with books and postcards from Camp Upton in Long Island, NY (where he did his basic training), to get an idea of some of the places and things he had experienced.
I also made a mannequin of sorts, using a WWI tunic, and adding the Liberty Division patch, CT Wartime Service Medal, and the WWI Victory medal, and bought a helmet, on which my artistic next-door neighbor painted a replica of Statue of Liberty helmet insignia that I had found online (see attachment). So, when I do my WWI programs, a facsimile of Uncle Jerry always comes with me.
In 2017, Norwich Mayor Peter Nystrom and City Historian Dale Plummer asked me to be part of a committee to restore a WWI German howitzer (artillery piece) that had been given to the city in 1926 as a post-war trophy. Over the decades, the city hadn't properly maintained it, so the wooden wheels rotted out, and the field piece was taken to nearby Mohegan Park, chained to a fence, and eventually became overgrown with brambles and vines (see attached photo).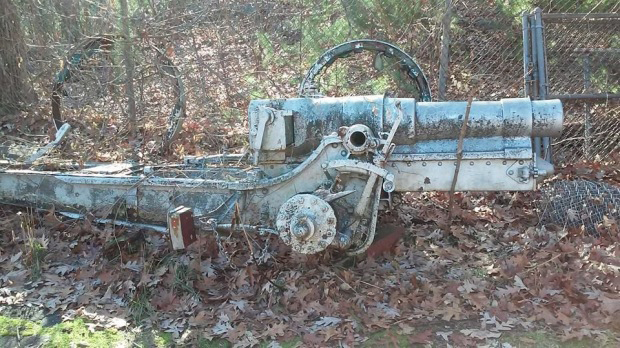 Norwich's "Kreigsbeute" WWI German howitzer. Fundraising for restoration of the howitzer as a memorial for locals who served in World War I is challenging. In November, 2017 I debuted a new song, "Norwich's Kreigsbeute" during a WWI-related program at Middletown's Russell Library, where I had spent considerable time as a boy – kriegsbeute means trophy of war. Here's a YouTube link to "Norwich's Kreigsbeute": https://youtu.be/47RIgBgzwMs
Since then, I have composed other original songs related to; Sergeant Stubby (the most decorated dog of WWI), who hailed from New Haven https://i1.wp.com/sergeantstubbysalutes.org/wp-content/uploads/2018/02/IMG_0763.jpg?fit=2941%2C2829&ssl=1; and a number of soldiers from Norwich, who didn't make it home.
Fundraising for having the howitzer restored has proven to be a mammoth undertaking, especially since many contemporary people see WWI as ancient history. So, the committee began holding programs and other special events to try to build interest, and hopefully enthusiasm about the WWI Memorial, and its historical relevance to our city and nation.
Here are several links related to that promotional effort:
Anyone who would like to help our fundraising effort should make their checks payable to the City Historian, 307 Main Street, Norwich, CT 06360, and write "WWI Howitzer Restoration" in the Memo-line.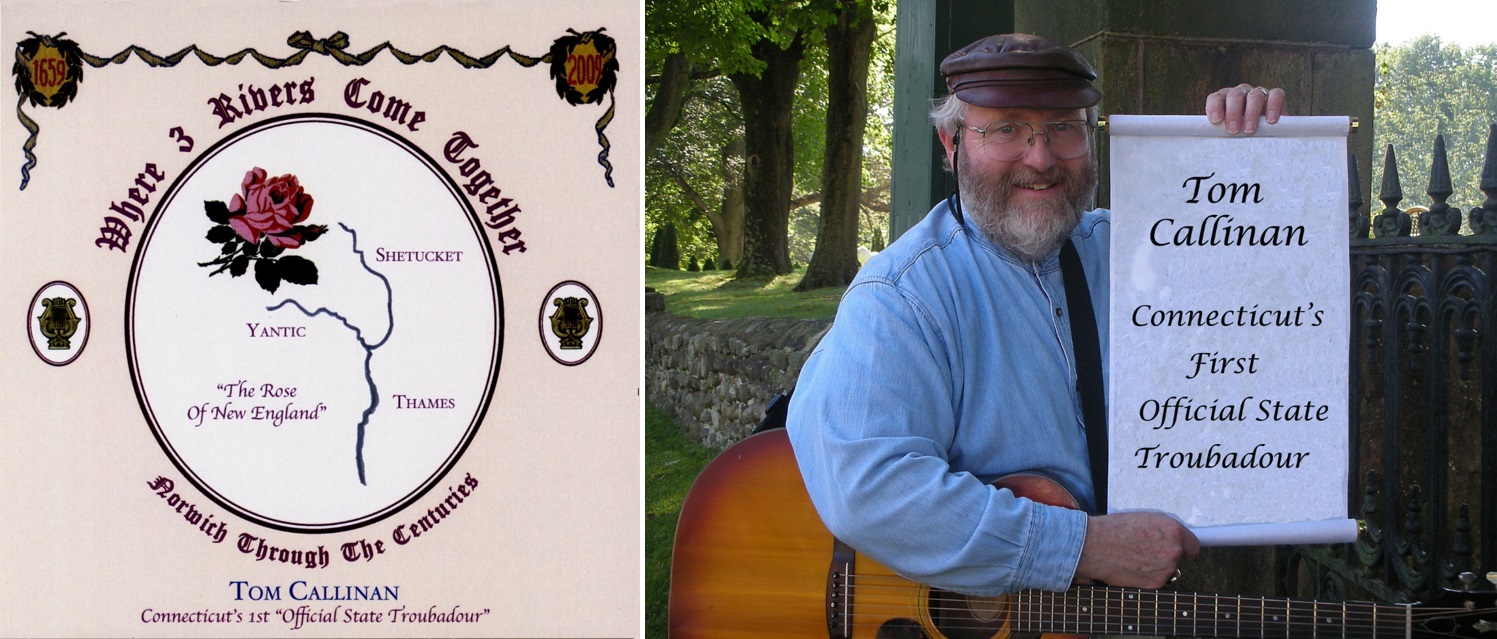 Tom Callinan's CD celebrating Norwich's 350th Anniversary in 2009 (left) and Callinan's cover photo.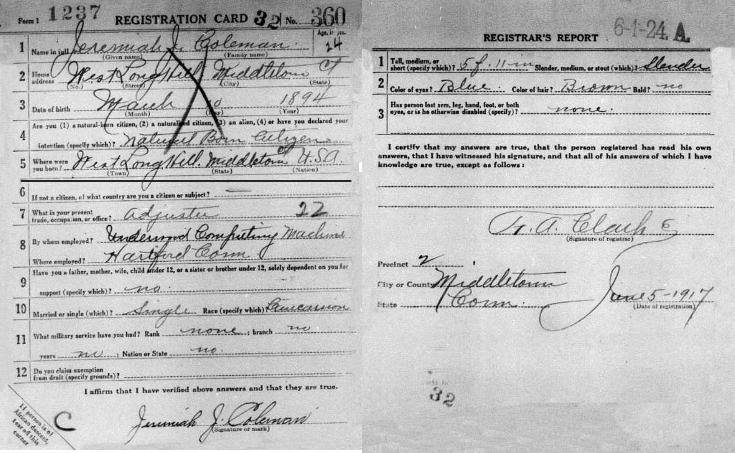 Great-Uncle Jerry Coleman's Draft Card
Related posts