Community Makes 10,000 Sandwiches for the Needy in 1 Day, Honoring Legacy of Woman Who Did That for Soldiers in WWI
Published: 10 November 2022
via the Good News Network web site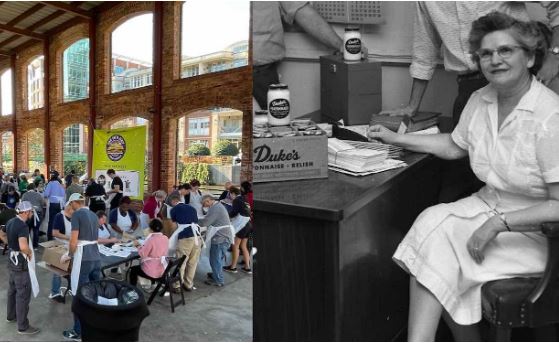 A South Carolina community came together this week to make 10,000 sandwiches in one day to give away to local food banks, schools, soup kitchens, and shelters.
The 200 volunteers in Greenville were also honoring the amazing legacy of Eugenia Duke, a local woman who bucked every norm 100 years ago to start a business on her own—and support soldiers in World War I.
In 1917, Eugenia Duke and her daughter Martha began selling homemade sandwiches for 10 cents each at Army canteens to make extra money for their family in Greenville during the war.
Her pimento cheese, bacon, and mayonnaise sandwiches were quite popular and she got so many requests from soldiers at nearby Camp Sevier that she started bottling her homemade mayo four years later.
Her Duke's Mayonnaise became a beloved condiment that is still sold on grocery shelves in much of the United States
The volunteers used around one ton of homemade pimento and cheddar cheese salad to assemble 10,000 sandwiches inside the historic pavilion downtown which is the same location of the original Duke's Mayonnaise factory.
They were following in Mrs. Duke's footprints of kindness, too: She famously made 10,000 sandwiches in 1 day to support soldiers during World War 1.
The whole community helped out, with Meals on Wheels delivering the sandwiches, Loaves & Fishes distributing the food, and Duke's providing 100 gallons of its famous sauce. Other local hospitality companies contributed equipment and manpower to VisitGreenvilleSC, which organized the entire operation.
Read the entire article on the Good News Network web site here: External Web Site Notice: This page contains information directly presented from an external source. The terms and conditions of this page may not be the same as those of this website. Click here to read the full disclaimer notice for external web sites. Thank you.
Related posts