Chiefs Celebrate Doran Cart, Curator Emeritus at the National WWI Museum & Memorial, with Tour of the Hall of Honor
Published: 14 December 2022
By Matt McMullen
via the Kansas City Chiefs web site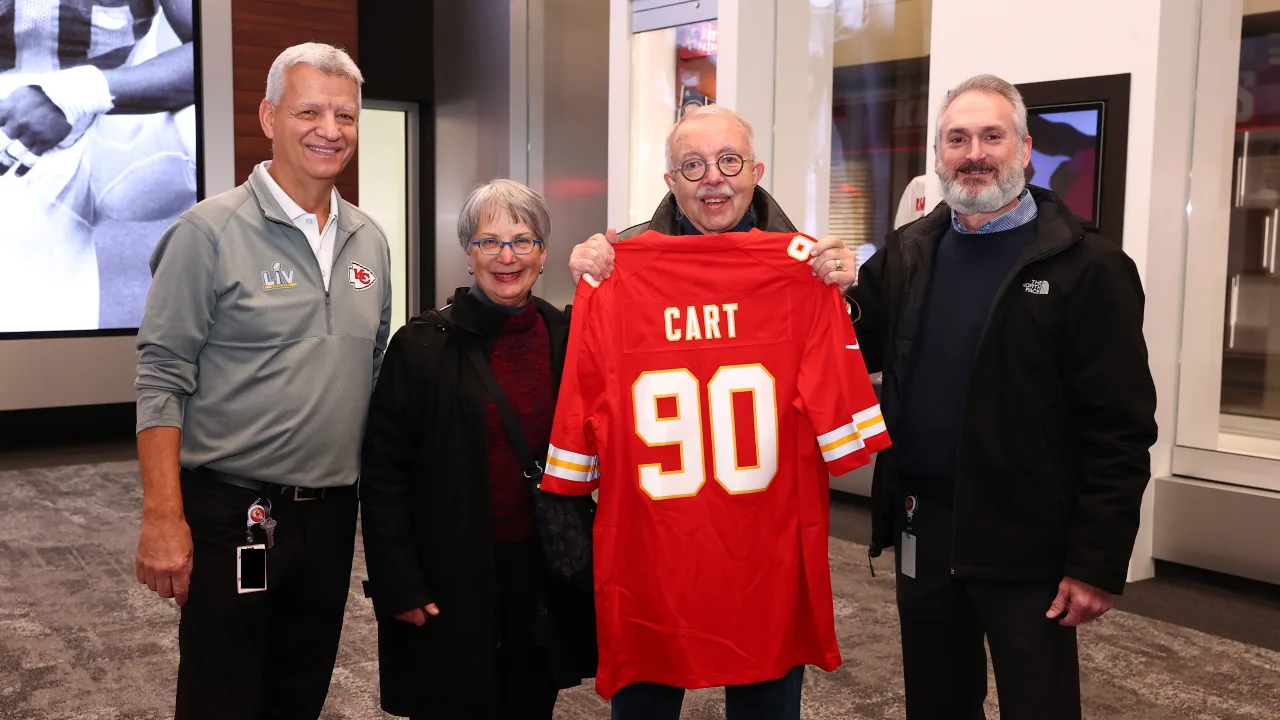 Cart spent 33 years as the Senior Curator at the National World War I Museum and Memorial
The Hall of Honor was quiet on Monday morning, absent of the typical wall-to-wall hustle and bustle that occupies this sacred space on game days. Silence echoed throughout the structure, preserving the fifty bronze busts, two Lombardi Trophies and single piece of stationary that served as the founding document of the American Football League.
This gallery of history is dedicated to the moments, people and artifacts that collectively tell the story of the Kansas City Chiefs, and on this particular morning, it was all reserved for an individual who could perhaps enjoy it the most.
Doran Cart, the Senior Curator of the National World War I Museum and Memorial in downtown Kansas City, is set to retire later this month after 33 years of faithful service to one of our city's greatest institutions. He is largely responsible for the Museum and Memorial's rise into one of the most comprehensive collections of World War I objects on Earth.
He's also an enormous fan of the red and gold, and in celebration of his tremendous career, the Chiefs provided Cart with not only a private tour of the Hall of Honor, but also a custom jersey bearing his name.
"Doran has done so much for the National World War I Museum and Memorial, but he's also such a big Chiefs' fan," said Chiefs' Executive Vice President & CFO Dan Crumb, who was on the Museum and Memorial's board of trustees through November and currently serves as the Chair of the Gallery Refresh Task Force. "I attend all the board and committee meetings, and whenever I see Doran, he's always asking about the Chiefs. He loves our team so much, and for all of the commitment he's shown to the museum and to our city, we wanted to do this for him."
Crumb arranged for Cart's tour to be guided by Team Historian Mike Davidson, bringing together a pair of stewards from two iconic pillars of our city for a stroll through more than 50 years of history.
"This is an incredible honor. I've been following the Chiefs ever since I came to Kansas City in 1985, so I'm just overwhelmed," Cart said. "Our museum is about the humanity of those who participated in the war, and to be here learning about these incredible sports heroes and who they were, it couldn't be any better."
Read the entire article on the Kansas City Chiefs web site here:
External Web Site Notice: This page contains information directly presented from an external source. The terms and conditions of this page may not be the same as those of this website. Click here to read the full disclaimer notice for external web sites. Thank you.
Related posts