Charlie Chaplin, other stars promote Liberty Bonds on Wall Street in 1918
Published: 14 October 2023
By @historyinmemes
via X (formerly known as Twitter)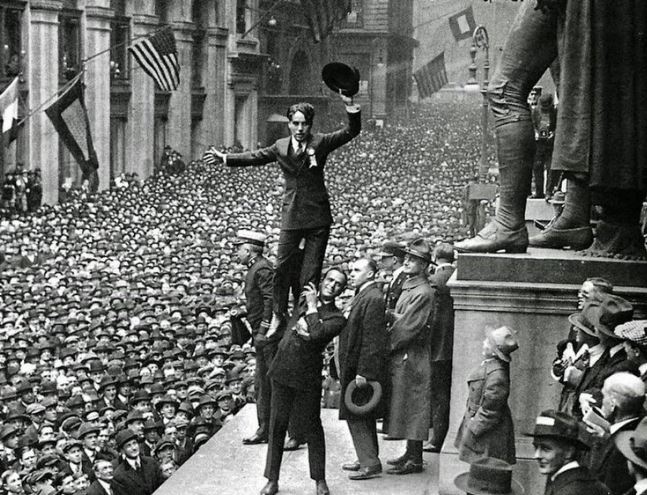 In 1918, Charlie Chaplin stood on Wall Street in New York City, drawing a massive crowd of 20,000 people at the base of the United States Sub-Treasury building (now known as Federal Hall). His purpose was to rally support for Liberty bonds, aiding the American war effort during World War 1.
The United States had recently entered the war, and while there was a surge of patriotism, most Americans were unfamiliar with buying bonds. To bolster sales, the government started enlisting celebrities and movie stars for promotion. At that time, New York City, not Hollywood, was the epicenter of the film industry.
Surprisingly, many in the crowd also heard Chaplin's voice for the first time. He humorously remarked through a megaphone, "I never made a speech before in my life, but I believe I can make one now."
Interestingly, his movie, "A Dog's Life," would hit theaters just five days later.
Read read more about the Hollywood stars promoting liberty Bonds on the Once Upon a Time in Hollywood web site here:
External Web Site Notice: This page contains information directly presented from an external source. The terms and conditions of this page may not be the same as those of this website. Click here to read the full disclaimer notice for external web sites. Thank you.
Related posts