Ceremony to honor World War I veterans who attended Phoenix Indian School
Published: 7 October 2022
By Christina Estes
via the KJZZ radio station (AZ) web site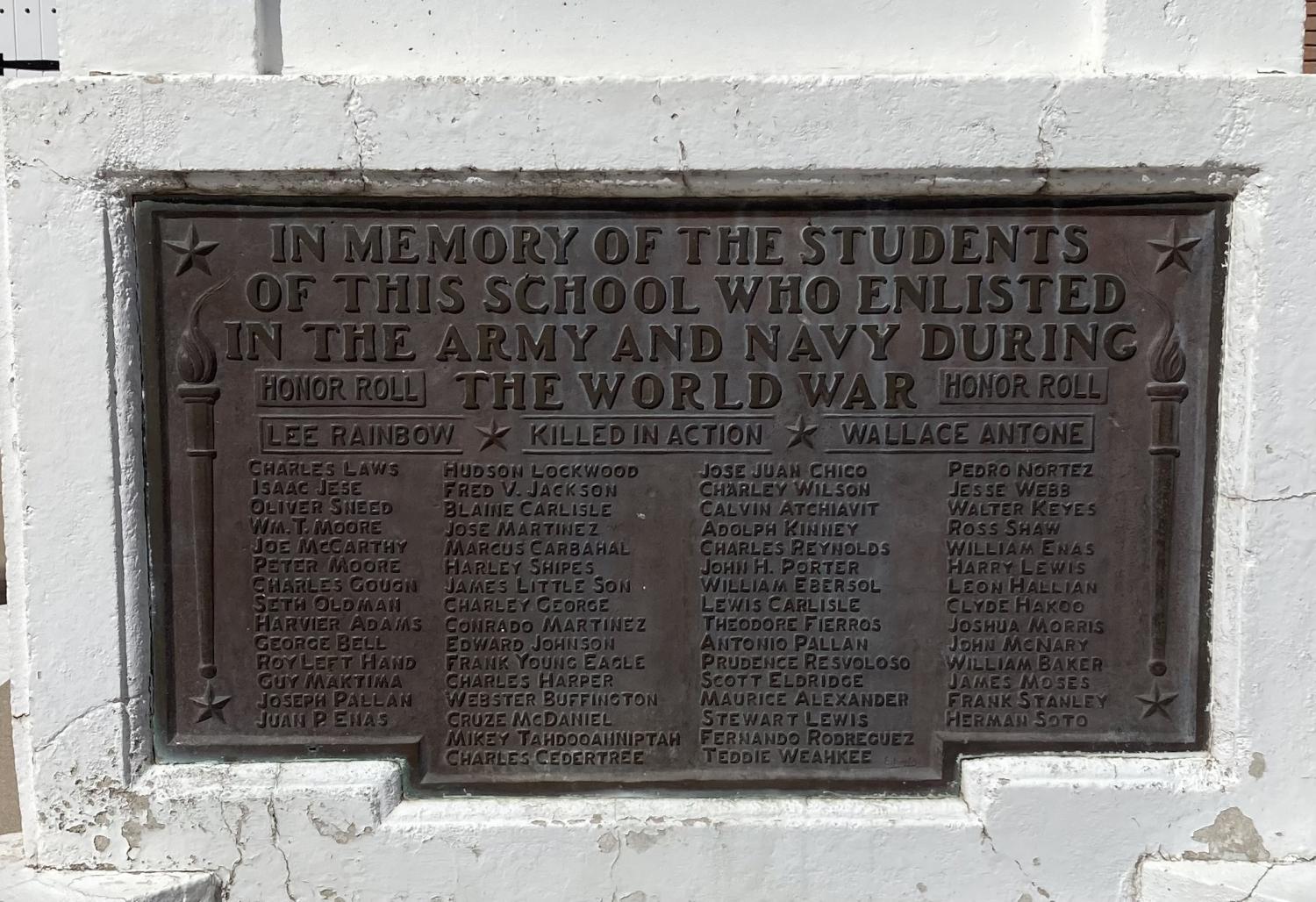 In honor of Native American Recognition Days, several events will take place Saturday in Phoenix. The 38th Annual Native American Connections parade will begin at 9 a.m. at Third and Oak streets, ending at Third Street and Indian School Road — that's the entrance to Steele Indian School Park.
There will be an open house at the Phoenix Indian School Visitor Center with special programming and, right next door, an event to mark the 100th anniversary of the school's Memorial Hall, a building dedicated to students who served in World War I.
"This history is near and dear to my heart," said Patty Talahongva who spent her junior year at Phoenix Indian School in 1978.
Inside Memorial Hall, with sunlight streaming through round-arched windows, she reminisced.
"We had our graduation ceremony in here, as well as the Miss Phoenix Indian pageant."
When Talahongva attended, the school's name had been shortened from its original: Phoenix Indian Industrial School. In 1891, the federal government opened the school to assimilate Native American children into white culture. They were forced to cut their hair and abandon their languages.
"The boys were taught trades to help build the towns and cities,  and the girls were taught domestic arts to take care of the kids and the homes of wealthy white people," said Talahongva
Cultural assimilation included students learning to read sheet music and master instruments they'd never seen. Word of their talent spread quickly and the Phoenix Indian School band performed across the state and country.
"A clear favorite, I guess, would be the Indian War Dance," said Don Larry who has researched the songs played by the school band. "In the school newspaper, they talked about their programs and what they played and this is one of the ones most mentioned."
A coarse version of Indian War Dance was composed by John Philip Sousa and recorded by his band in 1902. On Saturday, Don Larry's band, Territorial Brass, which focuses on early Arizona music, will play their interpretation.
"We know that it's not authentic as far as a war dance goes," Larry said. "We know that it's an interpretation of a war dance as it was performed in the early 1900s."
---
Read the entire article on the KJZZ web site.
External Web Site Notice: This page contains information directly presented from an external source. The terms and conditions of this page may not be the same as those of this website. Click here to read the full disclaimer notice for external web sites. Thank you.
Related posts