Captain Peter Carey And The WWI Norcross Rifle Range
By Valerie Biggerstaff
via the Past Tense GA web site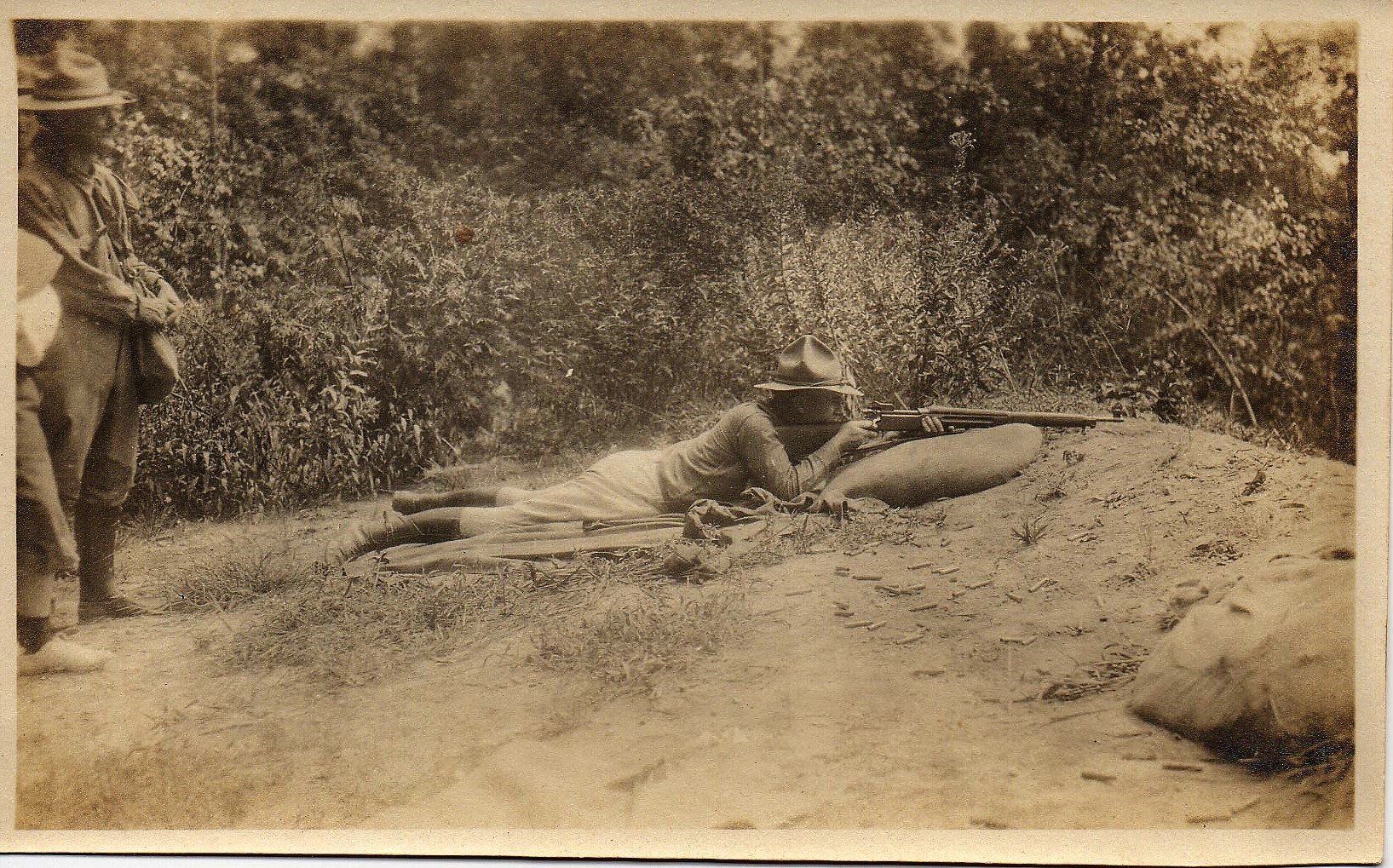 I recently came across an article about WWI Norcross Rifle Range that mentions Captain Peter Carey. I was fortunate to communicate with Carey's son Chris in 2018. Chris Carey shared several documents and photographs of his father.
The August 20, 1918, Atlanta Constitution article I stumbled on is titled, "Rifle Range Men Doing Great Work at Camp Gordon" with the subtitle, "Operate 300-Acre Farm and Help to Feed Gordon in Addition to Supplying Own Messes." It describes how the soldiers at Norcross rifle range are constructing a farm of between 250 and 300 acres and supporting themselves in fresh food.
They are growing vegetables in addition to their training under the leadership of Captain Peter Carey who is described as "one of the most efficient and hardworking officers at Gordon."
The Norcross Rifle Range was constructed in 1917 near the U. S. Army's World War I encampment Camp Gordon, located in Chamblee, Georgia.  There were two rifle ranges near Atlanta, one in Norcross and another in Marietta.
Captain Peter Thaddeus Carey was commander of the Norcross Rifle Range from November of 1917 through January of 1919.  His job was to prepare recruits for rifle duty in combat companies.  Most of the recruits had no military experience.
Peter Carey had already fought in the Spanish-American War, was a bugler for the New Jersey National Guard, and rose through the Army ranks as sergeant, commissary sergeant, 1st sergeant, 1st Lieutenant, and Captain through 1910.
In 1917, when men across the United States were called to register for service, he reported to Officers Training at Fort Oglethorpe in Georgia.  That same year, he was recommissioned and reported to Camp Gordon as a Captain in the 82nd Division, then to Norcross Rifle Range in March of 1918.
Captain Carey of Norcross Rifle Range was set to become a Major in October of 1918, but his commission did not come through before the war ended on November 11th.  He received glowing recommendations from his superiors but took his discharge in January of 1919 and moved to California to pursue new opportunities.
In November of 1937, Captain Carey married Mary Catherine Terhune of Burley, Idaho.  She was a graduate of Lake Erie Women's College and the University of Idaho.  She taught school in Edinburg, Texas and then in San Francisco, where the couple met. Their son Chris was born in 1946.  Peter Carey died just four years later.
Chris Carey shared this story passed down by his mom as told by Peter Carey. "When he (Captain Carey) was training the American Expeditionary Forces destined to join General Pershing's command in Europe, one of his recruits was Alvin York, winner of the Congressional Medal of Honor for bravery.  He had substantial skill as a dead-eyed squirrel shooter but lacked any vestige of discipline requisite to becoming a skillful soldier.  This he quickly set in order, since York was already a natural-born sharpshooter and expert rifleman from his years in Tennessee's hill region."
Read the entire article on the Past Tense GA web site here:
External Web Site Notice: This page contains information directly presented from an external source. The terms and conditions of this page may not be the same as those of this website. Click here to read the full disclaimer notice for external web sites. Thank you.
Related posts