Flanders provincial commemoration of WWI still touches hearts
Published: 4 February 2023
via the Province of West Flanders (Belgium) magazine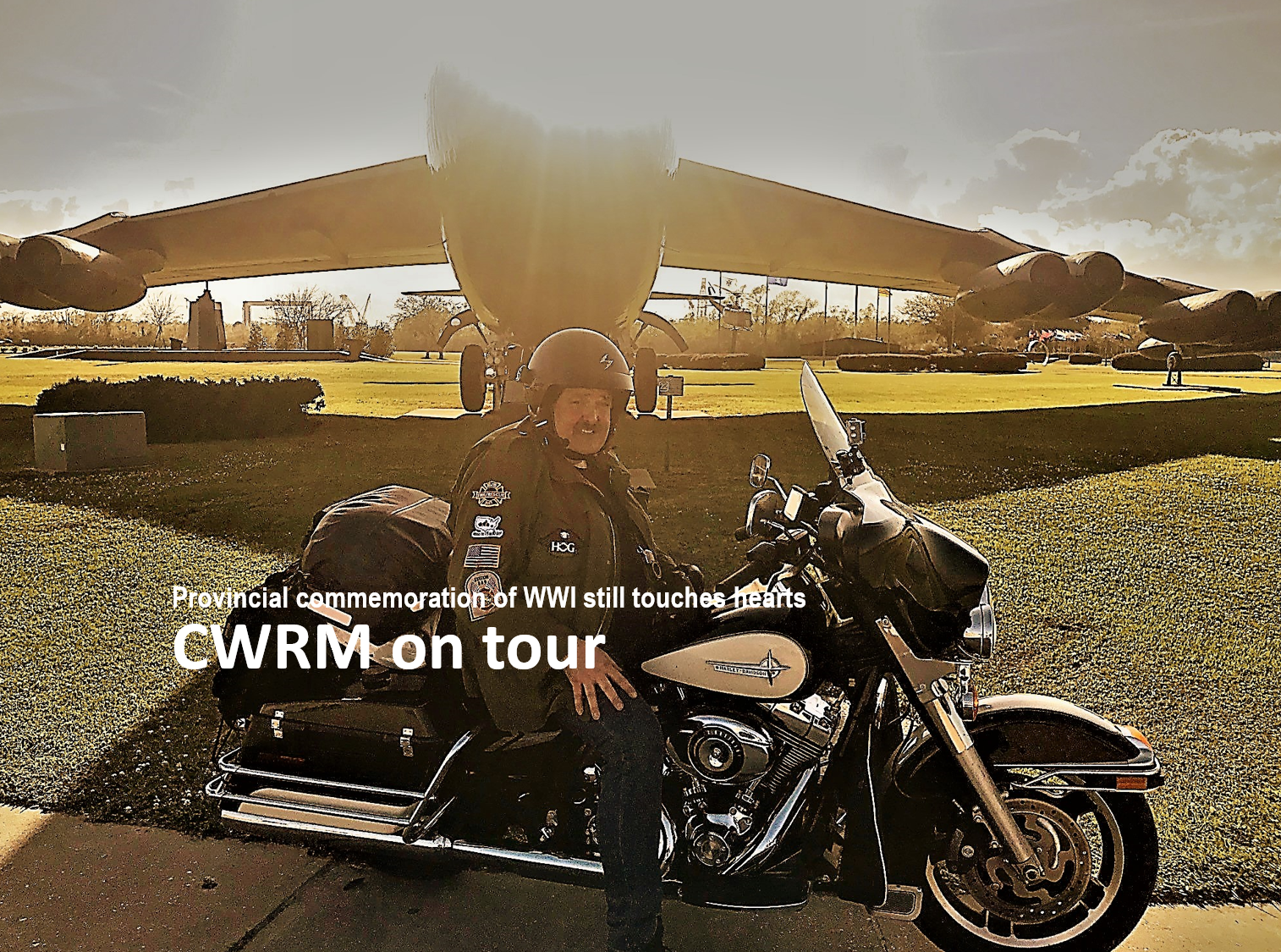 The very last figurines in the possession of the Province of West Flanders Provincial Council from Coming World Remember Me (CWRM) are still occasionally donated to important provincial partners and foreign visitors who continue to address and appreciate the Province for this simple but far-reaching gesture of commemoration. Four years later, CWRM still has active provincial memorial project ambassadors.
We speak with undoubtedly the most dedicated of them: Limburger John Sterkendries.  Since the winter of 2019, he has been making a trip of 25,000 km in the USA, in different stages, and he has covered no less than 9,000 kilometers on his Harley Davidson.
His first trip was from the biting frost of Pittsburgh to scorching Key West, Florida.  Between departure and arrival there was no less than 42 degrees difference!  Along the way he visited memorial monuments, museums and veterans organizations where he donated a statue.
"Because we must never forget."
How did you come up with this most remarkable idea?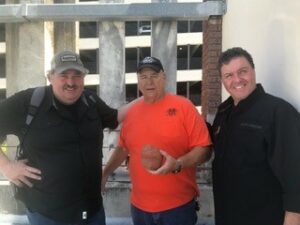 Very briefly: my daughter and her great-grandfather.  The former left for the US to study and stayed there, the latter was a postman in the trenches and was awarded the Fire Cross Medal for his persevering courage.  My father is also a war veteran, but of WWII.  Their stories have always fascinated me.
When I visited my daughter in the US, I took up the love for motorsport again, the vastness of the country is of course very inviting.  On those trips I noticed how intensely respectful people treat the war past and the veterans.  Back in Belgium I went to visit the installation of my fellow countryman Koen Vanmechelen in the Palingbeek.  I immediately knew what to do: to no longer drive around aimlessly every time I visit my daughter, but to specifically look up those places where I can connect our history and commemoration.
Have you never wanted to give up, it must have been quite a grueling journey at times?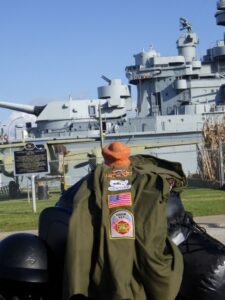 I have indeed seen my pears, at one point I had 4 pairs of gloves that I couldn't dry when I was surprised by continuous torrential rain and a lack of shelters.  I often warmed my hands on my engine block exhaust pipe not knowing if my hands were finally frozen or if I was setting them on fire, they were that numb (laughs).  But hey, soldiers endured this much in the trenches for 4 years and they couldn't spend the night in a warm hotel room, and they never knew if they would make it through the night.  That helps to put things in perspective quickly.
What is your most poignant memory?
That is really not easy to choose, I have had captivating conversations with so many people who all endorse the value of commemoration, but a young employee of a petrol station in Panama City (Florida) made a big impression on me.  He listened with so much dedication and interest and afterwards emailed again how important he thought my journey and enterprise was for future generations.  Something like that always hits hard.
Do you have any new plans?
Don't worry, I will definitely go on a tour again in 2023.  My motorcycle is now in Houston, my next trip is through the Mexican border, Los Angeles, Seattle, Alaska and then back to Pittsburgh.
By the way, if colleagues in the Province want to donate their statuette to a bereaved family, a family or an organization they are familiar with, they can always contact me, I will certainly investigate how I can get there.  Nothing better than seeing the connection between people who share a war history.  We really must never forget!
---
Read the entire article and see more photos on the Magazine West-Vlaanderen web site .
External Web Site Notice: This page contains information directly presented from an external source. The terms and conditions of this page may not be the same as those of this website. Click here to read the full disclaimer notice for external web sites. Thank you.
Related posts