U.S. Italian Immigrant Soldiers of WWI
Published: 31 August 2022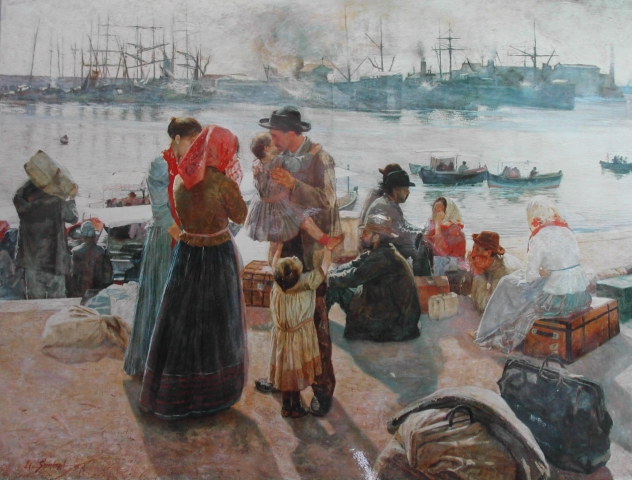 The story of the U.S. Italian Immigrant soldiers of WWI
Back Over There is a project focused on preserving the memory of the Italian born who voluntarily enlisted or were drafted in the U.S. Army and lost their lives either in combat or disease in the years 1917-1919.
During the course of the Great War, one soldier of five was not born in the United States, composing that multiethnic, multicultural and multilingual melting pot which is reflected today in our modern society.
Italian immigration had been massive in the pre-war years. A first wave, mostly from Northern Italy, had arrived between 1861 and 1880, then many more had followed from the south pushed by unemployment and poverty. In 1901 35,000 Italians had crossed the ocean, in 1913 that number grew to 450,000.
When Italy entered the war in May 1915, the emigrants were called back to their homeland from all over the world to fight the Austrians. Nevertheless, only 80,000 men answered the call from the United States, less than 10% of the target population.
Two years later, when it was the US turn into the war, more than double served with the American Expeditionary Force. It was an army of barbers, porters, shoemakers, tailors, masons, bakers and general laborers. For more than 3000 of them there was no coming back.
After the war the Adjutant General Office of each State was supposed to communicate the details of the death to the Italian authorities but due to the language barrier, to the difficulties in identifying correctly the generalities, to the heavy misspellings and distortions of their names or simply because the soldier chose to become an American Citizen, only a fraction (less than 30%) was captured and remembered in the Italian Honor Roll.
This project aims to fill that void.
Digging into the several Adjutant General Reports and Gold Stars programs made available in the 1920's, browsing through surviving service reports and pension claims, interpreting Pershing's daily casualty report published on the U.S. Official Bulletin (often wrong and incomplete) and reading dozens (or hundreds) of Regimental Histories it was possible to identify almost 3000 Italian born soldiers who died between 1917 and 1919 while serving with the US Army either. By crossing those names with some genealogical resources such as the Ellis Island database, the WW1 Draft cards and Italian birth and church records, it was possible to rebuild pieces of each individual history, taking a glimpse into their families, their profession and their military service, "humanizing"  an entry of a database.
This database is a live document and success of this project relies in your contribution in preserving a common heritage, if one of your ancestors is listed here or if you see any familiar name please contact us and share your story!
Related posts