Arlington Cemetery once held soil from the World War I battlefields of France
Published: 28 October 2023
By John Kelly
via the Washington Post newspaper (DC) web site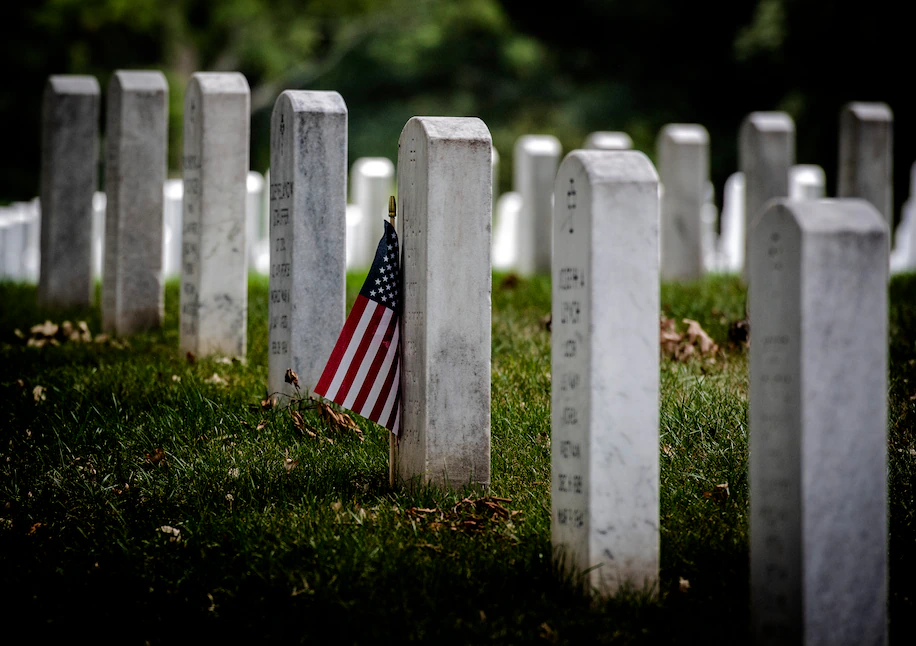 I am reaching out to you regarding the seven World War I sacred soil stones, six in France and one in the United States. A friend from my hometown in Vendée, France, was on vacation in Corsica and ran into one there. She sent me a photo. It says the one formerly in Arlington National Cemetery was destroyed in 1938. Would you know the reason for its destruction? Is there a plaque or something in the cemetery mentioning its existence?
— Annie Boutin King, Washington
Soldiers become intimately familiar with the land on which they fight. The soil of the battlefield coats their uniforms, fills their lungs, clogs their guns. The soil is both enemy and sanctuary. Wet, the mud pulls at boots. Dry, the dirt hosts protective foxholes.
And after battle, the land becomes sanctified. In 1914, English poet Rupert Brooke published "The Soldier." It begins:
If I should die, think only this of me:
That there's some corner of a foreign field
That is for ever England. There shall be
In that rich earth a richer dust concealed;
That richer dust was composed of the bodies of combatants such as Brooke, who was buried in Greece a year later, after dying from an infection while serving in the British navy.
Frenchman Gaston Deblaize survived the war. Born in 1895, he served for 40 months at the front with the 356th Regiment of Infantry, including in Verdun. Deblaize was a sculptor and after the war he found inspiration in a feature that anyone who marched through the countryside would have encountered: the roadside way markers and boundary stones that the French call bornes.
Deblaize had the idea to model small bornes out of terra cotta, each shaped like a squat column on which sat the distinctive, broad-brimmed French soldier's headgear known as the Adrian helmet. Inside each urn-like sculpture was soil taken from the Verdun battlefield.
"With that ground so heavily fought over, these works had great significance," writes historian Peter Doyle in "The First World War in 100 Objects."
Disfiguring facial injuries were a horrible hallmark of warfare in World War I and Deblaize's sculptures were sold to raise funds for the Union des Blessés de la Face (UBF), or the Association of Those Wounded in the Face and Head.
Thousands of men — known as les gueules cassées or "the broken faces" — belonged to the organization, which put together excursions, opened a residential facility and lobbied on behalf of its members. (Among their wishes was the right to choose their own dentists, doctors and prostheses experts, as was allowed for other veterans, wrote Marjorie Gehrhardt in her 2013 University of Exeter PhD thesis on facially disfigured Allied soldiers.)
These small bornes de la terre sacrée — stones of sacred earth — were a precursor to Deblaize's next project: a four-foot tall concrete column containing sacks of soil, each from a battlefield on which American soldiers had fought. A gift to America, it was erected in Section 18 of Arlington National Cemetery, on the west side of Clayton Avenue, in March of 1929 and dedicated the following May.
Read the entire article on the Washington Post web site.
External Web Site Notice: This page contains information directly presented from an external source. The terms and conditions of this page may not be the same as those of this website. Click here to read the full disclaimer notice for external web sites. Thank you.
Related posts