An American Father-Daughter Story in World War I
By James Larrimore
Special to the Doughboy Foundation web site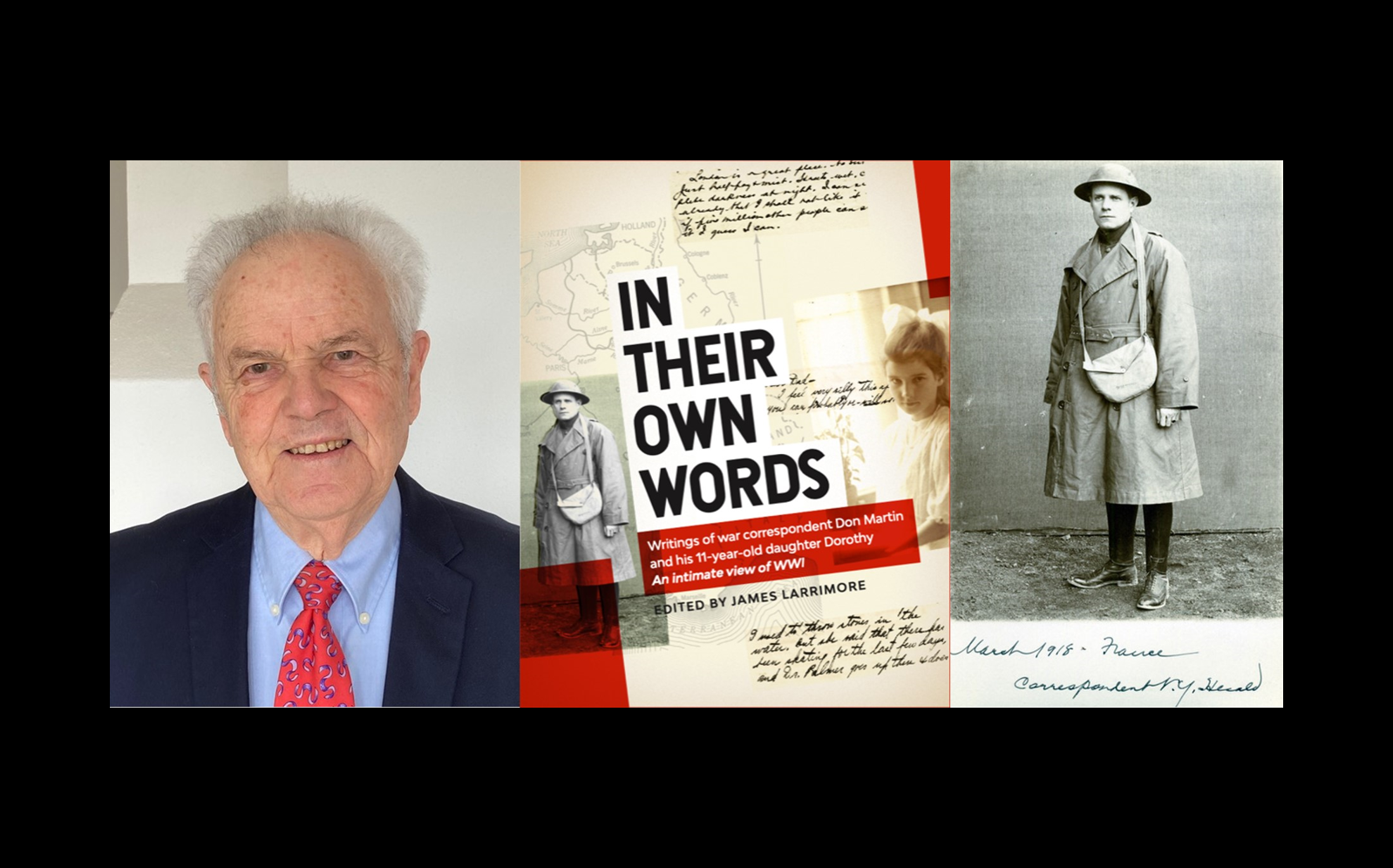 On my mother's death in 2001 at age 94, I came into possession of family records from the World War I era. My grandfather, Don Martin, whom I never met, had died in France while serving as a war correspondent; a poem written about him was titled "Soldier of the Pen." I found original letters he wrote to his daughter (my mother) and letters from her to him. Also, there were my grandfather's diaries for 1917 and 1918, and letters of condolence upon his death from Spanish influenza in October 1918, including from Commander-in-Chief John J. Pershing. My mother had told me little about this. I realized that I had to learn about the role my grandfather had played in World War I.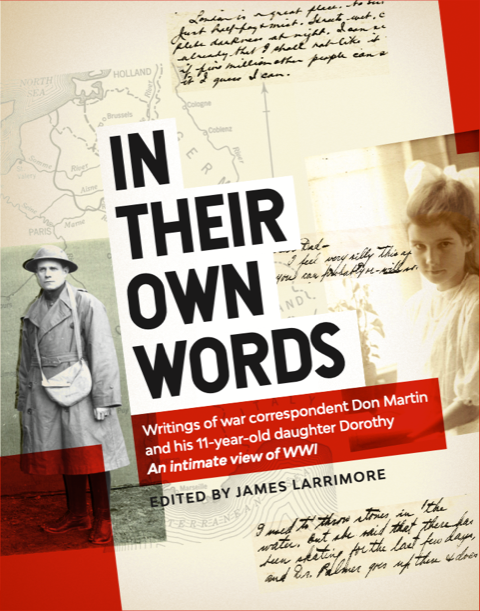 Don Martin was a well-known political journalist of the New York Herald in 1917, when he was assigned to cover the American Expeditionary forces in France. Once he reached the war zone in March 1918, he quickly became recognized as one of four leading American war correspondents, together with Floyd Gibbons of the Chicago Tribune, Martin Green of the New York Evening World and Ray Carroll of the Philadelphia Public Ledger. On learning of his death, former President Theodore Roosevelt wrote:
"Martin was one of the best and truest men with whom I have had relationships…He was of that sort that makes it quite worth while for a real man to do his best, efficiently, honestly and thoroughly."
I had found that my grandfather was a role model and a hero.
With the WWI Centennial approaching, I decided to make public Don Martin's reporting and writings on WWI. I set up a blog on which I posted daily, from December 2017 to October 2018, what Don Martin had written one-hundred-years before in his diary and in his war dispatches. It was exciting to relive his wartime experiences day by day, yet something important was missing – the story of the separation of a father from his 11-year-old daughter Dorothy by WWI and how their relationship was maintained through letters, handwritten one a week by Dorothy and sometimes even more frequently by her father. Collating all these sources to tell their story was a moving experience. This book, "In Their Own Words, Writings of war correspondent Don Martin and his 11-year-old daughter Dorothy. An intimate view of WWI," is intended to be a further contribution to the Centennial of WWI.
It was eye-opening for me to learn of the dangers my grandfather put himself into to cover life at the front and to report accurately and compassionately about it. Don Martin's diary entries, and his war dispatches, give readers a remarkably intimate day-by-day view of how the war in France progressed as seen by American war correspondents during the last year of WWI, as the importance of American troops grew, first in resisting German advances and then in moving toward victory. Don Martin vividly recorded details about the battles, including at Château Thierry and the St. Mihiel Salient.
One thing about WWI that comes through from Don Martin's writings is how successful the organization of the American Expeditionary Forces was and how determinedly and brilliantly they fought. Another is that American war correspondents faced frustrations in trying to report on the course of the war while under close military oversight.
A wonderful father-daughter wartime story is told in Don Martin's letters to his daughter and her lively and heartwarming letters telling him what she was doing to support the war effort, from buying Thrift Stamps to planting a war garden. Tragically, Don Martin died in France far away from his daughter on her twelfth birthday. It had been a tough experience for him, but as his initial romantic idea of a war correspondent was transformed by the grim reality of the war, his patriotic commitment drove him on right up to the day of his death.
As with the countless war experiences that are never told, my mother never talked about her WWI experiences. The story about family separation told in this book is timeless. Technology and modern communication have made letter writing and waiting for weeks to hear from one we love a thing of the past. But war remains war, and reading how this family shared their love for each other across an ocean in the midst of WWI can still give comfort in similar circumstances today.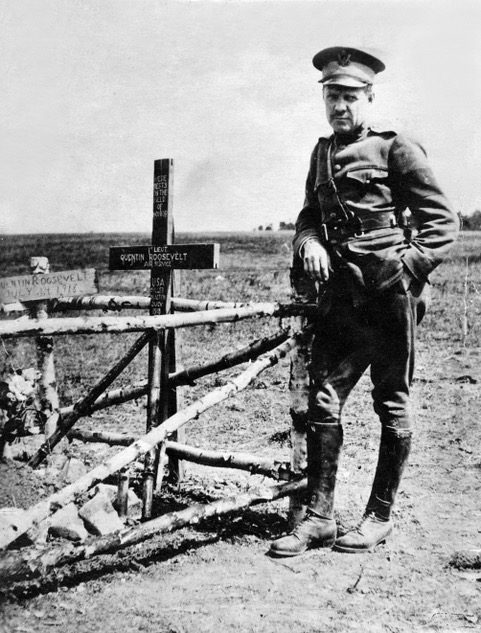 Correspondent Don Martin at American aviator Quentin Roosevelt's grave in France, August 26, 1918.
In Their Own Words, Writings of war correspondent Don Martin and his 11-year-old daughter Dorothy. An intimate view of WWI is available from Amazon Books.
Related posts