Facial Prosthetics for Disfigured Soldiers
Published: 31 August 2022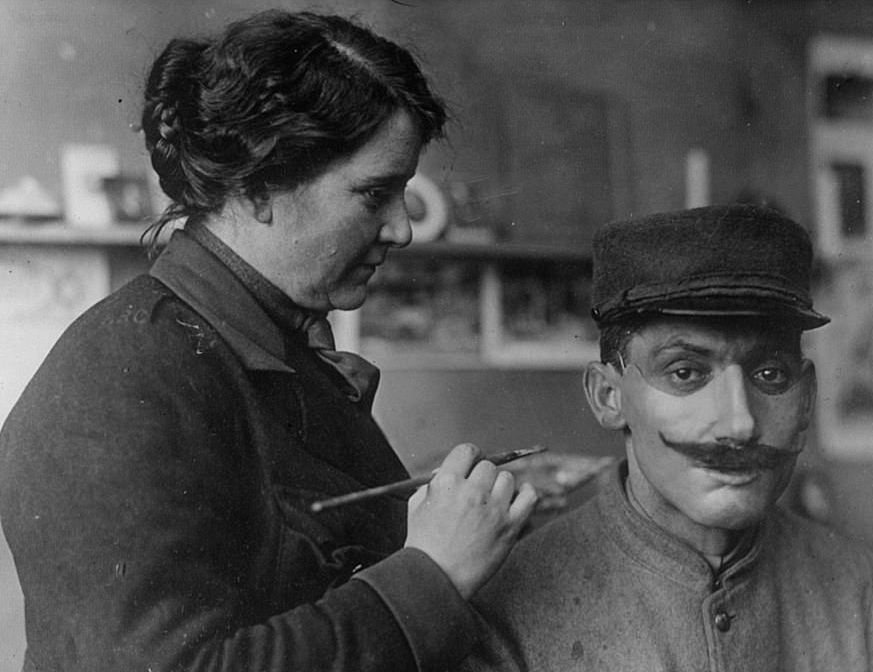 By Gareth Davies
via the mailonline.com web site
Incredible before and after photographs show how British soldiers had to have their faces rebuilt having been maimed during World War One.
Images taken shortly after the conclusion of the First World War, between the end of 1918 and the beginning of 1919, show the horrible facial injuries suffered by several soldiers.
The pictures show how a pioneering sculptor and a leading surgeon used their expertise to transform the men who had become victims on the frontline.
Anna Coleman Ladd created custom-made masks for soldiers to wear over their wounds.
Ladd was an American-born sculptor who studied in Paris and Rome, and soldiers would come to her studio to have a cast made of their faces, which would then be used to help construct the prosthetic from very thin copper.
This would then be painted to try and resemble the soldiers' skin colour, and each piece would be adorned with some form of string or eyeglasses in order to keep it in place.
Before she got to work on the masks, many soldiers required surgery to rebuild their faces.
Young surgeon Harold Gillies transformed the faces of many of those who were injured and shipped back to Britain.
Read the entire article on the mailonline.com web site here.
External Web Site Notice: This page contains information directly presented from an external source. The terms and conditions of this page may not be the same as those of this website. Click here to read the full disclaimer notice for external web sites. Thank you.
Related posts