After a false alarm, Syracuse can finally celebrate the end of World War I
Published: 10 November 2022
By Robert Searing | Curator of history, Onondaga Historical Association
via the Syracuse.com (NY) web site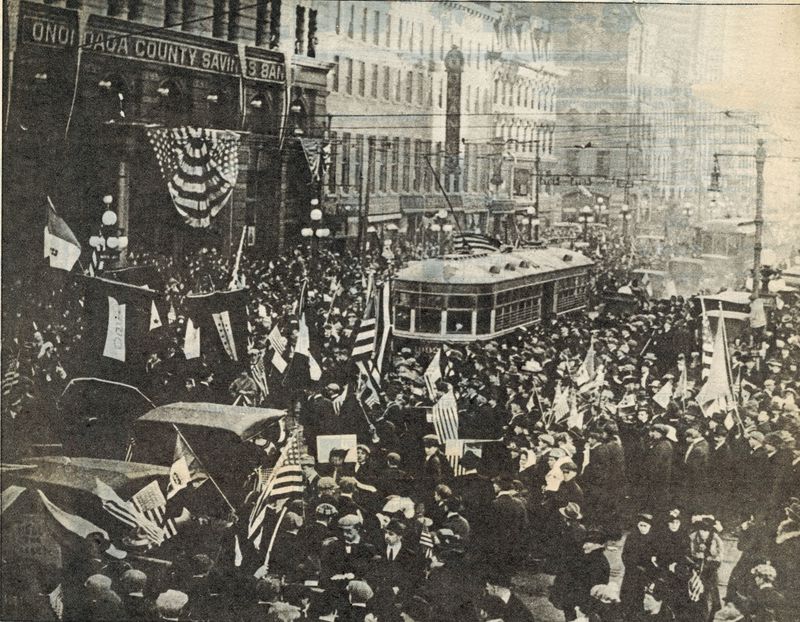 Around 10 o'clock in the morning on November 7, 1918 a beleaguered and exhausted Mayor Walter Stone authorized the ringing of the fire bell in the tower of City Hall to herald the end of the Great War.
The mayor must have been particularly relieved and most appreciative of such excellent news.
For the last six weeks, he presided over a city devastated by the so-called "Spanish Influenza" and increasingly war weary in the face of such death and devastation.
Factory whistles all over the city followed the ringing of the bells, alerting Syracuse's large manufacturing population to the incredible news from Europe. Businesses across the city closed.
Shortly thereafter, the city schools let out and children, parents, and citizens of all stripes filled the streets as a near delirious atmosphere of gaiety took hold.
Unfortunately for the thousands gathered on Salina Street, and for the millions in other American cities engaged in similar festivities, the celebration was premature.
The "war to end all wars" was not actually over. As it turned out, a cable was sent to the United Press (UPI) from France, mistakenly stating that the armistice between the belligerents had been signed that day at 11 a.m. The wire-service relayed the message to newsrooms across the country, setting off what may be the biggest false alarm in American history.
Four days after the United Press's monumental error, French leader, Marshall Ferdinand Foch, Supreme Commander of the Allied Forces, sent out a message that was broadcast from the Eiffel Tower and went out to the world.
Dated November 11 at 5:45 a.m., Foch relayed the long-awaited news that at the armistice between the belligerent parties would begin at 11th hour of the 11th day of the 11th month. The Great War was finally over. This time it was for real.
Read the entire article on the Syracuse.com web site here: External Web Site Notice: This page contains information directly presented from an external source. The terms and conditions of this page may not be the same as those of this website. Click here to read the full disclaimer notice for external web sites. Thank you.
Related posts