After 80 Years, the Fate Of the USS Cythera (PY-26) and Her Crew Still Remains a Mystery
Published: 23 February 2023
By Samantha Franco
via the War History Online web site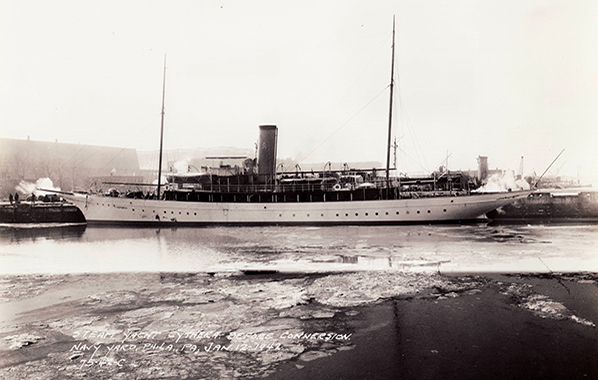 The USS Cythera (PY-26) has several distinctions. She started out life as a civilian yacht before being acquired by the US Navy, and later went on to serve in both World War I and II. Her service during the latter, however, was extremely short, as the patrol vessel met her demise at the hands of a German U-boat. Only two sailors survived the attack, and the fate of the ship and her crew remains a mystery.
The USS Cythera (SP-575) was originally a yacht
The USS Cythera wasn't always the property of the US Navy. In fact, she was constructed as a civilian steam yacht back in 1906. Owned by William L. Harkness, she was named Agawa.
When the United States entered the First World War in 1917, the Harkness family donated the vessel to the war effort as part of the section patrol. She was subsequently commissioned with the US Navy as the USS Cythera (SP-575).
Service during the First World War
The USS Cythera entered service with the US Navy on October 20, 1917. Throughout WWI, she primarily served as an escort and towing ship for submarine chasers. Leaving New York City at the end of the month, she sailed to Newport, Rhode Island, where she was assigned to the Atlantic Fleet's Patrol Force.
Departing from Newport on November 1, Cythera traveled to Europe and settled in Gibraltar. While there, she performed patrols and convoy escorts between Mediterranean ports in France, Italy and North Africa. As the conflict came to a close, Cythera was no longer needed. She was decommissioned on March 17, 1919 and returned to the Harkness family.
Read the entire article on the War History Online web site here:
External Web Site Notice: This page contains information directly presented from an external source. The terms and conditions of this page may not be the same as those of this website. Click here to read the full disclaimer notice for external web sites. Thank you.
Related posts