AFLCMC Women's History Month Highlight: World War I
via the Air Force Life Cycle Management Center web site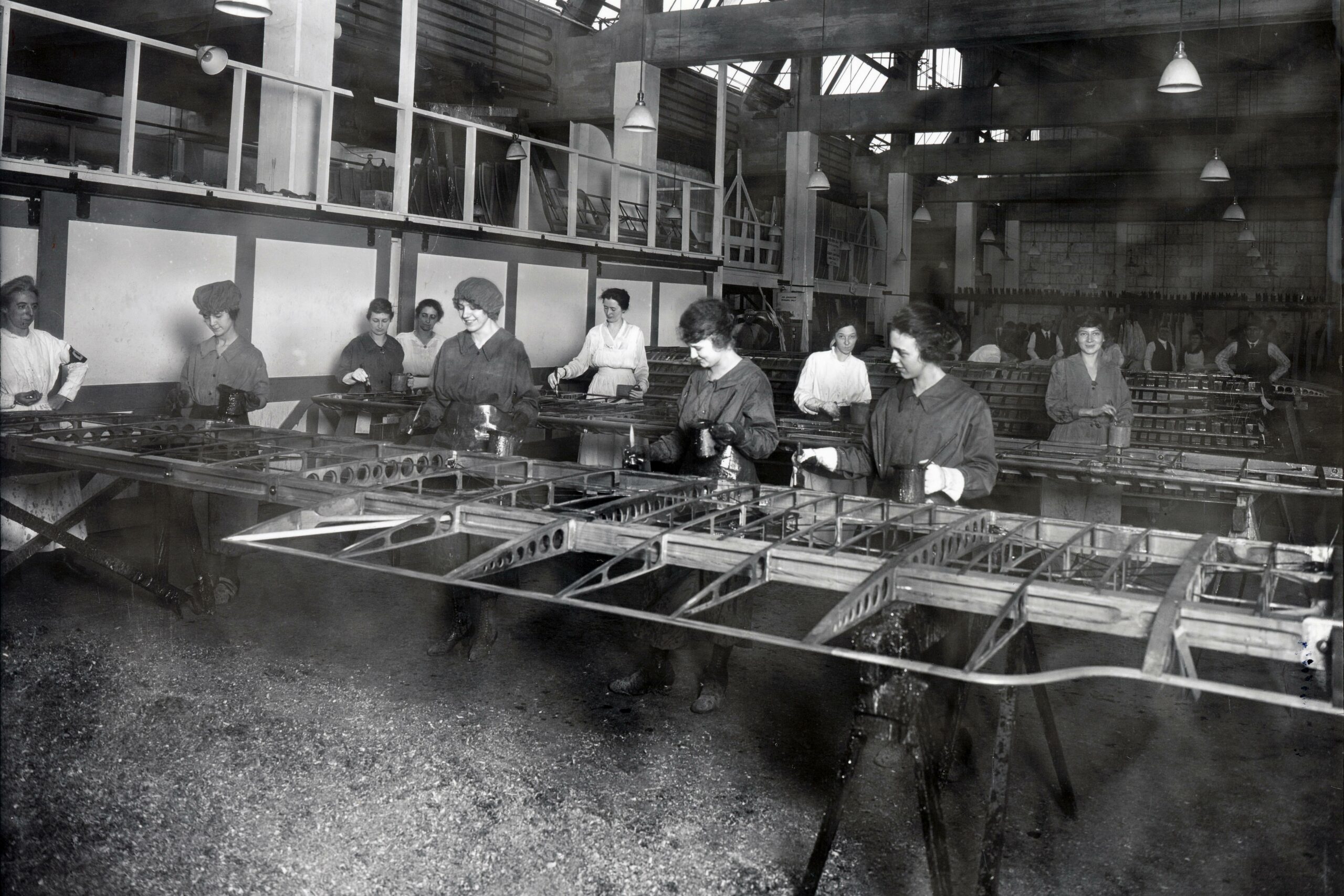 While "Rosie the Riveter" is an icon of World War II and in American women's history, the opportunities she represented were first made more than two decades earlier—including in World War I aircraft production and acquisition.
The US's April 1917 entry into World War I led to a massive expansion of US aircraft production, which generated a significant need for workers, from the office to the drafting room to the production floor. The new Dayton-Wright Airplane Company, which built over 3,100 DH-4s (the only American WWI aircraft to see combat in Europe), was no exception. Its owners discovered that other plants were already using women to a growing degree, with one superintendent commenting that "with their light touch and careful manipulation of sensitive machines, women are admirably adapted to much of the light ma-chine work done on airplanes." As a result, Dayton-Wright, and many others, employed female workers in unprecedented numbers. However, the effects of those in-roads were limited due to the relatively short duration of the war and the deliberate roll-back of enabling wartime employment measures. They did, however, establish precedents and processes that were leveraged in the 1940s.
That industrial expansion was accompanied by the commensurate growth of government agencies to manage it. Since the conversion of the US Civil Service in the 1880s to a professional, merit-based institution, its ranks were open to women, who comprised more than 10% of government employees in the 1910s. However, they were still barred from taking more than half the civil service exams, which limited their options to mostly traditional categories, such as clerical work.
Dayton became an epicenter of aircraft acquisition during WWI due to the location of the Army Air Ser-vice's Production Engineering Department in several downtown office buildings. Across the river lay the new McCook Field, home of the complementary Aircraft Engineering Department that did development and testing. Combined, these were AFLCMC's predecessors.
The Army signed a lease for McCook Field in October 1917 and construction began that same month. McCook Field's first civilian employee was 19-year-old Hester Winget. With just a 6th-grade education, she was sent to the partially-completed Administration Building as a telephone operator (notably, similar women were sent to France under a quasi-military program to run phones and switchboards in combat zones and were dubbed the "Hello Girls"). Miss Winget stayed on for several years, becoming well-known for working the Field's visitor information desk, playing the piano exceptionally well, and excelling at golf. She knew all the leaders and pilots from Billy Mitchell to Jimmy Doolittle, as well as the heads of the aircraft companies, including Igor Sikorsky, Anthony Fokker, Chance Vought, Larry Bell, Glenn Martin, and Bill Boeing. While the exact proportion of women who served at McCook is not documented, a rough estimate is in line with the government averages of about 10%.
Read the entire article on the AFLCMC web site.
External Web Site Notice: This page contains information directly presented from an external source. The terms and conditions of this page may not be the same as those of this website. Click here to read the full disclaimer notice for external web sites. Thank you.
Related posts