A North Dakotan's long road back from 'shell shock' in World War I
By Dr. Steve Hoffbeck
via the inforum.com web site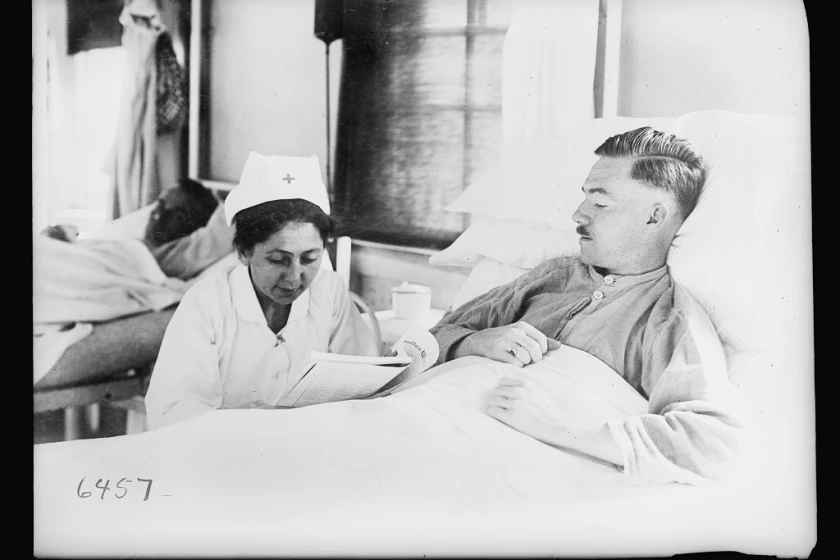 Now recognized as post-traumatic stress disorder (PTSD), many soldiers suffered from what was then considered a 'hidden wound' of war.
World War I was known as the "Great War" or the "War to End All Wars." It began 100 years ago, in 1914, and the U.S. entered the conflict in 1917.
That year, a young man from Grand Forks named Leon Brown joined the U.S. Army as an infantryman, after leaving his studies at the University High School. Brown became a machine-gunner and went to the battlefields in France for the American Expeditionary Force.
"While in action on one of the front lines" in early 1918, wrote the UND Quarterly Journal, Leon Brown "was severely injured by shell shock, which affected the heart, a type of 'hidden wound' so often suffered in this war."
Private Brown was evacuated to a Red Cross hospital in France, where the nurses "kept him alive for three nights when . . . he thought he would die, as he hovered between life and death." After recovering somewhat, Brown was sent home.
It was on this date in 1918 that the Grand Forks Herald reported that Private Leon Brown had given a speech at the St. Andrew's Society Picnic in Lincoln Park, telling of his "experiences as an American gunner in the battlefront in France . . . and how the Red Cross served him after his health had given out."
After spending several weeks at home, the shell-shock symptoms returned and he went east for more treatment at an Army hospital in Maryland. After five months he came home again, and even then, his heart problems caused him to be "confined to his bed" for a week.
Leon Brown was in a photograph accompanying a Literary Digest story about shell-shocked fighters who had suffered "invisible wounds" and were coming back home "broken within by the ravages of modern warfare." They were the "war's worst wrecks," but had "no outward signs of injury," yet required care until "full health" might return.
Doctors were unsure if shell shock was something physical, psychological, or some combination of the two. Physicians clearly saw the concussions and deafness that came from exploding artillery-shells, and they saw men whose nerves had been shattered and "their minds badly affected" by their war trauma. A soldier's heart dynamics . . . blood pressure [and] pulse rate … seemed to be altered.
Read the entire article on the inforum.com web site here:
External Web Site Notice: This page contains information directly presented from an external source. The terms and conditions of this page may not be the same as those of this website. Click here to read the full disclaimer notice for external web sites. Thank you.
Related posts