'A horror of going across'—new book is tribute to WWI Army private 'Buddy' Green
Published: 7 October 2023
By Allison Brophy Champion
via the Culpeper Star-Exponent newspaper (VA) web site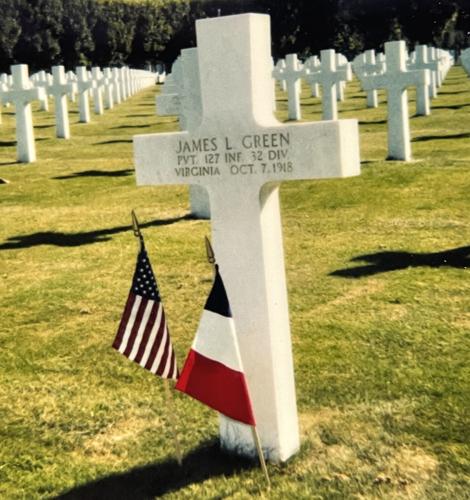 A spellbinding new work of fiction by a local judge reverently memorializes a Culpeper ancestor who died as a young man on the battlefields of France during World War I — 105 years ago today.
"Buddy Green," self-published in January by James W. Haley Jr., tells the story of the author's great uncle, James Lewis Green, born Sept. 28, 1898, at Cherry Hill, an Amissville farm in the Green family since 1748.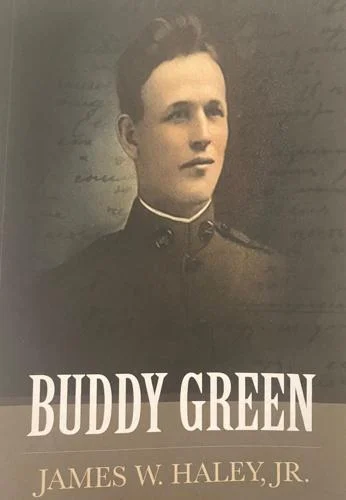 Haley, of Fredericksburg, owns the storied farm. He is a senior judge for the Court of Appeals of Virginia and graduate of Washington & Lee University and University of Virginia Law School. Haley is the great-nephew of the subject of his new book, based in history.
He grew up at Cherry Hill working in the garden and hauling wood and water from the spring with Buddy's sister, Odessa. Haley dedicated his inaugural novel to his great-aunt.
"Buddy" Green died Oct. 7, 1918, at age 20, just weeks after his birthday, far from home, the baby of his family, in the famed Meuse-Argonne offensive in northeastern France at the end of World War I. The battle with Germany, one of the largest U.S. military campaigns ever, engaged 1.2 million American soldiers and stretched along the Western Front from Sept. 26-Nov. 11, 1918, when the Armistice was signed.
It was the deadliest campaign in American history with over 26,000 soldiers killed in action and over 120,000 total casualties, according to the National Archives. Green is buried in the American military cemetery at Romagne in France, containing 14,246 gravestones of those killed in the offensive. Haley said he and his wife are the only people to visit his grave according to cemetery logs.
Haley said he wrote the book as a tribute to the family member who never made it back home and to express some of his own thoughts on philosophical questions.
Though fiction, the 133-page book is based in fact, including Green family lineage and life on the farm at Cherry Hill in northern Culpeper bordering Rappahannock. The first section of the book details agricultural ebbs and flows, excitement and drama around Rules Days in town, detailed human interest accounts in the courtroom, lessons on minerals and history and a mention of Culpeper Star-Exponent stories in April 1917, reporting President Wilson asking for — and Congress passing — a declaration of war against the German Empire.
Read the entire article on the Culpeper Star-Exponent web site.
External Web Site Notice: This page contains information directly presented from an external source. The terms and conditions of this page may not be the same as those of this website. Click here to read the full disclaimer notice for external web sites. Thank you.
Related posts