43 WWI soldiers among unclaimed remains of 133 veteran and relatives brought to final rest in Washington State Veterans Cemetery
Published: 18 November 2022
By Emry Dinman
via the Spokesman-Review newspaper (Spokane, WA) web site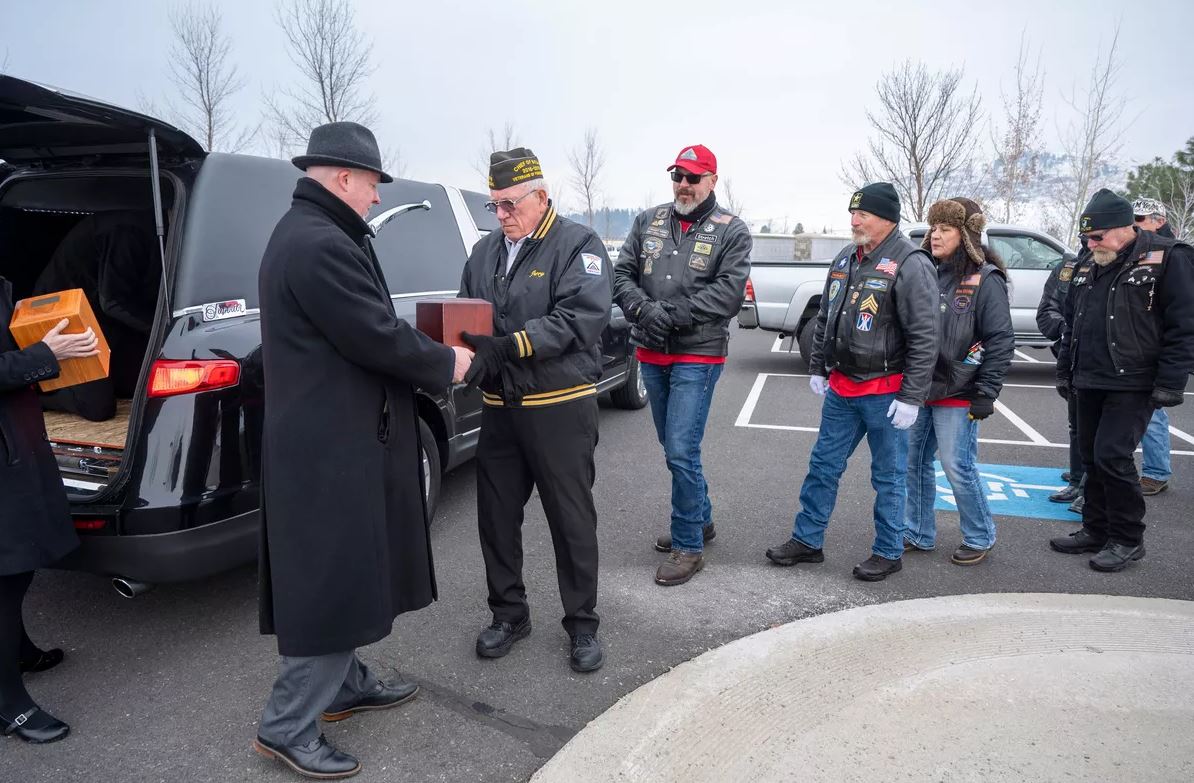 They were once forgotten, but never again.
On Wednesday, November 16 the ashes of 106 veterans unclaimed by their families were brought to their final resting place at the Washington State Veterans Cemetery in Medical Lake.
"People go unclaimed for various reasons," said Rob Goff, CEO of the Washington State Funeral Directors Association, during Wednesday's ceremony. "Sometimes it's just too hard for families to come back, too physically painful for them to return to the funeral home and pick up their loved ones. Sometimes there's just nobody left."
Some fought in Vietnam, in World War II and as far back as the Spanish-American War. Nearly half, 43, served in World War I. They included Carl Croson, who served in the Army in World War I, and his son Kenneth, who served in the United States Coast Guard in World War II.
They were accompanied by 27 spouses and children of veterans who were also eligible to be buried in the cemetery.
Three children of veterans were infants who died too young to have been given a name. Four members of the Sutherland family were brought to be interred Wednesday, including a veteran, his wife and child, and a brother who also served.
Myra Kinzie died 110 years ago this month. Her husband, John Kinzie, was a veteran of the Indian Wars who died in 1914, two years after his wife, and was laid to rest in Medical Lake just five years ago. For more than a century, their remains had sat unclaimed in separate funeral homes. Now, for the first time since Myra's death, they are together again.
Some arrived in engraved cedar or oak boxes, others in ornate ceramic packaged in Styrofoam for transportation. At least one had been stored in a plastic bag.
Their ashes will be placed among the cemetery's thousands of niches where cremated remains are interred.
All 133 of them made their final journey from funeral homes in Western Washington. They were escorted across the state by members the Patriot Guard Riders of Washington, a group of motorcyclists that provides support during funeral services for fallen military members.
It is the end of a decadeslong wait for the veterans and their families, and a two-year effort by members of the Missing In America Project, a nonprofit that works to identify and inter the cremated remains of American veterans.
Read the entire article on the Spokesman-Review web site.
External Web Site Notice: This page contains information directly presented from an external source. The terms and conditions of this page may not be the same as those of this website. Click here to read the full disclaimer notice for external web sites. Thank you.
Related posts