The National World War I Memorial Has a Doughboy in Full Uniform Playing 'Taps' Every Night
By Blake Stilwell
via the Military.com web site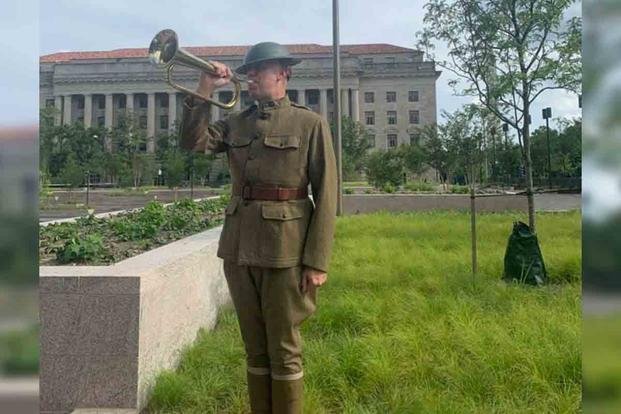 A daily rendition of "Taps" by a bugler dressed in the garb of the American Expeditionary Force at the National World War I Memorial in Washington, DC is a joint effort by two nonprofit organizations: the Doughboy Foundation — named after the nickname given to American troops fighting in World War I — and Taps for Veterans.
On April 16, 2021, the National World War I Memorial in Washington, D.C., opened to the public for the first time. A month later, on Memorial Day 2021, a bugler dressed in a World War I-era U.S. Army uniform played "Taps" for the first time from the memorial grounds.
A World War I-era soldier — not a real one, of course, the last veteran of that war died in 2011 — has crossed the park at dusk to play the song every evening since.
"Taps" is a 24-note tune that has ended the U.S. military's workday since the middle of the Civil War. Before "Taps," American infantrymen ended the day with the French infantry call "extinguish lights," according to Taps historian Jari Villanueva.
Union Gen. Daniel Adams Butterfield changed the "extinguish lights" command bugle to the tune of "Taps" in July 1862, a tune he reworked from an earlier song, with help from the unit's bugler, Oliver Willcox Norton.
A uniquely American arrangement, "Taps" soon spread to the Army of the Potomac and then the rest of the Union Army for the same purpose. The French command was quickly forgotten. By 1891, the song came into use for another reason: military funerals.
The 1891 U.S. Army Infantry Drill Regulations manual is the first officially recorded instance of playing "Taps" being mandatory at a funeral, but it was likely used in an unofficial manner long before then. At least one Civil War funeral, for an artilleryman in Virginia, was recorded to have used the song.
"Taps" is still the final song played on U.S. military installations every day, worldwide. It is also the congressionally recognized "National Song of Remembrance," which makes it especially fitting for the National World War I Memorial, as there are no more living veterans of World War I and none was alive to see it under construction.
---
Read the entire article on the Military.com web site.
External Web Site Notice: This page contains information directly presented from an external source. The terms and conditions of this page may not be the same as those of this website. Click here to read the full disclaimer notice for external web sites. Thank you.
Related posts