Veteran seriously wounded during Second Battle of the Marne in World War I
By Jeremy Amick
via the Jefferson City News Tribune newspaper (MO) web site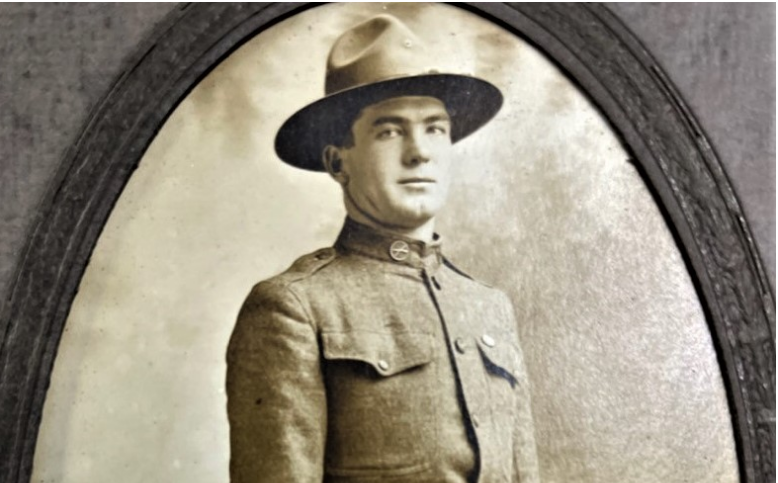 Throughout the years, Mark Weber heard many fascinating tales about his great uncle, Henry Weber, who was wounded in World War I and laid in a trench before being discovered by a fellow soldier.
Time has ways of embellishing such stories, but research has helped confirm aspects of this heroic moment, providing members of the family with insight into a long-deceased relative.
Born on a farm near Millbrook (south of Lohman) on March 17, 1894, Henry Weber was one of 12 children of Carl and Elizabeth Weber. His grandparents had emigrated from Germany years earlier, bringing with them a few traditions that included their Christian faith.
"All of the family were members of St. Paul's Lutheran Church in Lohman," Mark Weber said.
According to a 110th anniversary booklet produced by St. Paul's in 1962, Henry Weber was among 11 young individuals confirmed in 1907. As a young man, he attended school at a local one-room schoolhouse and received two years of parochial education in the German school once located at St. Paul's Lutheran Church.
On June 5, 1917, the 23-year-old was working as a farmer in the Millbrook area when he complied with the Selective Service Act. He participated in the first of three draft registrations of World War I, which "was for all men between the ages of 21 and 31," noted an article from the National Archives.
His draft order number was soon drawn and on Sept. 20, 1917, Weber was inducted into the U.S. Army and sent to Camp Funston, Kansas, to begin training with the 89th Infantry Division.
"The 89th Infantry Division can … claim to typify the best results of the mighty effort made by the United States to put into the field an efficient fighting force in the minimum time," explained the "History of the 89th Division."
The book added, "Drawn from the great Middle West, its composition was largely that of the native born, agriculture class … most truly representative of American traditions and ideals."
Assigned to Company M, 356th Infantry, Weber initially served with soldiers predominantly drawn from northwest Missouri.
Throughout the next several months, the Mid-Missouri farmer was forged into a soldier, learning to use machine-guns and similar weapons while being immersed in the principles of trench warfare that defined combat on the Western Front.
The soldiers of the division were lined up along both sides of a road on Nov. 26, 1917, where their commander, Major General Leonard Wood, passed through on his way to the station prior to departing for France for observation duty.
As the "History of the 89th Division" explained, the "division was constantly being made and re-made. Large contingents of men equipped and partially trained in Camp Funston were sent to fill deficiencies in other divisions which were supposed to be destined for earlier service overseas …"
In the spring of 1918, Private Weber became one of these replacements when reassigned to Company G, 4th Infantry Regiment of the 3rd Infantry Division. On April 6, 1918, he departed the United States aboard the transport USS Great Northern at Newport News, Virginia.
After arriving in France, Weber and the soldiers of the 4th Infantry soon received their baptism of fire.
Read the entire article on the News Tribune web site here:
External Web Site Notice: This page contains information directly presented from an external source. The terms and conditions of this page may not be the same as those of this website. Click here to read the full disclaimer notice for external web sites. Thank you.
Related posts