Selfridge Military Air Museum to restore World War I Jenny plane
Published: 10 August 2023
By Gina Joseph
via the Macomb Daily newspaper (MI) web site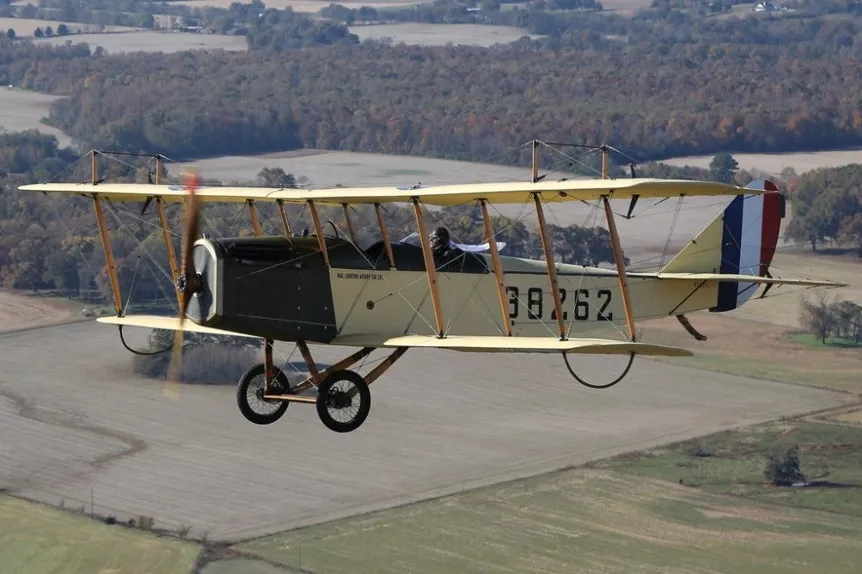 Jenny was among the planes used to train pilots at Selfridge Field in 1917
The arrival of a new plane at Selfridge Military Air Museum in Harrison Township is always exciting news no matter how many times it happen.
This Friday the museum is expecting Jenny.
The World War I bi-plane known as a Curtiss JN-4 was purchased by FreeStar Financial Credit Union and is being gifted to the museum.
"There are currently only seven Jenny aircraft left in the world and now our museum will have one of them," Ed Kaminski, deputy director of the museum said, in a news release.
Jenny suffered a landing accident not long ago and the restoration crew at the museum will be working to restore the plane over the winter months. Although the craft is a new addition to the museum, the first Jenny actually arrived at Selfridge Field in 1917 where it was used extensively in the training of many American pilots who fought in the skies over Europe during WWI. The aircraft will never fly again but once restored it will serve as a static display among the other historic planes at Selfridge.
The restoration of an old plane has its challenges.
"You're recreating something that was built 80 years ago," Kaminski said, adding everyone involved is looking forward to the work. "They're all kids at heart. Instead of building a model airplane they are building the real thing."
If the restoration goes as planned an official unveiling will be held in the spring.
Once unveiled visitors will be able to see Jenny in her glory as well as numerous other planes, exhibits and artifacts at Selfridge Military Air Museum. With a remarkable 105 years in service as one of the nation's oldest continually operated military airfields, Selfridge is steeped in history that chronicles not only Michigan's legacy of flight, but America's as well and a visit to the museum brings that history to life.
"We're all excited about it," Kaminski said. "It's very historic to have a Jenny at Selfridge."
Read the entire article on the Macomb Daily web site here:
External Web Site Notice: This page contains information directly presented from an external source. The terms and conditions of this page may not be the same as those of this website. Click here to read the full disclaimer notice for external web sites. Thank you.
Related posts