Ohio Program Pays Tribute to World War I Deaths in Service
Published: 15 October 2022
By Paul LaRue, Member of the Ohio WWI Centennial Committee
Special to the Doughboy Foundation web site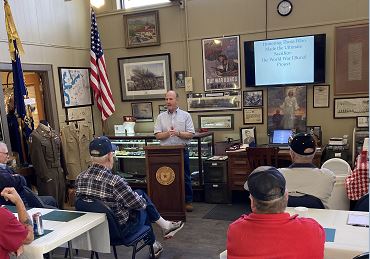 The Central Ohio Military Museum hosts a free monthly Veterans luncheon. The October program featured Paul LaRue, member of the Ohio WWI Centennial Committee. LaRue's program focused on the return of the bodies of WWI Service Members who lost their lives in Europe.
Of the approximately 116,000 World War I deaths in service, 70,000 were initially buried in France and Belgium. Following the war, family members were contacted by the government and asked their wishes for their loved ones. They were faced with a choice between returning the remains for reburial in the U.S., or leaving the body interred in France or Belgium.
Of the more than 60,000 responses to the government inquiry to families, 46,000 requested their loved one's bodies be returned to the U.S. The remaining approximately 30,000 service members were interred in cemeteries in France and Belgium.
Two Central Ohio WWI Service Members killed in action were featured in the program: Sgt. Willis Burnworth and First Lt. Paul Hughey.
Sgt Willis Burnworth, from Bremen (Ohio), was killed in action November 1, 1918 (source). Sgt. Burnworth's family chose not to bring his body back to the U.S. His mother wrote: "I want his remains to be left over there since I am informed that they will be taken care of and remembered by a great nation for what he has done."
Sgt. Burnworth's mother was correct. Sgt. Major Peter Stassen (retired, Belgian Army) and his wife adopted the grave of Sgt. Burnworth (source). They preserved his story and traveled to the U.S. to help honor his memory. Today, the Bremen American Legion Post #20 Auxiliary bears Sgt. Burnworth's name.
Sixty miles west of Bremen is the city of Washington Court House, Ohio. The local American Legion Post #25 is also named after a WWI Service Member who made the ultimate sacrifice. First Lt. Paul Hughey was a pilot in the 91st Aero Squadron, killed in action September 14, 1918. Lt. Hughey's family requested his remains be sent home to Washington Court House.
The USS Cambrai transported Lt. Hughey's body to Hoboken on June 6, 1921; his body arrived in Washington Court House on July 1, 1921. First Lt. Hughey was laid to rest in the Washington Court House Cemetery.
First Lt. Hughey was one of approximately 46,000 service members exhumed and brought home to the United States for reburial between 1919-1922. Sgt. Burnworth is one of more than 30,000 WWI service members buried in France and Belgium. In 1923 Congress established the American Battle Monument Commission to protect and maintain overseas cemeteries and memorials. The National Archives and Records Administration has data on the WWI Service Members who made the ultimate sacrifice overseas.
The presentation by Paul LaRue was well received by the audience at the Central Ohio Military Museum.
Related posts