Meet the 'Arizona Balloon Buster,' the ace WWI pilot famous for shooting down enemy balloons on 'suicide' missions
Published: 6 February 2023
By Jake Epstein
via the Yahoo! Movies web site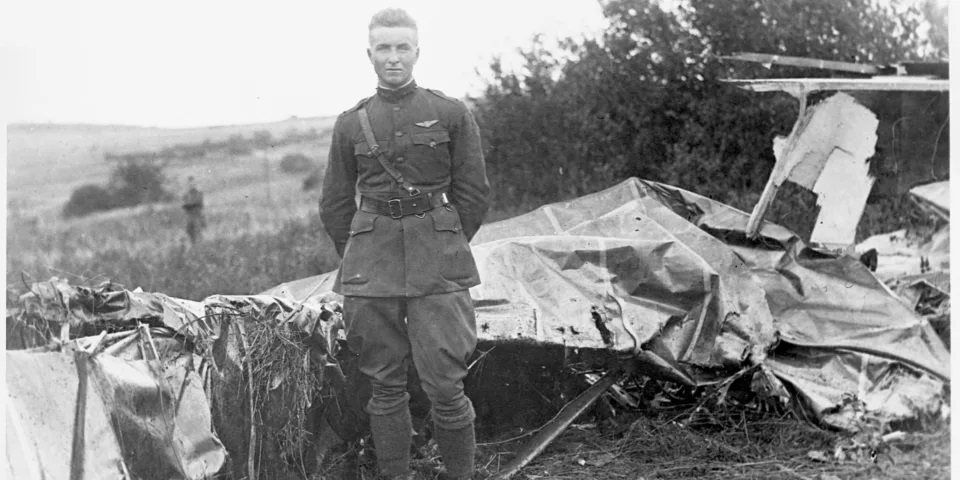 A US Air Force F-22 fighter jet using the callsign "FRANK" fired a single air-to-air missile at a high-altitude Chinese surveillance balloon on Saturday, sending debris plummeting off the coast of South Carolina and calling attention to a famous WWI pilot.
The operation over the weekend brought a dramatic end to a days-long public saga during which the balloon traveled across large portions of the US, raising tensions between Washington and Beijing.
The callsign of the F-22 that shot down the Chinese spy balloon was a nod to Frank Luke Jr., a legendary World War I pilot who destroyed over a dozen German balloons and several aircraft during his brief time in combat as a member of the United States Army Air Service. For his efforts in the skies above the battlefield, Luke became famous as the "Arizona Balloon Buster," according to the US Air Force.
Luke was a star athlete during high school in his hometown of Phoenix. Shortly after the US entered World War I in the spring of 1917, the 20-year-old enlisted in the military and trained to become a pilot. He was later sent to France to join the 1st Pursuit Group, 27th Aero Squadron flying the SPAD S.XIII, a French biplane fighter.
Amid the brutal trench-style warfare of World War I, hydrogen balloons played a major role in allowing militaries to gather intel on what was happening behind enemy lines. These expensive assets were protected by anti-aircraft guns and aircraft, so trying to attack them was "practically suicide," the Air Force said.
Luke shot down his first enemy aircraft on Aug. 16, 1918, according to Air Force History and Museums, and his first balloon on Sept. 12, 1918. During his time in the war, he successfully shot down 14 German balloons and four planes.
On the day of his last flight, Sept. 29, 1918, over a dozen French villagers said they watched Luke brave enemy fire from the ground and the sky. Wounded and flying a damaged plane after taking fire from enemy Fokker planes and ground batteries responding to his destruction of three observation balloons in the Meuse region, Luke redirected his fire to enemy ground troops near Murvaux, killing six and wounding several more before he had no choice but to land.
Read the entire article on the Yahoo! Movies web site.
External Web Site Notice: This page contains information directly presented from an external source. The terms and conditions of this page may not be the same as those of this website. Click here to read the full disclaimer notice for external web sites. Thank you.
Related posts