American Battle Monuments Commission celebrates Jazz Appreciation Month
By Helene Chaulin
via the American Battle Monuments Commission web site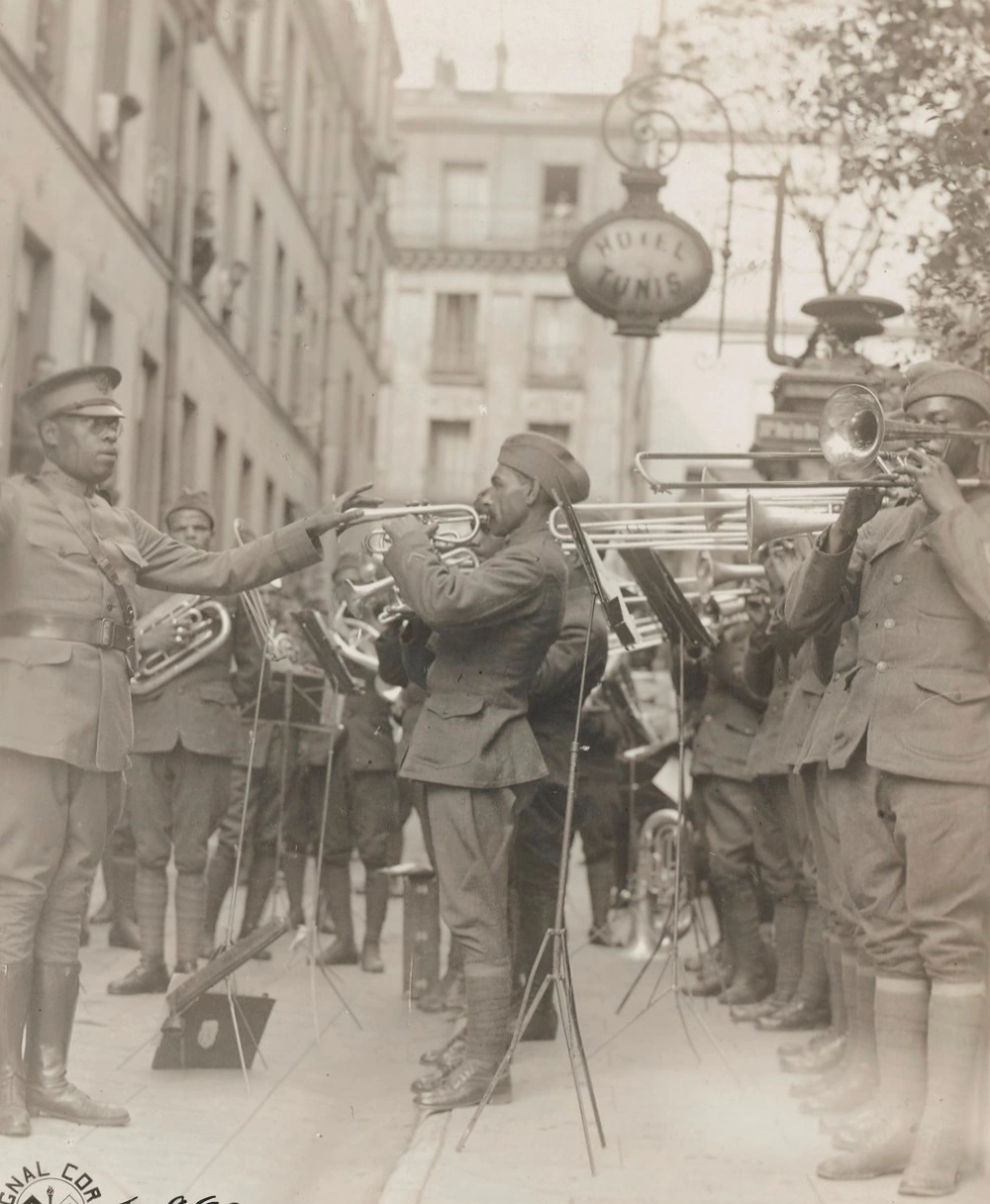 For Jazz Appreciation Month, the American Battle Monuments Commission (ABMC) honors one of the most famous regimental bands of World War I — the regimental band of the 369th U.S. Infantry , led by Lt. James Reese Europe.
Europe joined the regiment at the request of the Regimental Commander to form a band. He was already a famous musician leading the Clef Club band since 1912. He also arranged musical numbers and performed with Irene and Vernon Castle, a famous dance duo of the time.
Europe's band was known for playing the new musical genres of the era, Ragtime, along with Jazz. When he recruited for the regimental band he sought out those musicians he had worked with before from the best bands in New York.
Europe was an officer in the Machine Gun Company of the regiment in addition to his duties as bandleader. In this role, he was the first Black officer to cross into No Man's Land, which inspired a tune he wrote "On Patrol in No Man's Land."
The 369th Infantry chose a rattlesnake as their insignia and were known as the "Rattlers" or "Black Rattlers." However, they are best known by the name given by their German enemies, "Hell Fighters," or the "Harlem Hell Fighters" as history came to remember them. Their band, led by Europe, performed for crowds both military and civilian and is credited with bringing Jazz to the French. Jazz music and the legacy of the "Hell Fighters" band continue to this day through a recording of all the 1919 performances by the band.
While Europe survived the war, many members of the 369th did not. Today, there are 169 members of the regiment buried or memorialized at several ABMC cemeteries, the majority at Meuse-Argonne American Cemetery.
Read the entire article on the ABMC web site.
External Web Site Notice: This page contains information directly presented from an external source. The terms and conditions of this page may not be the same as those of this website. Click here to read the full disclaimer notice for external web sites. Thank you.
Related posts